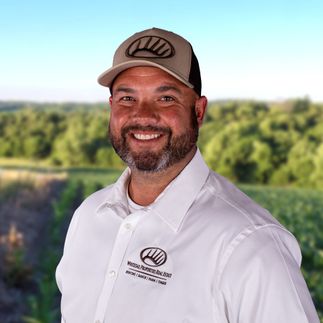 Jason Schendt
Broker, Land Specialist, SD Team Leader / Licensed in SD, NE
Testimonial Quotes
Jason Schendt:

What My Clients Are Saying
Jason is a fabulous realtor. He's very knowledgeable, very thorough and so easy to work with. You definitely have "a keeper" with him!

Jason, your insight and direction was invaluable in helping my brother and I, it really helped eased the process of finding our new hunting land. With your support the purchase process went very quickly. You were able to identify a good hunting property where we were looking to buy plus you knew the potential of the land and animals it held. You are a great guy to work with and made the whole process enjoyable.

I worked with Jason Schendt of Whitetail Properties this summer of 2012 on a land purchase in Knox County Nebraska. When I started the purchase there was poor access to the property. Jason worked very hard on negotiating a good access point. He worked very hard on getting it surveyed properly and boundaries fenced properly. I have purchased quite a few properties as I am not young anymore. Jason did a very nice job on getting the job done. We had no disagreements with the seller and all went well. Whitetail Properties and Jason did a very nice job for me. I am writing this, which I do not due very often, because I was very pleased working with Jason and Whitetail Properties. The hunting land/quiet time land will be greatly enjoyed by my wife, my 3 children and spouses and grandchildren. Again I am just pleased having been able to purchase this land and to have worked with Jason Schendt of Whitetail Properties.

We recently worked with Jason Schendt and Whitetail Trophy Properties to purchase a beautiful tract of pasture/recreational land overlooking the Missouri River and Lewis and Clark Lake in Northeast Nebraska. It was a difficult deal to put together but with Jason's professional attitude, persistence, and dedication we were able to get the land purchase done. Jason was able to put together what seemed to be a dead deal at times, and turn
it into a positive experience. We would highly recommend Jason Schendt to anyone looking to purchase property in Nebraska, wether it be farm land or land for recreational use.



Jason was diligent in getting this deal done even when it looked impossible.

Jason did an awesome job in locating a great property for me.


Jason is great. He's been very helpful both buying and selling properties. I plan to use him in the future should the need arise.

Jason was outstanding to work with. His follow up was exceptional compared to numerous other real estate agents I worked with over the last 40 years.

Jason did a great job and kept us informed on the biggest purchase we've ever done.

Jason, working with you over the past few months has been quite memorable. Being both a seller and a buyer was a tremendous learning experience for both John and I. Deciding to let go of a property we both cherished was difficult but once our decision was made you made us very comfortable by thoroughly explaining everything and keeping us updated on the process every step of the way. While searching for another hunting property to purchase you were right on the ball with several to look at, being both patient and understanding until we could decide on which property was right for us. Thank you so much for being both professional and courteous in your handling of both transactions. We see you more than just our broker but now as our friend.

Jason honesty, knowledge, and professionalism was outstanding. My experience throughout the transaction was a good one. I'd work again with Jason in a minute, should I ever decide to buy or sell real estate.

Jason was very professional and displayed ethical business practices throughout the process.

Jason needs to be promoted and/or given a raise. He not only represents as an agent, he is very knowledgeable in land management, care, game management, etc. His follow up is timely and if he doesn't know the answer, he finds out.

Jason did everything possible to ensure we had a great experience and he also offered support after the sale.

Jason, Sandy and I would like to thank you for selling our property. It was a pleasure working with you, your common sense, no nonsense approach was refreshing. As you well know, having to read between the lines and shifting out the nonsense can be exhausting, not having to do that made our interaction short, concise and with a ton of substance. Thanks again and we will highly recommend you to anyone selling properties in your area. Take care

Supported me on creating food plots. Awesome help.

We are very pleased with the work Jason and Luke did on our property sale in Cass County Nebraska. We have never sold "recreational property" before and contacted other firms in the area. These firms responded poorly to our needs. Jason and Luke were just the opposite. Once they had a site tour they arranged to photograph the site and place it on the web site. I think Jason said it had some of the highest hits on record for this area. Jason was also instrumental in suggesting a split of the property to make it more affordable. This split proved to be successful and the properties sold within a very short time frame. I also want to commend Jason for NOT spinning answers to my questions. He provided straight to the point answers which I very much appreciated. Bottom line - we are very pleased with their work and will use your firm again - if we have more land to sell.

Jason stays in contact, remembers interest. He also took several hours to walk the property with me to help me get my bearings with the survey. Would and do recommend him to people.

It was a very good experience working with Jason

Excellent Job!! Very professional!!!! Probably would not have had the opportunity to buy the property without Jason contacting me.

Jason, although the sellers agent, was absolutely great to work with. Very helpful and responsive. Made the entire process easy for me.

I wanted to thank you again for assisting us in finding the perfect hunting property, you were always prompt and courteous when returning our calls and texts. When we saw your listing for Wynot, NE we knew immediately it was for us. You were available to show us the property and answer any questions that we had and went above and beyond when we asked to do a final walk through. We had several questions for the owner and you ensured that they were all answered to our satisfaction. The complete process from initial viewing to closing was handled professionally and seamlessly. Regards,

Second W.P. agent I have purchased property with. Similar to my first experience, Jason was outstanding to work with. He displayed extreme patience with the seller trying to close out contingencies. He remained calm & focused on closing the deal even though it was a bit contentious for a couple of weeks. Nothing but the highest praise for him.

The agent came prepared and was very professional. Answered questions along the way. Made a very hard decision seamless.

I had an excellent experience. Communication was honest and straightforward. Response times were great. I felt informed along the entire process and was treated fairly.

This is my 3rd purchase through Whitetail Properties. The fact I keep coming back indicates how pleased I am with the services you & your agents provide. Jason was an absolute joy to work with again and will continue to use WTP as my preferred path for purchase of property in the future.



Contact Agent
Contact Agent
Contact Agent
Contact Agent