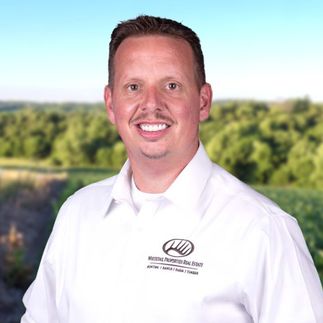 Jay Minor
Broker, Land Specialist / Licensed in IN
Bill Minor Land Specialist Team
Testimonial Quotes
Jay Minor:

What My Clients Are Saying
Bill and Jay Minor were great to work with. They were very attentive from start to finish. The property sold for full asking price in 5 days. I believe this happened because of great work by Bill and Jay to do a quality presentation of the property online. I believe when buyers are looking for hunting properties they go straight to Whitetail Properties to see what's available.

My experience with Whitetail Properties Land Specialists was excellent! Jay Minor went above and beyond to show me this property on two seperate occasions and gave us a very detailed tour of the property. Jay was always available to answer any questions we had and worked with us throughout the negotiation process until the deal was finalized. Jay was very professional, honest, personable and responsive every step of the way. Additionally, Bill Minor always communicated with the seller and us as the buyer to make sure our questions were answered to our satisfaction in a prompt manner. I could not be more pleased with Jay and Bill Minor for their efforts in working with us to purchase this wonderful property! Kuddos to them both for an outstanding job! Thanks for everything!

I worked with Jay Minor and it was an awesome experience. He was very informative on everything and answered all my questions. He made this purchase very easy for me. If I ever buy anymore land I would definitely want Jay to help me out.

Specialist was extremely helpful and always got back with me when there were questions. I realized he was working for both the seller and buyer but as the prospective buyer, he made me feel he had my best interest at heart and exceeded my expectations

Jay was professional, helpful and a nice guy and ensured everything went fairly smooth.

Jay was friendly and helpful but not high pressure. Once we decided on some places he arranged an efficient and enjoyable two day series of showings when we traveled from Colorado to investigate moving to Indiana. By the end of our two-day expedition, we put an offer on the property and Jay took over from there. He oversaw the purchase negotiations and final walk through to finalize the deal in good time. It was a pleasure working with him.

Bill and Jay are great to work with: personable, friendly, knowledgeable, experienced and responsive. This was my first deer farm purchase, and the guys really helped me navigate through the process. I really flooded them with questions and they stayed patient and on point. They worked hard and provided me with all the information they could to make an informed decision. If I ever want to expand my land footprint, I would not hesitate to call them.

Bill Minor and Jay Minor paid outstanding attention to listing this property, they are very efficient and are great at what they do. It sold in less than a month and the closing meeting went very smooth.

My wife is originally from Indiana, but has lived in NJ for over 30 years. I have lived in New Jersey my entire life. Retiring to Indiana someday has been a dream of ours for years, and finding the parcel we are going to call home is a big part of that dream. We had never bought property without a house on it before, and knew buying "remotely " was going to be a new and different experience for us. Jay addressed every question and concern promptly. He was so warm and friendly, that it didn't take long for him to feel like a friend! It never felt like we were multiple states away, he treated us like neighbors! When we finally came out to Freedom for the walk through, Jay's expert knowledge and passion for the land really shone through. It was clear he loves what he does, and his attitude was infectious. We were very interested in this parcel, but it was Jay's tour that really sold us. He guided us expertly through the paperwork, and it honestly, couldn't have been easier.

The agent was very helpful and made everything go smoothly.
Contact Agent
Thank you
We'll have an agent contact you shortly.
Contact Agent
Thank you
We'll have an agent contact you shortly.