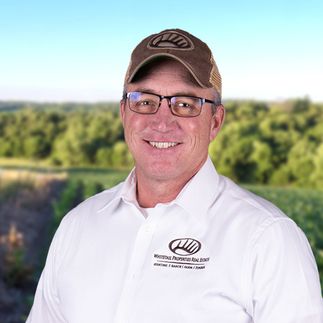 Jeff Heil
Salesperson, Land Specialist / Licensed in MO, Broker, Land Specialist / Licensed in IL
Jeff Heil Land Specialist Team
Testimonial Quotes
Jeff Heil:

What My Clients Are Saying
I think the best compliment I can give these three individuals is that while they represented the seller on two separate properties that I purchased, I never felt that they were adversarial in any way, in fact just the opposite. They all worked with my agent and me with the sincere goal of bringing both parties together to obtain a mutually satisfactory outcome. I believe that happened with both properties that were sold. What a refreshing experience given the current market conditions. I would recommend any of these men if you are interested in land for recreation, hunting, and or fishing.

"He knew what he was doing. Very pleasant to work with."

His quick response to my email and the fact he drove by the property the day after my initial email proved to me he was serious about his job. He was amazing!

Wonderful to work with. Would recommend Jeff to anyone looking to purchase land! Don't change a thing.

I'd like to follow up and thank Jeff Heil for his attention to detail and promptness in keeping everyone in the loop informed while I worked on getting all my cousin's paperwork in order prior to the sale. Jeff initially got my business due to his mailed postcards marketing his services in the area, which I hung onto knowing at some point I would be selling land in his market. Jeff and his team were exceptional at working with me through the selling process and I certainly appreciated his efforts and connections to find a buyer willing to pay our asking price for the property.

I'm 59, and remember when men were hard-working, good people, who were above all else, honest. This pretty much sums up Jeff Heil. He works hard, and is successful because of it. It took Jeff 23 hours to sell our land, and I still asked why it took so long :-) Seriously though, if you want someone who will work their butt off for you, Jeff is your man. I can't say enough good about him, and it's refreshing in today's world to be able to trust someone. He's a straight shooter that has his ducks in a row when it comes to every step of the process. Hire the best if you're looking for land, or needing to sell. Hire Jeff Heil.

Jeff was very helpful in our search for a property that fit our needs. He worked with us getting properties set up for our viewing even with our limited available time. A true professional and great asset to Whitetail Properties. Thanks again Jeff we are thoroughly enjoying the property.

Jeff and Clayton have helped me sell a couple properties of mine and every time I work with them I am reminded why it really makes a difference having a top notch land specialist on your team. I buy and sell land for a living so I'm very particular who I list my properties with. Could not be more happy with the guys at Whitetail.

Your team did a yeoman's job selling our farm. I hope they buyer is also happy.

I wanted you folks to know what a great man you have working for you. We have dealt with Jeff Heil twice now, once buying, and once selling land. It took him 23 hours to sell our land. Now I realize that this is not normal, but come on, 23 hours? And even though that's amazing, what makes Jeff a great guy is that whether you're selling land for $10k or $10 million, he works just as hard for you. Same if you're the buyer. He has all his ducks in a row, every step of the way. And he's just a great guy too boot. My wife absolutely loves Jeff. He's a real person, and treats you like you've known him for 30 years. If he tells you something, you can rest assured it's the truth. Men like this don't come around very often in today's world. He reminds me of the men I knew when I was a kid. You folks are lucky to have him. Sincerely, Daniel Goen

Jeff was great! He explained every step thoroughly throughout the entire process.




From the first returned correspondence to my inquiry email, Jeff emulated the characteristics of a quintessential real estate agent, highly skilled in communication, exhibits a head for negotiation, an active listener, demonstrates an in-depth understanding of the market, tech savvy, and empathetic in a humble, grateful manner. As always, thankful for all.

Very professional and patient with a problematic neighbor who had given us a low-ball offer. He was also diplomatic in dealing with 3 brothers with differing points of view. I really liked working with Jeff as he always seemed to not only listen, but seemed to understand (probably had seen before) the problems we were encountering during the process and how to deal with it. I don't know him that well but he seems to be "my kind of guy". Down to earth and likable. I think he is a good guy.

Jeff is a professional all the way. I've listed and sold a couple properties with him and he will continue to be my first phone call for the next property I sell in SE Missouri.

I buy and sell property for a living and am somewhat particular with who I choose to list with. Whitetail and Jeff specifically have been great to work with.

Jeff, you were awesome but Jason, Jason went above and beyond. We had some issues with the financing being from out of state and Jason got the job done. He was positive, with excellent communication by phone and email. He never let us get down when we hit a snag and got us exactly where we needed to be. Can't thank you enough for helping our dream come true.

Jeff worked with me the longest and was always great. Jason mostly this past year. Both men are very professional and dedicated. I would recommend them without reservation. It took a long time to sell my land, but I was never pushed to change my price and my sale price was very satisfactory.

Clayton and Jeff have been amazing to work with! They are always looking out for us and bring deals to the table that might be a good fit for us. They are fun to work with and do a great job executing and following through! We are grateful to have them as part of our buying team!

Jeff has sold two properties and our business for us. Will recommend him highly to others in the future.

Jeff was always available and very knowledgeable with any question I had. Seriously Jeff should be considered a great asset to your team.

They were superb. We were so pleased with their efforts and the knowledge that they had on every aspect of selling part of our farm. Our hats are off to them!

Working with Jeff & Clayton was the easiest real estate buying experience I've ever had. They're first-class professionals. They both acted quickly when the situation required it, and answered my questions honestly. Clayton also had the job of easing my anxiety more than once - and he did an exceptional job. I appreciate that they were both present physically at the original property tour and at closing, and they were both available by phone, text and e-mail at seemingly all times in between. I couldn't be happier with the new property, and the work they did to make it happen.

Jeff,
I just wanted to say thank you for helping me purchase the 120 acre farm in Marion Co, IL. I felt from the first contact with Jeff and thru out the whole process he was upfront and honest with me. He answered all my CRP related questions quickly and professionally and he was very helpful in helping me understand the benefits of land ownership. If I decide to purchase any more land in the future my first call will be to Jeff.

Thanks Again,

Dear Jeff,

After living on my farm for 53 years it was a very emotional process when the time came to liquidate. Your professionalism made the whole process go smoother than I ever anticipated. From helping me get the farm ready to sell, to bringing me a full price buyer, to helping me prepare for the closing. I appreciate all your efforts and please feel free to use me as a reference in the future.

Sincerely,

Jeff always returned my calls and answered my questions promptly. He was upfront with all information and went above what i would have expected in many instances. He did a great job!!!

There were a few issues with surveying as the process unfolded. As Jeff became aware of the problems, he took action and everything turned out the way it was originally drawn out. I was very pleased with Jeff and the way things were handled.

Jeff was a pleasure to work with. His professional approach, communication, and quick response was very impressive.

I just cannot say enough good things about Jeff. My father had assembled a large recreational/hunting property in Ste. Genevieve over a 50-year time span. Our father passed and our family made the tough decision to sell all of the properties in the estate as there were multiple siblings involved. Dad was Conservation Commissioner of Missouri for two terms, but we had no idea as to the value of land or how to draw up a listing contract without an agent's assistance. Jeff was referred to us by Dave Weber at Ste. Genevieve Title Company, who our family had know for a very long time, respected, and trusted deeply. He gave Jeff high accolades. We interviewed other agents as well, but Jeff's mannerism, work ethic and honesty won us over. I am a real estate broker myself and had been in the real estate industry for over 20 years and was very fortunate in terms of my success. I know enough to know that one should list with those that specialize in what they are trying to sell versus trying to do it on the cheap. Whitetail fit the bill in terms of that and after meeting Jeff it was a no brainer, though I never told him that during the process. Additionally, part of my role during my real estate career involved identifying, hiring, and managing sales professionals for homebuilders in the St Louis County and surrounding areas. Without hesitation, I would have attempted to recruit Jeff; however, in retrospect, he is right where he should be and in a field where he excels because he loves it and has an endless passion for all aspects of it. Jeff is one of those that could sell anything he wanted; provided he believes in it. Jeff actually sold most of our property by word of mouth per our request and did so in record time. Jeff matches buyers and does not try to sell someone land that would not be a good fit. He sizes this up quickly while moving at an appropriate pace. He does the correct thing even from a sellers' standpoint. As I said, I just cannot say enough. Hardworking goes without saying and always a pleasure. Jeff gets the job done maximizing return, time and just has the knack. It was such a good experience that I wish I had more to sell.

I just want everyone to know what an outstanding agent Jeff Heil is. This man went over and above to sell our farm, he had clients in line to come and look at the farm on a daily basis, Jeff was very loyal, did what he said he would do and respected our property like it was his own. He made our selling transaction flawless, I can't say enough on what a nice guy Jeff is and what a pleasure he is to work with.

It was a pleasure to work with Jeff from a buyer side. He also helped us sell other property in the past and did a great job to!

It was a pleasure working with Jeff on my land purchase. I have made several speculative purchases in the past, and haven't always had great experiences with other agents and sellers. This deal was a long-term strategic purchase for my family as it linked up another track of land we already owned. I felt comfortable with Jeff throughout the entire process even though he was in a position to be a dual agent.

Jeff did a great job in putting the deal together for me. He has been a great source of information and advice on how to improve my property. I look forward to working with him in the future!

I am pleased to write this letter on behalf of Jeff Heil. He sold two pieces of property for me. The first prospect failed to buy the land, but Mr. Heil canvased the area and found two buyers and each wanted the piece of land that the other party did not. So, both sold. What a break. This is because Jeff is very resourceful and played "heads up". I am 82 years of age, selling the "home farm" and didn't want any hassles. Mr. Heil handled the entire process and told me several times not to worry because 60 % of his clients never meet. He did everything he promised and I am so happy I selected him. I had information on two other agents but fortunately, chose Jeff. His appraisal was accurate and I received a fair price. I would be happy to talk to anyone considering Jeff as their land real estate agent. I wish Mr. Heil the best because I believe he is the best at his job.

Our property was on the market with a local real estate agent for over a year with no activity at all. We listed with Jeff Heil in July and he made a couple recommendations (trim trails, food plots, game cam photos, etc.) and we sold the property 4 months after listing. We were happy with his service and I've already recommended him to a couple friends who own property in Southeast MO.

Jeff is very knowledgeable about property and helped me with the sale and a purchase of new property. He spent a lot of time working the details with me and gave me some ideas to make this new property a big buck paradise. I look forward to working with Jeff on future purchases.

Jeff was unbelievable as an agent and this has been the best experience I've had with a real estate transaction. He went above and beyond during and after the sale and even got us started with our first piece of farm equipment.

Jeff was awesome through the entire process. He is very thorough, helpful and made this entire process so seamless.

Jeff gave good advice and patiently worked out any problems---Thanks

We were so pleased that we listed another property with Jeff.

Blum and Heil were fantastic. Very thorough and mindful of my needs considering the small value of the property in question.

Job well done, Jeff. You are a patient man, LOL. Thanks again for making a successful sale.

Jeff did a great job for us, overall it was a wonderful experience and would defiantly use him for our next purchase or sale.

Agent Jeff Heil was always prompt in responding to my queries and followed up thoroughly. He is a pleasure to do business with; and is an asset to the firm.

Jeff made it very easy to get the closing completed with minimal disruption to our work schedule. He did a great job!

Jeff was outstanding even though the sale was difficult. Always communicated and answered questions promptly.

Jeff was a great agent. He preformed excellently I was completely satisfied with professionalism.

Jeff Heil communicated very well during the two-year long process that was complicated by not having access to our 40 acres of timberland. He provided photographs to show places for an easement through an adjacent property. He patiently worked with us, potential buyers, and our lawyer who assisted us in obtaining an easement to the land. Jeff is an extraordinary agent! We are very grateful for his assistance. My brother, sister, and I inherited this property in 1996 and we live in three different states. Jeff was our on site representative as he diplomatically dealt with owners of the properties adjacent to our 40 acres. The kind and respectful way he treated the adjacent property owners allowed us to obtain the essential easement that made this sale possible. Thank you for having such a fine agent on your staff.

Very knowledgeable, thorough, accommodating and devoted to getting this property sold. 100% excellent work!!

Both Jeff and Clayton were very professional and helpful. I am very pleased with both of them.

He was very helpful through the whole process. The best agent I have ever worked with.

I was very pleased with the service. Jeff is an asset to your organization.

Jeff kept us well informed, he was very easy to work with.

Jeff did a very good job. The process went smooth.

Wasn't pushy. Interested in our interests and getting the best deal for us.

Overall we were incredibly satisfied with our Whitetail Properties Experience. We searched for our property on and off for a couple of years, and in that time came to know Brandon Swartzlander, Aaron Bennett, and Jeff Heil very well. All three of these agents were incredible to work with. They were very knowledgeable, resourceful, and incredibly patient with us as we searched a variety of properties and became educated on purchasing a farm They were always available but never applied high pressure; always trying to make sure we had whatever information needed. We ended up purchasing through both Aaron and Jeff. They were so easy to work with, and really became friends in the process. Though I was impressed by and would highly recommend Brandon or Arron, I want to provide additional recognition for Jeff. He was amazing - he was truly committed to us and took the time to get to know us as a family. Now that we have closed on our farm, my 8 year old daughter has asked on several occasions when we can "go drive around (in UTV's) with Jeff again." He was truly exceptional, and we genuinely appreciate all that he has personally done for us! Thanks to Brandon, Aaron, and Jeff for offering us a great search and buying experience. We could not have asked for anything better and are looking forward to creating some family memories thanks to their hard work and friendships! Regards,

It's obvious the agents have the resources to find the right property for their buyers. They understand what makes a good hunting property, and the ins and outs of the areas the properties are in. Jeff made finding the property an enjoyable experience and the closing process simple.

A "glitch" in the process revealed Jeff to be a man of excellent character.

A big thanks to Clayton and Jeff! We were amazed at how quickly they sold our 2 tracks of land!

Very satisfied. Jeff was responsive and helped with questions about adjoining property owners.

Recently widowed, I called Jeff Heil who had sold some land for my husband. Let me tell you my experience with Jeff. He immediately went to work for me. He priced the land and lodge. Jeff showed the place many times and presented three contracts thru DocuSign since I could not drive down. Every time I phoned Jeff, he returned my call immediately. Jeff got the full asking price. Imagine a newly widowed woman needing to depend on someone and there was Jeff. I cannot express my gratitude enough.

Great guy, prompt answers to questions via email or text, helped during closing.

Jeff did a great job! Very knowledgeable, down to earth and great communication. We want to take the time to thank you personally for walking us through the process of selling the property. We both agree that from the start of the process, when we first met in the field that day, that we had the right realtor. We appreciate all of your knowledge and the way you advised us as time went along. It could not have gone more smoothly. In the end, all three parties involved are happy. Chips family's dream is being built, Bill has his Missouri property, money is in the bank for college for our son. That has to feel good to have a part in making all that happen. We both understand all the leg work that is required to get these results. We will definitely recommend you to anyone that inquires about our experience selling the farm. Thank you again for all the hard work and professionalism, it did not go unnoticed. Sincerely,

Jeff Heil is awesome! He got me a full price offer the first day on the market and made the whole process of selling my property extremely easy and fast. Jeff has a great reputation and always does a fantastic job with his clients.

Very positive! Jeff was patient and very helpful throughout the process. He went above and beyond many times for me.

Jeff helped us more than I can say. We asked a ton of questions, and he was quick to respond. He took us out to walk the land, and he really knows his stuff. He was very honest, and never once tried to get us to do anything we didn't want to do.

Jeff was outstanding, easy to reach, professional in his follow up and very knowledgeable. He was A+

Everything was very smooth and they both met our expectations.

Fantastic! We bought this property through Jeff 4 years ago and when it was time to sell he was our first choice.

Jeff has provided the highest quality service, advice and communication from the time I purchased the property to when I sold the property. Jeff had done such a great job throughout the purchase that I had no question in my mind that he was the one to sell the property as well.

Rodney Roggow dba Pinecone Properties, L

Good experience very knowledgeable.

Very knowledgeable and a great personality.

Really great to work with. Always a professional.

Jeff was very knowledgeable about land sales. Very patient and got the most amount for me he could. Very nice person to work with.

Professional, informative, responsive, communicative

It was very good. Our property sold fast. We are very pleased.

What a crazy year we are living through. As I ponder the past year I have to reconize how furtunate I am and how much of my good fortune I owe to you. So this a chance to again say I truly appreciate the work you did to sell the farm and get it done and wrapped up by the end of the year. My best to you and yours.

Jeff was great! Phone or text, Jeff was always there to talk business. Highly recommend Jeff.

Jeff, Helped walk me thru the purchase of my first ever deer hunting property. He was informative, patient and helpful thru the whole process. So it was an easy decision to use him as the listing agent when it came time to sell that same property.

Clayton and Jeff were excellent to work with. They each took a tremendous amount of time researching, finding and showing us property over the last several years. We wanted property with a large lake, over 10 acres, on it and it was difficult to find. Clayton found us an excellent lake at 12 acres and really helped us negotiate a good price on the property. We're very satisfied with our experience.

Quick and easy! I was unable to sell using other realtors.

Very professional and the clients that were shown our property seemed to be serious buyers. The video of the house and land was very well done. Traditional real estate agents did not feel they could get the price we felt our property was worth.

Jeff was more than accommodating. He was willing to show us property in extreme weather conditions, cold cold cold, and did not rush us. Jeff was knowledgeable and helpful with the process of purchasing recreational property, as this was our first time.

Jeff is a great agent, very knowledgeable and easy to work with. Very please with his work and our experience with Whitetail Properties

Jeff has what it takes to get your property sold, period. Our sale was pretty complicated. There were four sellers and six buyers. Jeff made it look easy. He kept everyone informed, held some hands when needed and delivered a deal that made everyone happy. Jeff is knowledgeable, diligent, trustworthy, and a heck of a nice guy. You will not only enjoy working with Jeff, but be glad you did.

He went out of his way to do what was needed to make the sale.

Very professional and promptly responded to all questions or concerns!

Professional, honest about expectations, communication. I did not experience anything they need to improve.
Contact Agent
Contact Agent
Contact Agent
Contact Agent