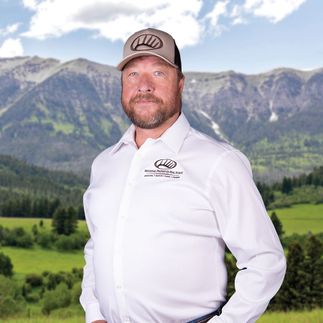 Jeff McKinney
Salesperson, Land Specialist / Licensed in MT, WY; Broker, Land Specialist / Licensed in CO
Jeff McKinney Land Specialist Team
Testimonial Quotes
Jeff McKinney:

What My Clients Are Saying
"We just completed the sale of our 111 acre parcel of ranch land in Rock River Wyoming that we owned for 20 plus years. Our agents were Jeff & Meredith McKinney of WHITETAILPROPERTIES.COM and they were really outstanding! My wife and I are realtors in Florida and have some insight to the amount of work it would take to sell, or not sell, our land. Some realtors get a land listing and nothing happens, it just sits. I spoke to Jeff and was impressed with his knowledge of the area and valuation of the land, and decided to sell. They took beautiful pictures and had it listed in a few days. Here is our time line with Jeff and Meredith, listed 5-29-20, signed contract at full asking price 6-28-20, closed 8-10-20! Just a great experience, really fine people. Thank you!"

From the day I first made contact with Jeff and Meredith they were very responsive, available, professional and informative. This was a long-distance sale as we live in another state. Our property was listed within days and sold within a week. We highly recommend them to anyone looking to buy and/or sell.

Jeff and Meredith McKinney are Awesome! They go out of their way to make sure they understand what your wants and needs are. They are always in prompt contact with you even when they are on vacation! They are excellent and would highly recommend them!!! Thanks Jeff and Meredith for going above and beyond to help us find our home.

We were completely satisfied with the whole experience with Jeff. He was honest, prompt, took all the time we needed, had knowledge about the area, the land, and some of the residents. He could not have been a better fit for us. We highly recommend his services.

THE BEST realtor around-hands-down!! Jeff is an outstanding realtor! His knowledge of the area, the property, and the community, was so helpful and made our purchase flawless. I would highly recommend him for of your future property needs!!!

It was a pleasure to work with Jeff! He was super knowledgeable about the type of land we were looking for, extremely helpful and quick to respond to any questions we had during the whole process, and overall just a joy to work with! We highly recommend him!

Fantastic! Extremely knowledgeable and as a first time property buyer he was able to answer all of my questions and gave me a lot of insight before making the decision to purchase.

"Jeff and Meredith were both extremely helpful and patient, as we were working with parties in 3 states. They could not have made it any easier for us and all of our questions were answered quickly. The entire experience was stress free."

Jeff and his wife, Meredith, were both great to work with. They were always available to answer any questions that we had. I was impressed with Jeff's knowledge of the area and that he was always willing to share with us. Overall great experience. I would highly recommend their expertise.

"Very amiable and down to earth country style attitude and demeanor. Very pleasant to work with and knowledgeable of what is important in a client broker relationship. Would recommend Jeff for any and all land transactions. Surpassed my expectations for this transaction. Thank you, Jeff for all your help".

Best real estate agent experience I have ever had. Felt more like a friend just helping me out. You can be sure that Jeff will get you the answers you need and be there when you have any concerns.

Jeff was able to do in a very short time what I was unable to do through any other real estate professional. Jeff was able to get an offer and get the deal closed all of which exceeded my expectations.

Jeff was the realtor for the seller when I recently bought my first piece of land in Wyoming. Even though he was working for the seller he went over and above to answer any and all questions I had. The deal was easily and professionally executed. I plan on using Jeff as my buying agent on my next land deal. Thank you also to his wife Meredith for putting all the paperwork together.
Contact Agent
Thank you
We'll have an agent contact you shortly.
Contact Agent
Thank you
We'll have an agent contact you shortly.