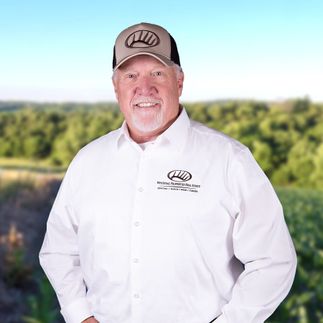 Jeff Propst
Salesperson, Land Specialist / MO Team Leader / Licensed in MO, IA
Jeff Propst Land Specialist Team
Testimonial Quotes
Jeff Propst:

What My Clients Are Saying
The experience was very good. Land is moving very quickly and when we found this property and I contacted Jeff, he was unable to show us the property until the following week. I had a great conversation with Jeff and I inquired about the sellers cattle, and whether he would be looking to sell the cattle with the farm or at the same time. Jeff informed me that the sellers did want to sell all the cattle to whoever bought the farm. Jeff told me I just needed to go pay the sellers a visit about the cattle and he was comfortable with me showing myself the farm with the owners permission.




The whole process went very well. We were first time buyers and Jeff really helped us through the process.

Last year I purchased my farm in Missouri through Jeff Propst from Whitetail Properties. It has almost been a year since my purchase and I couldn't be happier. I harvested a beautiful buck the very first day I hunted it in early archery, as well as a nice buck in rifle season. I also harvested a big 24 lb. gobbler last spring. And to top that off, during the late muzzleloader season I saw eleven different bucks in only four days! I passed on them all to let them grow. Jeff has been terrific from day one and I would recommend this professional to anyone!

Recently my son and I purchased some land from Whitetail Properties and couldn't be happier. Our Agent/Land Specialist Jeff Propst was absolutely great to work with. From the time of our initial inquire to the date of closing was hassle free to my son and I. Jeff's flexibility and professional approach made things easy. Since this was our first time buying land we had a lot of questions and Jeff was available every time to answer them. Jeff has even gave us tips on how to develop our land to keep the deer and turkey coming back each year. We would like to thank Whitetail Properties for having such a professional working for them. We would also like to thank Jeff for all of his help in making our dreams become a reality.

Jeff Propst from Whitetail Properties has been superb to work with. When it comes to Missouri farm/hunting ground with big whitetails look no further than Jeff Propst from WTP. He know's what to look for and will guide you through the whole process. I live in Wisconsin and I own a number of farms in Missouri. When it came time to list them I called Jeff from Whitetail Properties. Jeff generated more qualified prospects and sold them faster than I could have imagined. Realtors are a dime a dozen but a realtor who takes pride in his occupation and has such integrity is a rarity. Jeff Propst is one of the few. I have worked with a lot of people and I can honestly say Jeff has been one of the best.

Jeff,
Just wanted to say a big thank you for your assistance in acquiring our midwest property. We have been looking for about two or three years for a hunting property in the midwest. I have had the opportunity to work with quite a few realtors during this process, and have encountered both good and bad. Just wanted to let you and the folks you represent, that you were simply the best. It was a pleasure from start to finish to work with a true professional. I feel that you not only helped us find a good hunting property, but that I also made a new friend. Looking forward to seeing you in hunting season and wishing you the very best. By the way , on our first hunting trip we saw a really good buck-unfortunately the shot wasn't as good as the deer. You may show this to any prospective client and they may call me for a reference – you are the best.
Thanks so much,

Jeff,
I wanted to wait until after we closed to say thank you for all of your time and hard work. A simple thank you comes no where close to expressing my gratitude for your time and effort. You put up with the hours of phone calls, pages of plat maps, aerials and photographs and pulled off nothing less than a miracle to find us the perfect farm. My wife and I could not possibly be happier with our new farm. Thank you again for all of your help and patience.

Mr. Perez, I would like to thank you personally for the package I received from your company this week. I had already promised my wife that last season was the last time I would get in a treestand without a safety harness, my wife and I can't thank you enough for the Hunter Safety System. I am also looking forward to my membership to QMDA, and love the hat too. I just purchased a T-shirt from your site a couple of weeks ago, and am planning on getting the belt buckle when in stock again. Yes, you are making more money off of me than you realized! I have read some of the testimonials on your site in the past, perhaps this will become just another, but I can't emphasize enough the value of Jeff Propst. Jeff assisted me on the purchase of our first Missouri farm that was listed by Phil Brown in the Spring of 2011. He took all of the time I needed on each of the farms he showed me, and had plenty of patience while I looked and asked questions. I recently bought a second farm that I located with another agency. Your competitors website and listing left much to be desired, so Jeff offered to drive to the property and take some good pictures and give an opinion on the farm. Long story short, I travelled there later that week at his urging and now own the property. I have bought several pieces of ground in the last 20 years, but never from anyone I could trust like I do Jeff Propst. I have now bought 2 farms and sold one (last month w/ Boyce Flener) with Whitetail properties. I am a believer in the service and professionalism associated with Whitetail Properties. (And would love a second HSS vest for my hunting partner!) Thanks for your vision in the recreational land business, you and your guys are a credit to the business. I already have money accumulating for my next purchase, which undoubtedly will be through WTP.

Hello

I wanted to send a note to let you know about the help one of your agents gave us during the recent sale of our farm in Northeastern Missouri. Jeff Probst was on top of the game right off the start. From our first conversation, he jumped right in locating the property online and contacing the local farm office to get the proper CRP information. He wasted no time getting out to the property and taking pictures for the listing. After he saw the land, he was very confident he could sell it quickly. He even had a few folks in mind for the farm and almost sold the property before it hit the web. Even though the price we wanted seemed a litttle steep even to Jeff, we were able to get a cash offer in a little over a month. What was most impressive about the experience was that Jeff would get back to me very quickly every time I asked for something. I know he had other deals going at the same time even though he didn't mention it, because I could see other properties listed after ours selling in a week or even less. We got top notch service from him with the holidays, hunting season and everything else he had going on. It is obvious he has been doing this for awhile and he is very good at it. Between me and another one of the owners that sold our property, we will use Whitetail Properties agents to buy our other farms, mainly because of the positive efforts of Jeff and the high quality properties listed on the website. Thanks Jeff for your hard work and great working attitude. It was a real pleasure working with you and all the other folks during the sale of our property.

Dan,
This week I received the HSS vest, Whitetail Properties hat and sticker, and QDMA membership...thank you so much! I appreciate the thoughtfulness of the gift and look forward to using it this fall. It has been my dream to own my own farm. My entire life i listened to my dad say" he was buying a farm this year" and it never transpired as he was raising a family and trying to make ends meet, but nonetheless i made it a life goal to break the mold and own my own place. My wife and I welcomed a baby boy last March, Hoyt, and I vowed to buy and buy soon so that we would have a family farm for years of memory making...i was told buying a farm was like having kids, if you wait till the perfect time it will never happen, so i figured we had the kid, might as well have the farm. Also, after many years of sticking money in the stock market with the emotional ups and downs and no tangible asset that i could enjoy while feeling secure about the return on investment, buying this property was a no brainer...this might be the first farm but wont be the last.

Jeff has been a friend for several years and when I decided it was time I was happy to have a trusted person to help with my dream. The entire experience was a great one. Most of the residential real estate transactions that i have been a part of were more painful that a root canal...buying this farm and working with Jeff was a joy. Jeff was hardworking, honest, and recommended properties that were right for me, not just properties he was trying to sell. As a medical equipment salesman myself, i am very sensitive to the sales process and the customer service I provide my customers thus elevating the level of service i expect as a customer...Jeff exceeded my expectations. I look forward to a lifetime of memories on my farm and appreciate Jeff and Whitetail Properties being a part of it.

When the time came to sell our Northern Missouri property, we didn't hesitate to contact Jeff Propst at Whitetail Properties. Their website got my attention when I was shopping for comparable listings. It was obvious right from the start that they knew how to market and sell "recreational property" better than anyone else. Jeff was a true professional and had potential buyers for our land within the first week! We sold the property within three weeks of listing allowing us to begin looking for a bigger piece of land a little closer to home. Once again, we used Jeff and Whitetail Properties to find us that perfect fit for our growing extended family of hunters. From initial showing to close, Jeff was there for any questions we had. He also brought our attention to some old leases that needed cleared on the new land and assisted us with that as well. His honesty and integrity was much appreciated.

Thanks to Jeff and Whitetail Properties, we now have a perfect place for our family to enjoy for many, many years to come.

Sincerely,



The Phipps Family Steve, Terrie, Jason, Jennie, Colin, Andrew, Josie, Brian, Lisa, Kira, Kayla, Michael, Kelly, Jami, Holden, and H

I wanted to drop a quick email to thank you and Whitetail Properties for the excellent service we have had on both the buying and selling end of two different properties. We were concerned that being "out of staters" that we would not be viewed upon as serious buyers (or sellers) and other people would come first, that was not the case at all. From the beginning you have treated us like we have known you for years. You were always very professional, you listened to what we were looking for and you didn¹t waste our time with properties that didn¹t fit us. You also made the closings (paperwork) very easy, We never had to come to a closing in person which made it very easy for us. We cannot get over how fast you sold our property and, in turn, found another one that suited our needs better. I can¹t imagine using any other real estate company other than Whitetail Properties (and Jeff Propst). The name truly says it all. We will be telling everyone we know about the experiences we have had. I can¹t imagine going anywhere else to buy or sell recreational property. Your contact list (both buyers and sellers) must be a mile long to get the turn around that you had for us on both sales we were involved in.

You didn¹t just come across as our agent- you quickly became a friend. We know that you are someone we can call upon for years to come. There is not too many "agents" that you can call on for the other things that we have asked of you in the last couple years. In today¹s market (I don¹t care what your selling) it¹s all about service, and that is what you are all about!!!!!! EXCEPTIONAL SERVICEŠ. Thanks again for all of your time and effort, you have truly made buying out of state land enjoyable.

Hopefully we are calling on you in the future to add some acreage to what we have now!!!

Sincerely,



Brian, Brian and Ryan Big Buck Ridge Properties Green Bay, W

Jeff,
Thanks so much for all of the help on my most recent farm sale in MO. It was a long fought, hard battle but your patience and professionalism really shined through. I've worked with some great agents through the years both on the buying and selling end of farm deals but none of them handled things quite as thoroughly as you did. I think the thing that I was most impressed with was the nearly constant communication to both myself and the buyer as to where we were in this process. It's that type of personal care that has me looking forward to the next time we can work together. Thank you my friend!!



A debt of gratitude is owed to the man that made my dreams of owning a quality Northern Missouri farm come to fruition. As an eternal "do-it-yourselfer", I spent 6 agonizing months researching, traveling, inspecting, and negotiating, only to run into barriers & dead ends each and every time I found a new property. I was staring down the barrel of a 1031 exchange deadline and the inventory of farms of the scope I was looking for was dwindling to nothing. One hour long phone call with Jeff Propst changed everything for me. Jeff took me from S.O.L to SOLD. The power of representation, the right representation, cannot be over stated. I quickly discovered that the farm I was looking for was not on the market. However, with Jeff's vast network of resources, within 48 hours he had presented a once in a lifetime opportunity to own a truly "world class" piece of real estate. Jeff has an amazing attention to detail and his skills of follow up & follow through are second to none. This was a very complicated land deal with many moving parts on both my end & the seller's and Jeff navigated it undaunted. Simply put, Jeff made the seemingly impossible happen for me. My only regret is that I did not place that call to him 6 months earlier. Thank you Jeff and thank you Whitetail Properties.

Just a note to thank you so much for the professionalism you displayed to my wife and I during the purchase of our Iowa farm. As a businessman I know what is expected of someone that works with the public. You are very good at what you do. It was very nice to be able to call or email you and you got back to us in a very short time period. I know during our purchase I had a lot of questions and and you answered all of them in a very timely manner. Also it was nice to be able to talk to you about hunting and share stories and pictures with you. Just wanted you to know that the whole experience was a very pleasant one. Best of luck to you in all you do and thanks again.





We are quite pleased with the way things went with the sale of our property and all of the contact we had with Jeff Propst . I have refered Jeff to a few people that have already contacted him and would not hesitate to tell others about the outstanding job Whitetail Properties preforms .

I have worked with many real estate salespeople over the years & Jeff Propst was by far one of the most professional people I've ever had the pleasure of working with! He far exceeded my expectations and truly did the most excellent job!!

Jeff takes a personal interest in his clients, and that shows in understanding what they are really looking for. I've bought and sold land with Jeff, and will do so again!


Jeff Propst continues to stand out in his profession. After working with literally dozens of different agents over the years, he leads all categories in representation, and knowledge. Jeff makes land acquisition smooth, whether I am buying or selling.

Negotiations and Transaction went very well. Jeff was able to answer all my questions about the property and helped me by recommending an agent to handle a 1031 exchange.

It was a great experience and Jeff did an excellent job. I would highly recommend him and your company to anyone selling property. Thank you.

Jeff was great. He helped me with every aspect ,from start to finish, in the purchase of my dream farm. He also helped me by recommending reputable people to get small jobs done that were needed around the farm. I would recommend this guy to anyone. Thank You.

I am a Lender for Great Western Bank, and have also originated several loans Mr. Propst and other Land Specialists have sent to me for financing. It has been an honor working with all of them. Great Western Bank believes as i do, that investing in hunting properties is a niche we really enjoy. Most of us also are hunting fanatics and enjoy all of the contacts we have made in this industry. Thank you,

Jeff is excellent to work with, very motivated. I recommend him to people all of the time who are looking for Missouri land.

Jeff went over and above to find my family exactly the type of property we were looking for. He was very professional and personable all at the same time and I truly enjoyed working with him. He was very knowledgable of the area and answered any and all the questions immediately. Jeff was also able to recommend a local lender which was helpful beingthat I live out of state. I hope I have the opportunity to work with Jeff and Whitetail Properties again in the future. Thanks again.

Let us thank Jeff Propst for his professionalism and the way that he handled it from start to finish! Also trust that if we ever end up looking to sell or buy again in N.E. Missouri, he will hear from us.

We are so blessed to have you not only as our realtor but as our friend. We spent a glorious weekend at the house. We have already had two visitors stop by. You are always welcome to stop by and the coffee will always be on for you.

I purchased my first farm from Jeff in 2009 and he hasn't changed a bit. He is a true professional and a great salesman. Your firm is fortunate to have him.

I was very satisfied, the property was not on the market very long which was very good.. I appreciate all the work and effort he put into selling my land.

This is the second deal I've done with Jeff. There will never be a need to deal with any other agent in the future. Jeff is amazing and has earned my unmitigated trust.

I was very satisfied, the property was not on the market very long which was very good.. I appreciate all the work and effort he put into selling my land...

We would like to extend a special thanks to Jeff for helping to get our farm sold. He is a superb realtor who understands the market, hunting, and Northeast Missouri as a whole. He kept us informed of the status of our farm throughout the listing period and helped to ensure a seamless transaction at closing. Jeff is a stellar example of what makes Whitetail Properties such a great company. Thanks again for all your help.

We would like to extend a special thanks to Jeff for helping to get our farm sold. He is a superb realtor who understands the market, hunting, and Northeast Missouri as a whole. He kept us informed of the status of our farm throughout the listing period and helped to ensure a seamless transaction at closing. Jeff is a stellar example of what makes Whitetail Properties such a great company. Thanks again for all your help.

I had a great buying experience thanks to Jeff. I wish I could buy more property using him as my agent. I always felt like he was honest with me and looked out for all parties. He was very helpful in the process and I will highly recommend Whitetail Properties and especially Jeff Propst! Thanks

Jeff was amazing and certainly the best communicator of any agent I have ever worked with. He was always very responsive and willing to answer all of my questions.

I was totally impressed with Jeff Propst. He is very knowledgable about hunting properties and went out of his way to cater to my needs. A true professional.

Jeff is a great realtor to work with. We plan to call him for any future land transactions.

Jeff did a great job. He showed us several properties and found us the one that fit our needs for now. We hope to use him again.

You have been an A1 Whitetail Properties Agent to work with and I'll gladly give you a very satisfied customer recommendation!

Jeff did a great job. Rich Baugh also represented Whitetail Properties in a very professional manner. I think everyone involved was very good and honest in their dealings.

Jeff is great to work with. This is my second purchase with Jeff.

This was the second farm Jeff Propst sold for me, he is top notch. I would defiantly recommend him to anyone I know or have him list for me in the future. Thanks for all the help.

Mr Propst was extremely professional and always attentive to all my questions and concerns. He made my experience purchasing my land easy and enjoyable. I found the pictures he took extremely helpful I will recommend him and Whitetail Properties in any continuing ventures I have purchasing property

Jeff is a good agent and trustworthy.

We have been looking for a few years and Jeff showed us several properties but did not pressure us on any of the choices just kept giving us options. He is also helping us with contact info of builders in the area. Great guy!!

Hey Jeff. Whitetail Properties is the prefect example of professionals!! From that first phone conversation, you explained everything perfectly to me, even questions I didn't know I had. You helped turn my dream to a reality and I truly appreciate it and I look forward to working together again. If you need anything from this Louisiana redneck, just let me know. Thanks again!!

Best of the best, Bar None

Very pleased with Jeff and outcome of deal. Would strongly recommend him.

Totally satisfied. Jeff got the job done fast and fair.

Jeff was great, highly recommend.

Thank you Jeff. Our second purchase with him and hopefully more to come.

I am very pleased with my farm purchase. From start to finish Jeff acted like a true professional and provided a painless transaction. He was knowledgeable, honest, and always available. I will definitely use him again in the near future. I could not have asked for a better agent to work with. Thanks Jeff

Jeff was very pleasurable to work with and has a can do attitude. I would not only recommend him I would not hesitate to use him as a buyers agent and to list one of properties with him.

Jeffrey R. Pickering / Wyatt A. P

As soon as Jeff showed us the property, we knew it was what we wanted. Jeff was very helpful, and courteous. We felt very comfortable with him. He is always available, and responds to calls or texts in a timely manner. We highly recommend Jeff, and will use his services again in the future.

Jeff is the most professional agent that I have ever dealt with.

I have always been impressed by the effectiveness of the Whitetail Properties team. The country-wide marketing simply sells property.


Rich Baugh was our selling agent and Jeff Propst represented the buyers. Both are top notch professionals that are great to work with! It's refreshing to work with honest and ethical people that actually do what they say they will do. I was also very impressed with the thank you gift in the mail after the sale. I will enjoy the hat, sticker and Yeti tumbler. Thank you!

Jeff what a nice touch to finish off a wonderful experience buying property through y'all. I thought you did an excellent job at presenting us the land with information and answering our questions. I would definitely recommend Whitetail Properties to purchase properties. Thanks again.

The sale went very well and Jeff kept me informed of all that was needed to close the sale.

This is the second time I worked with Jeff and he made the whole process go very smooth. This was a smaller tract but his attention to detail and professionalism were equally as high as when I purchased a larger tract with him. I work in Real Estate every day for my profession and know how valuable a good agent is. He is definitely one of the best.

Jeff did a great job of keeping me informed as to what was going on throughout the sales process. I would highly recommend him.

Jeff always kept me well informed on where the process was at and what steps were next. I would definitely recommend him to anyone.

Jeff very personable and knowledgable on the property!! Great Experience

My agent Jeff Propst is the best agent I've ever dealt with in my real estate endeavors. Not only is he a true professional in every aspect, but he is extremely knowledgeable. The other attribute he possesses, which to me is the most important, he is an honest country boy. I personally wish Jeff worked all over the country so I can buy realestate only from him. If you ever want a smooth transaction with no stress use him and Whitetail Properties.

Jeff is really great to work with. We really appreciated the effort he went through to help us feel our property. I will use him again in the future.

Jeff had a full price contract the day property was listed.

Jeff Propst has high integrity and is a great man and agent to work with. I will continue to use him in the future!

Within a couple of weeks of listing, we were receiving offers on the property. The description, pictures and write-up that Jeff did on the property was great and really highlighted the strong points of the property. I would not hesitate to recommend Jeff to anyone either buying or selling property.

Tom DeVincentis, Archon E

As always Jeff was a professional!

We had a wonderful experience with our land and cabin purchase. Jeff did an outstanding job and we would definitely recommend him in the future. We were very pleased

Jeff was honest in his assessment of the property and what to expect of the market. He always was quick to respond to my questions.

Jeff is a pleasure to work with and very knowledgeable in his job.

Stephen actually showed me the farm and did a fine job. He was very knowledgeable about the farm and had some great ideas. I am continuing to talk with him about different ideas on the farm such as logging, cover, TSI, food plots. I dealt with Jeff thru-out the buying process and he did a great job. This is the 3rd transaction I have done with Jeff & Whitetail Properties and no complaints here. I appreciate what you guys do and your knowledge in the industry. Thanks and look forward to future transactions with Whitetail Properties!

Jeff has always been professional and knowledgeable in my transactions.

Very pleased with with the whole experience. Jeff was great to work with.

Jeff is a first class agent!

Jeff is a class act, not only very professional and knowledgeable, but just a great guy. I now consider him a friend. I would recommend him to anyone searching for property. Thank you for a great experience!

I was not only impressed how Jeff Propst responded to my request to list my land but how fast my land was sold. Within two weeks of listing, the land had a contract with me receiving 97% of asking price. The deal is now closed and I thank Jeff for the professional way everything was handled.

Mr. Perez, I am sending this letter to let you know what a great experience I had with Whitetail Properties and Jeff Propst. I had a great feeling dealing with Jeff from the start. I could tell that Jeff was not only very professional, but very knowledgeable about the property I was interested in. Jeff has been great to deal with during this process. He went above and beyond answering all my questions for me and making sure I had the best buying experience. I now consider Jeff to be a friend. I would have no problems recommending him to everyone and to Whitetail Properties as well. Thank you,

Jeff communicates and is very trustworthy.

Jeff knew I was looking for a smaller piece of land in Northern Mercer County and when he found out about his one he let me know. I went and looked at it and we made a deal. Pretty simple & easy process.

Jeff was always very professional and try's to do the right thing for both sides of the deal.

Greg Glesinger / G&L Acres's, L

Both guys were excellent, knowledgeable and took the time to show me multiple farms so that I would make the best decision for me and my family.

Wonderful! Love those guys!

Jeff was professional and was quick to get the information we requested.

Jeff, your pictures and description of our property was amazing! I could not have asked for a more beautiful description. You are quite the writer. Your pictures are just as beautiful. Awesome job! I just hope someone loves it as much as we do. Thank you for all of your hard, excellent and speedy work!

Very professional and accommodating! Very knowledgeable concerning hunting property. Jeff worked well with us throughout the process.

It is always great when working with someone that enjoys his job. I could tell Jeff could talk the talk because he's helping sell something he truly understands.

Worked with Jeff for years. Great guy and Real Estate Agent.

Working with Jeff Propst has been a pleasure. His professionalism is second to none which is not always the case when dealing with real estate agents.

Stand up guy!! I have used a bunch of real estate agents in a bunch of states and have yet to meet a more honest and knowledgeable guy when it comes to buying a piece of hunting land. Friendly, prompt, and always available to help either buying or selling. Definitely knows the market and super friendly to deal with on all levels. One of the very best out there!! Thanks Jeff!!

Stand up guy! I have used a bunch of real estate agents in a bunch of states and have yet to meet a more honest and knowledgeable guy when it comes to buying a piece of hunting land. Friendly, prompt, and always available to help either buying or selling. Definitely knows the market and super friendly to deal with on all levels. One of the very best out there!! Thanks Jeff!!!

Very good experience. Jeff was professional and very good at what he does. Called or texted back right away if I had any questions.

Jeff is a pleasure to work with. Looking forward to doing business in the future.

I do want to thank you and Stephen for making the sale as stress free as possible, as selling the land that I grew up on was not easy for me. I would recommend your services to anyone that would ask me. Keep up the good work.

Worked with David Westmoreland and Jeff Propst. The experience with both of them was very good. I feel they worked with both buyer and seller so that both parties felt like they were treated well.

As you know, Dad and I have talked for years about trying to buy a farm out of state to increase some hunting opportunity's for us. After we felt like we had got our Indiana farm to reach its full potential, it was time for a new challenge. We were told that if we wanted to find some superb hunting ground you were the man to talk to. It's a HUGE understatement to say that you didn't surpass all expectations. The first farm you showed us (not the only farm) but the first farm was the farm we ended up purchasing. It was considerably farther and larger than we were wanting to find but you said if we wanted to have a chance at large whitetails, you believed it to be one of the best farms you had ever seen. Turns out after watching you and Chris all those years on TV, you truly knew what you were talking about. Hahaha. After getting the Cudde back cameras out, the redneck blind trailer stands ready we have since harvested 6 bucks with over a 160" average and a monster 191" buck. We are so excited to see what this farm will produce over the next few years! Jeff, thanks again for showing us this farm and doing whatever it took to get the deal done and ensure a smooth and clean closing. The memories my dad and I have made on this place so far are the same memories I watched you and Chris make over the years on Drurys and am so thankful to have created and witnessed.

I know you get a lot of happiness out of your job, you can hear it every time you talk about it. I hope this brings just a little more of that to you because you truly are a class act with a realistic expectation on land valuations for both the seller and the buyer.

At the end of the day in your mind "you are just doing your job" but there are few people in each industry that are at the top of their respective field and we feel you are at the summit my friend. Thanks again for your honesty, support, and friendship at this point. Dad and I truly appreciate it. Whitetail Properties is lucky to have you on board man!

Very professional, can't say enough. In the future it's the only company I will use.

Jeff and David, we appreciate the hard work of selling our property. I know it was a challenge with the Covid virus. Thank you and good luck selling other properties.

Jeff is a great guy and a true professional. He always answers his phone. We have become great friends. Jeff referred me to Josh when I had a farm to sell in Pa. Josh did a great job and communicated well! I don't like voicemails, it's nice when people pick up the phone like Jeff & Josh do.

Jeff was great. He made everything easy for me.

Excellent! Excellent reputation.

I wanted to let you know that working with Whitetail Properties was an enjoyable and stress-free experience. I have bought, sold, and owned various types of real estate since I was in my early 20's, so this wasn't my first rodeo. Through the years, I have seen a lot of good and some bad through those transactions and potential transactions. I met Jeff Propst over the phone 2 years ago and liked him immediately. I have done a ton of big game hunting over the years, so we had a lot in common. The first thing about Jeff is he knows what he is talking about when it comes to deer and deer management. He's not a BS'er. You can't sell property or anything else consistently unless you know what you're talking about. Jeff always told me the pros and cons about property we looked at and would always give his honest opinion. Aside from his knowledge, his character as a person and his integrity are by far his best assets to your company. Jeff wanted me to make the right decision for me, not just for the sale. NO PRESSURE! He seems like a friend I have known for a long time. I don't know how long I will own this farm, but I know Whitetail Properties will be my first call when I sell it.

We have just completed our 4th transaction over the course of the past 10 years with Jeff Propst in the sale of our Putnam County 467, it was smooth and problem free as usual. I found a Southern Illinois farm that my family fell in love with so I needed to get my Putman property under contract in a hurry and Jeff came through big time. I have known Jeff for many years now and he is a good friend...but as you well know there is a lot of money and moving parts in these farm transactions and I have the necessity for the best of the best when buying and selling land and Jeff is certainly that. I'm just fortunate to call him my friend beyond business.
We look forward to our closing on the Mermet Farm this week via Justin Mason. I have told Jeff many a time that I love Whitetail Properties as a company and brand. I'm proud to wear my WP gear and enjoy stopping by the office to purchase a new hat or shirt when I work in the Pittsfield area. Thank you for creating a company that has helped my family create a better life.

Jeff was the best agent I have ever worked with. Enjoyed the experience.
Contact Agent
Thank you
We'll have an agent contact you shortly.
Contact Agent
Thank you
We'll have an agent contact you shortly.