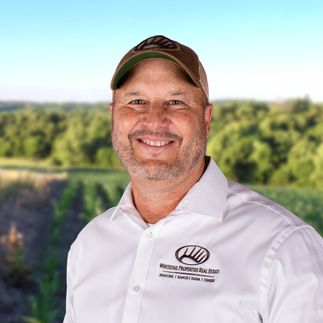 Jeff Quade
Salesperson, Land Specialist / Licensed in MO, KS
Jeff Quade Land Specialist Team
Testimonial Quotes
Jeff Quade:

What My Clients Are Saying
We had a wonderful experience working with Jeff. He went out of his way to help us in the sale of our property.

Jeff did a great job, most agents would not have gotten this deal closed for us. We were very happy with his work.

Jeff handled all aspects of the land transfer in a first class manner. The property was well presented with numerous pictures and full and complete descriptions highlighting the fact that the property was frequented by deer; which was a selling point.

Thank you, thank you, thank you for everything having to do with our land purchase. We are excited beyond words. We are also blown away at the very generous box of gifts you sent to us! There was a nice letter enclosed as well. We are blessed beyond blessed to now be the owners of that property. We placed your sign just inside the entrance that we cleared a bit better. We know someone that will be starting to look for land to purchase. We'd like to try and get you his business.

Thank you very much for the beautiful knife and the great hats! That was very nice of you. I want to also thank you for representing us so thoroughly and competently in our pursuit of a hunting property. You truly went above and beyond to take care of us and I very much appreciate that. I know that if I find myself in the market for property in the future I'll call you first. Thanks again!

Jeff Quade brought practical advice and sound judgment to our land deal. I could not recommend a more trustworthy advisor. Jeff may also be the most patient man in the United States.

Thank you so much for the cap and Buck Knife. They are greatly appreciated and totally unexpected. Thanks also for Jeff Quade. He recently helped me sell 160 landlocked acres in my brother's estate. Through his diligent efforts, he negotiated for an easement that I was able to purchase. This gave access to the 160 acres and, therefore, made the property more sellable and valuable. He managed to get more for the property. I feel he went above and beyond the "call of duty" as we went through quite an ordeal and he endured some verbal abuse from another individual. I found him to be very professional and very personable. I thoroughly enjoyed working with him. I also don't believe that anyone could or would have done as much or as thorough a job as he did.

Jeff is very committed to helping you sell or buy property. He has helped us with both. I have recommended him to others. He works very hard for his clients. He does an excellent job. We consider him a good friend.

Jeff was great to work with and went above and beyond to make sure things went smooth.

Just wanted to say a special thank you to Jeff Quade for doing a fantastic job helping us get the property of our dreams! He was patient, helpful and actually cared about having our land buying experience go smoothly! Thank you so much!

Whitetail Properties is very fortunate to have Jeff Quade working for them. Jeff was very professional and extremely patient from the day I first walked the property (4 hours) until the closing date which was some 4 months later. Jeff made me feel that he "had my back" and was looking out for me during this sale. Jeff is a great guy and I would highly recommend him to anyone that was looking to purchase a property in Missouri. Thanks Jeff!


I want you to know how much I appreciated the professionalism and hard work exhibited by your representative Jeff Quade who listed and sold my property. He was very personable, knowledgeable and thoroughly helpful throughout the entire process. After working with him, I would recommend Whitetail Properties and Jeff himself to anyone I know without reservation. I thank both you and Jeff for seamlessly navigating my wife and myself throughout the entire process.
Thank you

This was a long difficult process. I had been trying to sell my dad's property for 6 years and it had been listed with 3 other companies. Jeff listed it and had a contract on it within a month, wow! Then it took almost a year and a half to work out legal kinks and buyer wants, Jeff stayed game on at 150% to help get this done. He performed beyond the call of duty.

Jeff Quade has been the best agent that I have ever dealt with. I was a realtor myself for 8 years, and I have bought and sold multiple properties as a contractor/investor. He should get the realtor of the year award for putting up with me!

Jeff Quade did a heck of a job selling our property. The property was nice but the easement was a problem and the cost of improving the property was too high for most. He stayed with it and got us just a breath below what we were asking. I would recommend him highly to anyone who was looking for unspoiled property. Thank you Jeff!!

Have had a dealing with Jeff in the past and he has went way out of his way to help.

Very neat, professional, informative, friendly and helpful agent. Would definitely request his help in future if needed. Would highly recommend.

Jeff did a great job. He is very professional and honest. It was a pleasure to work with him on the purchase of the property. Job well done.

Jeff was very professional and personable. I would use him again if needed.

Wonderful experience. Jeff handled everything we asked and more. Would highly recommend him to anyone.

Jeff Quade went over and above to show us the property. We were living in Colorado and found the property online. We called Jeff Quade and he agreed to show us the property on Memorial Day ( our only day available to see it). He answered all our questions and concerns. Would highly recommend him to our friends and family!

Robert Craig and Kathleen K

Jeff was wonderful to work with and did an amazing job selling our property. He was very professional, knowledgeable and patient throughout the entire process. As our listing agent I never felt as if he wasn't going 110% trying to get the property sold. Jeff and the Whitetail team did a fantastic job of promoting the property through pictures and a very well written description. I would highly recommend him to anyone looking for a realtor!


He answered all of my questions, and found the answer when he did not initially know the answer. He returned my calls and emails in a very timely fashion. He was always friendly and professional.


Jeff is an expert. He had the tools to move my property quickly. Very satisfied with Whitetail Properties.

This man went beyond anything we would have expected. He is an extremely valuable asset to your company and would recommend him to anyone.
Was a pleasure to deal with him.

Jeff knew what I was looking for and continued to work until the right property was found. The transaction was handled professionally and smoothly.

Jeff Quade is the absolute best agent (and person) one could ever hope to deal with or know. Was a pleasure to deal with and would recommend him to anyone.

Mr Quade was very patient and understanding with my parents as they sold their farm and moved closer to family for another stage of their lives. Knowing that decision were often hard to make, Jeff walked and talked them through things they didn't always understand.

Sherri Stacy ( Carl and Arlene K

Jeff's dedication as a realtor is unparalleled. He asks questions and follows up on all details. His friendly and sincere personality is also a plus. I would recommend him to all sellers or buyers. I look forward to working with him again as he's the realtor for selling a property. He's knowledgeable
in working with 1031 exchanges.

Jeff was great to work with. He worked his tail off showing my property and he never gave up.

He was great throughout the entire process. I told Jeff what I was looking for and that I lived in Michigan so I asked that he line up as much as possible that matched that description as possible on back to back days. He did this and we quickly located the perfect place. He had researched those properties well which helped us out!

Excellent, friendly, knowledgeable and very professional.

Jeff is the best! He was very patient with us as we changed our search parameters multiple times. He was always smiling and had something positive to say. We appreciate him very much.

Due to the dynamics of my Missouri property, I sought guidance from a trusted professional who recommended Jeff Quade and Whitetail Properties. Obviously, I followed that recommendation, one of the best decisions I've recently made. Being the team player that he is, Jeff arranged for me to meet Tony Chrisco. The sale moved so quickly. Jeff provided compassionate professionalism in guiding me through some unusual situations with minimal stress for me. He never hesitated to consult others on the Whitetail Properties team to ensure the successful outcome. Sincerely,

Jeff was great to work with. It was emotional for me to sell my place and he was always supportive and understanding. He was always pleasant, I am sure he didn't always feel that way, but I never saw any hint of irritation. I trusted Jeff. I've met a lot of other Realtors and they gave me an uncomfortable feeling, I didn't trust them to have my back.

This sale was a process. I had a tenant vacate the property and they didn't leave it in the best condition. Jeff was very persistent and just kept moving forward to get the property sold. Even though there were several hurdles beyond everyone's control, I always felt confident that Jeff would get the job done, and he did without complaining, placing blame, or making excuses.

Fantastic from beginning to end. Jeff went above and beyond and really represented my family and myself with nothing but class. Hardworking very kind, business oriented, and professional as can be. Don't have a single complaint.

By copy of this letter, we're extending our appreciation to Jeff, for all of his hard work and good-natured conversations while our acreage was listed for sale. We are aware that this was not the easiest listing to move, but Jeff didn't let a few little "glitches" deter him. Nor did Covid 19 get in the way of Jeff moving this property into the "Sold" column. For that we are grateful. We will gladly recommend Jeff Quade, and Whitetail Properties to anyone who has similar property they want to sell. Gratefully,

Jeff & Tim were fantastic. Answered all my questions. Their knowledge made me very confident that they would get the property sold.

Thank you for all you hard work and exceptional knowledge of what your clients have available and how to market the land. If I could give any advice to your clients, it would be listen to what you have to say and make it happen. They will not be disappointed and they will be very happy with the results! Blessings to you both and thanks again!

We had multiple lookers and a couple were serious land buyers. Jeff had to deal with 4 of us since we were in an estate situation. He stayed the course and completed the sale.

Jeff was great. We have even become friends. I plan on keeping in touch with Jeff.

Excellent. Jeff went above & beyond what we expected. Jeff made a what we thought was going to be difficult process seem like a walk in the park. We really appreciate everything did for us!

Jeff Quade was excellent!! A true professional! Other real estate companies did not work for us.

Great working relationship. Text/ email since I am not always able to answer phone calls was a great thing.

Jeff Quade did an outstanding job for us in helping us with this property. Jeff has easily been the best realtor we've worked with and without him the deal may not have came together. He is awesome.


Jeff was very helpful and knowledgeable and went out of his way to help. Excellent!


Excellent. Very professional.

Very good experience, quick results, property closed in a timely manner.

Robert Craig & Kathleen K

Jeff was extremely professional, spent time walking the entire acreage and prepared a proposal to sell into 2 parcels to maximize sales dollars.

Our experience with Jeff was great .We had a couple hiccups but with Jeff's guidance we got through them.




My experience working with Jeff and Whitetail Properties has been first class. Our original contact with jeff was regarding some hunting property we wanted to sell. I called Jeff through a referral from my brother, Harry, who had a successful property sale through your company previously.




Prior to the farm sale, Jeff and I also spent time at the farm and going around the property resulting in his having a full understanding of the intensive cattle grazing setup, pecan groves and other features. Jeff's preparation and presentation of the property resulted in a quick sale and a good sale price. He has done an excellent job of keeping my brother and me informed of the sale process that has resulted in a quick sale and minimal problems related to the sale. Excellent in all aspects.
Contact Agent
Contact Agent
Contact Agent
Contact Agent