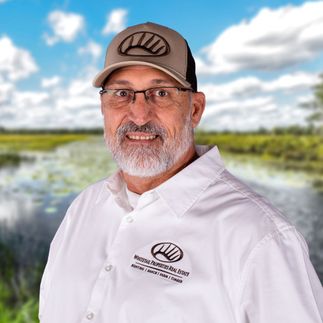 Jeff Roddenberry
Sales Associate, Land Specialist / Licensed in FL, Salesperson / Licensed in AL
Testimonial Quotes
Jeff Roddenberry:

What My Clients Are Saying
Jeff was very professional, informative and helpful. It was a pleasure o work with him as I knew if I asked a question he'd get back to me right away with my answer. Jeff was friendly and attentive to my needs.

"This is a note to tell you about one of your associates, Jeff Roddenberry. We answered his brochure that we received in the mail, and what a great move that was for us. He just recently sold a tract of farm land for us, getting far more than we had expected. It was absolutely great working with him.

From the very beginning he was just like an old friend. He guided us through the process, helping any way he could. He was very knowledgeable in what needed to be done and made sure that we understood it all. I could write a lot more but I think you can understand how pleased we are. We hope your organization has more like him."

Jeff is truly a land specialist. Being first time land buyers, we were impressed with Jeff's knowledge, patience, and expertise. He showed us several listings and matched our wants and needs with the perfect property. He simplified the process and set the right expectations from the beginning. Excellent job!

Contacting Jeff Roddneberry at Whitetail Properties Real Estate was a blessing, and a very pleasant experience. Over the years we've had three other realtors tell us our land would not sell because it was landlocked, no access to it. One day we received some literature from Whitetail Properties. My husband read it, and made the call to the man who signed the information, Jeff Roddenberry. When Jeff came to our home to talk to my husband, Joel knew Jeff was the realtor who could sell our land, and gave him land tract information and showed him all the information Jeff would need to check out. I, on the other hand, was not so sure I trusted him.




However, the longer we got to know him and talk to him (he called and stopped by often) the more I trusted him, and agreed we should let him sell this land. He and his team cleared paths for accessibility to property, cleaned around the stream, and cleared brush, it was more than any realtor had ever done to sell our property. He sent pictures, kept us informed about potential buyers. We were blessed to have him as our realtor, we trusted him, and he was like a friend.




Furthermore, what person has surgery, goes home to rest a couple of days, and then gets back to work. Someone dedicated to their job, and earning money. He represented Whitetail Properties Real Estate professionally, with honesty and hard work.




We appreciate you, Jeff, for representing us in the sale of our land. We will recommend Whitetail Properties Real Estate to anyone who talks to us about selling their property.

Jeff was very professional and kept me informed.
Contact Agent
Contact Agent
Contact Agent
Contact Agent