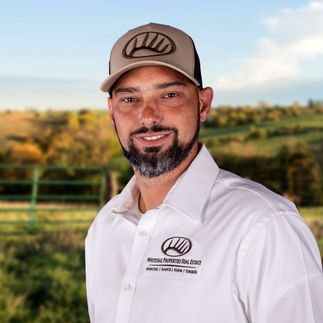 Jeremy Allen
Real Estate Salesperson, Land Specialist / Licensed in WV
Testimonial Quotes
Jeremy Allen:

What My Clients Are Saying
I would like to express my sincere gratitude for your excellent services in selling my Mason County property in a quick and professional manner. Your dedication, expertise, and hard work made this experience stress-free and successful for me.

From the initial meeting to the final closing, you demonstrated a high level of professionalism, integrity, and attention to detail. You listened attentively to my needs and concerns, provided valuable guidance and advice, and kept me informed and updated throughout the process. I couldn't be happier with the results.

I truly appreciate your commitment to delivering exceptional service and achieving the best possible outcome. You and Whitetail Properties commitment to your clients' needs are truly remarkable.

Thank you again for your dedication and professionalism.

I would highly recommend your services to anyone looking to sell or purchase property, and I would look forward to working with you again in the future.

To say Jeremy Allen exceeded my expectations would be an understatement! From our first contact, Jeremy was friendly, knowledgeable, thoughtful, helpful, well mannered and kind. His easygoing manner dispelled any anxiousness I had about selling my farm, and his knowledge, patience and thoroughness made the whole experience easier and better than I could have wished for or dreamt. This young man is a credit to himself and an asset to your organization. Please continue to encourage him in his career. I'm sure it will pay off for you both! My highest praise, regards and best wishes to Jeremy and his Team!

Jeremy Allen is an excellent agent. I think a key to his success is in believing in what he is selling, seeing the potential, and advising his clients appropriately.

It was great. I couldn't expect any more.

I just wanted to pass along a quick note and say that Jeremy was ultra-responsive, knowledgeable, professional and courteous throughout the entirety of the transaction. Even when we ran into some hiccups with the lender, Jeremy was there to help smooth things out as quickly as possible to help make our transaction go as easy as it could have went.




Very good experience. Did everything he could to get the property sold. Got the job done.




My father and I had been looking for the right tract of ground for nearly a year until we came across a piece that Jeremy had listed. He was really informed on all the pieces he had and was able to guide us every step of the way to insure our dreams became a reality. Jeremy was able to pick us up and take us to the location several times before we decided to make an offer. The next time I decide to buy or sell, I know right where I'll go, to Jeremy and his team at Whitetail Properties. Thank you guys for everything! Sincerely,

I recently purchased some ground in Wirt County, WV and Jeremy Allen was the representative with Whitetail Properties that I worked with. I just wanted to let you know that he was a pleasure to work with! He communicated very well and was very responsive!! I own my own business and sometimes you only hear the bad news so I wanted to let you know some good.

Jeremy was so helpful, even met us on a Sunday to see the land. He was always helpful answering our many questions.

Just wanted to thank everyone for all the help while purchasing the acreage from Forestland. Jeremy and all involved were very helpful in all ways. Thanks again,

Jeremy Allen was a pleasure to deal with. He was very fast to get back to me and very helpful.

Jeremy, I just wanted to thank you for a job well done, your help and guidance throughout this process was extremely helpful and very much appreciated. This was my first land purchase and I feel like you have been a tremendous asset to me throughout this process. From our very first conversation over the phone when you referred me to a lender, and whom after weeks of researching other lenders, they turned out to my best option from the beginning. Also during the negotiation process I never felt like I was left in the dark about where we stood, largely from you making yourself so readily available both by cell phone and email, no matter the time or day of the week. I would absolutely recommend you to anyone looking to purchase property and just wanted to thank you for making this such an easy going process for me. Hope you have a great rest of your year and good luck in the woods. Sincerely,

I wish to take this opportunity to thank Whitetail Properties and especially Jeremy Allen for the excellent effort he showed in selling my camp for more than I expected, quicker than I expected. What more could a person want or expect.

Very good. Right approach.

Jeremy was the listing agent and land broker of the property we were interested in and quickly became our own representation, as well. Besides being incredibly down-to-earth and personable, he was very well-versed with the property, something we had not found with contacting other listing agents about their properties. He provided answers to all of our questions and also kept us well informed throughout the entire process. He was an excellent advocate for us, as well. We are so grateful for all of the time and effort he put into making our dream a reality. We would recommend him to anyone who is needing help finding or selling their property as he gets the job done in a professional and timely manner! Thank you, Jeremy!


Just wanted to thank you for all your help and diligent work in finding us the property that fit all our needs and expectations. Of all the realtors that we have contacted here in West Virginia (which was many) while looking for land, my wife always commented that you were the most responsive, polite and helpful to deal with. We always got a response very fast and found you honest and courteous. Although I hadn't purchased land in West Virginia before, you made the process easy and recommended some great possibilities to look at and resources to help with the closing. Thanks again for all your help, advice and especially the very good customer service that you have provided to my wife and I on this very important purchase. Regards,

I spent most of one day with Jeremy, listed the property with him and within sixty days he brought me an offer. We negotiated a deal and closed in about 45 days.

Jeremy is awesome to work with.

My sisters and I were so fortunate to have found Jeremy Allen to list our late father's property. We had a very difficult time even getting realtors to return our phone calls to list the property. We had two realtors just throw it on MLS and not care after that. Jeremy treated us with such care and compassion. He was so attentive to all of our questions and phone calls no matter what he was doing (at lunch or sick). There are 4 of us in 2 states and he made the whole process so easy from start to finsh. This experience was very refreshing after the difficulties we had getting the property listed. And he sold it so quick! Jeremy is amazing at his job and you can tell he loves it. I would use him again in a heartbeat and would highly recommend him to anyone that's looking for a quality realtor! Thank you so much, Jeremy! We are very grateful for you going above and beyond for us.

What a Great Experience it was working with Jeremy from the first contact with my husband, Kenneth Carper to the final signing of the property sale. Ken said he was most impressed with Jeremy as he walked the property and listed it for a price that was fair and would sell. This was not our first experience selling property but our Best experience selling property. Jeremy was knowledgeable, professional, and had integrity. He communicated each step, walked and explained to us each step, so we were never in the dark. If we had a question he had an answer. Everything was timely. We never waited on anything. He was never out of touch. If the world could have a contractor a plumber a clerk that was like Jeremy the world would be a better place. Jeremy, Sadly I know you are too smart to run for President but you would have my Vote. Just a small way of saying how much we thought of Jeremy Allen how lucky Whitetail is to have him . Thank you for everything. We will gladly recommend Whitetail Properties and promote Jeremy Allen.

Sincerely,

I just wanted to write to you today and tell you what a pleasure it was working with your agent Jeremy Allen. I started looking for hunting property in early summer this year. I made several attempts to contact other realtors without success. They would not take the time to return calls or schedule a showing. I was about to give up until I found Whitetail Properties online. After the first call with Jeremy I knew this would be a good company to work with and he did not disappoint. He always returned calls and text messages and helped me through all my questions.

It was such a pleasure working with Jeremy. He is a great realtor who is very efficient and knowledgeable. He is very professional and always kept me up to date with everything I needed to know. He made my buying experience so easy and I couldn't have asked for a better person on this journey of my land purchase. He is by far the best agent I have had the pleasure of working with! I will definitely be using Jeremy for future purchases or sales! Kind regards,

Just wanted to let you know it was a pleasure to work with Jeremy on the sale of the two properties in Mason County, WV. Jeremy, was responsive, diligent, and professional in his role, and took the time to understand the intricacies of these difficult properties with the mitigation banks and accompanying deed restrictions. We appreciate his hard work and hope to work with him again soon. Thanks,

Joe and I had been WV land searching for months and were initially trepid about moving forward with our first West Virginia purchase because we were transacting from our home base in Pennsylvania.

But then we met Jeremy Allen who through each step of purchase, along with his team of angels, held our hands (and my in-laws' hands who we sent to WV to scout the property). So with new-found confidence, we surged forward.

Positives:

Prompt communication via email and telephone
Prompt answers to questions
Straight-forward processes
5-star himself as well as everyone he introduced to us

We LOVE our Tornado, WV 60 acres, are rapidly moving forward with development (some of Jeremy's angels helping), and after our first week on site we already know that visiting once monthly will not be enough to satisfy our desire for this beautiful piece of heaven.

Believe me, this purchase would not have happened if it were not for Jeremy's leadership! And, it is heartwarming to Joe and I that someone we never met would provide sincere, honest, open, exemplary support during our efforts to purchase WV land. Indeed, Jeremy's efforts were paramount in making this happen. As business owners, Joe and I recognize what a gem Jeremy is and while I expect you too know, we want to confirm your insights.

Laua Lee Lukunich & Joe R

Jeremy helped us purchase our dream Hunting/Vacation/Investment property in West Virginia. Despite the busy schedule and the frenzied market (Spring/Summer of 2021), Jeremy always responded to voicemails and texts. Not only that, he was able to connect us with other land professional such as surveyors, well drillers, etc. Furthermore, Jeremy was very professional and detail oriented in each step of the legal process involved with the land purchase. Thanks, Jeremy, for helping us making such an important transaction so smooth.

Todd, Jeremy's assistant, worked with us, showing us several locations. It was a great experience. Between Todd's knowledge of the properties and Jeremy's knowledge of the finer details, we couldn't have asked for two better people to work with. Jeremy was always there to answer any questions we had. So glad we had the pleasure to work with them.

Just wanted to reach out and let you know what a wonderful job Jeremy did helping us to purchase our new home in Calhoun County. We couldn't have been happier with the level of service he provided. Thank You So Much!

Jeremy was professional and knowledgeable.

Just wanted to say we really enjoyed working with Jeremy on purchasing property in Mason county West Virginia. He went over and above in trying to find property that was a good fit for us and providing what we were looking for. Jeremy did a great job of riding us around the properties and using mapping program to show us details and providing us with all the information he had regarding our interest. He was very respectful and was never a "pushy salesman" which we loved. He always reached out to us with any new information and updates regarding our interest in a piece of property. We are very pleased with the service we received from Jeremy and are very happy with the property we have recently closed on. We would definitely recommend Jeremy with Whitetail Properties to anyone we knew looking for a purchase in West Virginia and we ourselves would use him again for any future purchases.

I wanted to drop you a quick note thanking all involved who help us in the purchase of our wonderful property in Mason County, WV.




Jeremy….thanks so much from start to finish.




Rob and I certainly appreciated your understanding of the property as well as providing the side by side four our tour.




This went along way in making our decision to purchase.




First Class!!!

We appreciate the excellent work from Jeremy Allen in selling our WV Property. Glad we had such a competent and caring agent to work with.




We found Jeremy knowledgeable on the land in the area and the value of our farm.




We feel blessed that Jeremy took such good care of us. Very satisfied with the final outcome of the sale.

Hello my name is David Lytle and I am a land owner that just recently sold a property with the help of Jeremy Allen. I just wanted to say how pleased I am with how everything thing went with the sale. From the beginning to end was stress free. When I first inquired about selling the property Jeremy jumped right to it. He work around my schedule and we met at the property. He took pictures and asked me questions I wouldn't have thought about on my own. Next thing I know we are on the market and closing. It happened faster than I could have imagined. There is no way I could have done this on my own. Any kind of paperwork I needed to complete or have questions about, he always got back to me in a timely manner which made it a breeze and stress free. I'm currently looking for a new property and will use Jeremy's assistance. I hope to be a repeat customer with Whitetail Properties Real Estate. And if anyone asks I would definitely recommend Jeremy Allen.

It was an easy experience dealing with Jeremy and he went above and beyond on a few different occasions. I would and already have recommended him to others.

Jeremy is a true professional, family man, and now friend. He bent over backwards for our family, amazing service and genuine care and concern for me and mine!!

Jeremy Allen of Whitetail Properties sold my family's property in Leon, WV. Jeremy was extremely responsive to our family's needs throughout this process.

He demonstrated extensive knowledge related to complications involved with selling this property, and he was patient in coordinating paperwork with my brothers.

We are grateful that our family's home is now in the hands of new owners.




Just a quick note on behalf of Megan and I to say thanks for all the help on the Summersville property.




We were committed to purchasing a property by the time we reached out to you and several other agents at the start of October.




The Summersville property was the one we really wanted so we genuinely appreciate the fact that you were the first to respond and kept the process moving along by meeting me at the property and making Joel available too, along with all the questions I was asking. (Megan and the kids were making fun of me when they heard I asked you what a side by side was but were impressed that you answered with a straight face).




We really did pack a lot in to a short period of time to be able to close on December 9th. That was good going.




I will be in touch as we open the trails up and look forward to having you check it out.




Good luck on the sales front.






Contact Agent
Contact Agent
Contact Agent
Contact Agent