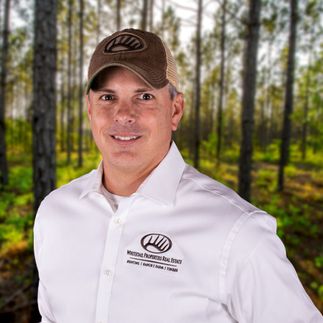 Jeremy Morris
Salesperson, Land Specialist / Licensed in AL
Testimonial Quotes
Jeremy Morris:

What My Clients Are Saying
I couldn't be more pleased with the outcome of working with Jeremy. He is the most professional, knowledgeable, detail-oriented and driven agent I have ever met.

When I made the initial appointment to meet with Jeremy, he and I walked our property on foot. He was interested in putting it on the market, but not at all pushy. After we decided to list it, Jeremy turned what we were expecting to be a very stressful undertaking into a completely stress-free one. He kept us updated on each aspect of the process and returned phone calls and text messages promptly. I found him to be extremely trustworthy and his advice was invaluable. Your clients would be very fortunate to have Jeremy as their agent and I will be recommending both Jeremy and Whitetail Properties for a long time to come.

"My working with Jeremy Morris was the best real estate transaction that I have experienced. He was extremely professional and proficient with all the required activities and information. My questions were answered quickly and with clarity. Jeremy did a great job for me. I highly recommend him and Whitetail Properties."

"Jeremy was very pleasant to work with and was very knowledgeable about the land. He continues to be supportive and helping advise us on best practices to manage the land."

"Great! Very knowledgeable, took time to analyze our places potential worth! Jeremy's estimate of value was higher than that of other agencies. We ended up selling for $55,000 more than other agents wanted to list at."

We couldn't have asked for a more professional and pleasant experience. Jeremy made us feel comfortable.

Awesome experience. Easiest and most efficient real estate transaction I have ever experienced. Jeremy Morris is not only a very smart business person, but he has a Master's degree in forestry and his knowledge in that field as well as his wildlife and hunting knowledge proved to be invaluable to me and my purchase decision. Jeremy is a true asset to your company and business.




Jeremy went above and Beyond his duty to ensure we made a closing on the property.

I could not be pleased any more. Jeremy was fantastic. He was extremely available and willing to work with us. He got back with us promptly and made closing easy and painless. I wouldn't want any other specialist to help me in the future. I hope to buy more land in the future. I will definitely be asking for Jeremy.

I trusted Mr. Morris judgement. He and I set a goal and time line for selling my property. He worked hard and made the sale happen in that time frame. I am more than pleased. He has been a pleasure to do business with.

Jeremy was wonderful to work with. He quickly marketed our property for sale and kept us informed throughout the entire process. He kept us informed of interest in the property and advised on options/offers without telling us what to do. He answered all texts, emails and phone calls promptly.

Jeremy was extremely helpful and took time to thoroughly explain the process. He is very knowledgeable and trustworthy.

Outstanding! Jeremy seemed more knowledgeable and had a better vision for marketing the property.




He was easy to talk to and knowledgeable of the property and polite and an awesome person.




Great experience. Jeremy was knowledgeable, professional and easy to communicate with.




It was a great experience.

Excellent! Jeremy Morris seemed to have the best vision for marketing the property.




We have purchased several properties in the past, Jeremy has been the best agent we've ever used. He was honest and straightforward, always there to answer questions or resolve issues as they arose. I would highly recommend using Jeremy for your next land purchase.




Awesome. Jeremy was straightforward, not pushy, paid attention to detail, and knowledgeable.




I want to thank you for all your help in selling our property in Lineville.




Your helpful, honest attitude stood out in our initial meeting. It was apparent that you liked seeing the land and that you enjoy what you do. The drone shots and marketing pics were great. Also your suggestions and advice during the process really helped us and made the whole process less stressful. I personally appreciate the fact that you listened to what I had to say rather than just waiting to talk or being pushy.




Your knowledge, dedication and hard work made our sales experience the best we have ever had. It was a pleasure to work with you and Whitetail Properties.

We could not have been happier with our experience with Jeremy Morris. We listed the property several years ago and the contract lapsed with hardly a word to or from previous agent so we just let it sit for a while.




We responded to a post card sent out by Whitetail and contacted Jeremy. He immediately set an appointment with us to look at the property. We were impressed with his enthusiasm for forestry, nature, our land, and his knowledge of the market. We knew while looking at the land that we were ready to list with him. While the property was on the market, he always responded quickly to our questions or concerns and it was clear that he was looking after our interests.




We were surprised and thrilled to get an acceptable offer so quickly and we especially appreciated all Jeremy did to expedite closing on the property in time for us to keep a date with grandchildren in New Orleans. We are in our upper 70s so don't plan to buy or sell any more land but we would be very happy to recommend Jeremy to any future clients.




Jeremy is a very friendly, respectful, honest, intelligent, and professional young man! He quickly became like part of our family. He stayed in touch with us about everything and did all the hard work so we didn't have to. We will quickly refer him to anyone we know that is wanting to sell property.



Contact Agent
Contact Agent
Contact Agent
Contact Agent