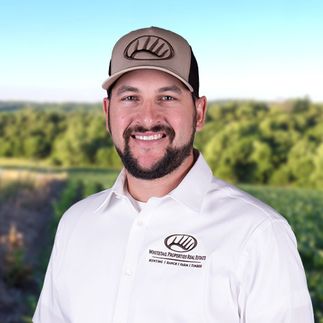 Jeremy Schaefer
Principal Broker, Land Specialist / Licensed in OH
Testimonial Quotes
Jeremy Schaefer:

What My Clients Are Saying
Jeremy is polite, well mannered, hard working, enthusiastic, friendly, easy to get along with and found a buyer for us. Thank you Jeremy and Whitetail Properties Real Estate.

Jeremy's communication was outstanding, I would recommend him all day long!

Scott Marous/ DBA Sheffield woods L

They know the business and worked well together as dual agents. Their performance was just perfect.

We started our search in mid January. After talking to two other area agents and tons of frustration, I was so lucky to find Jeremy. It was not easy working with us as we were looking for some very specific amenities. He hung in there til we found the perfect house! I highly recommend him and will miss our many conversations and showings!

Jeremy is a first class individual and a great Land Specialist/Realtor. His tireless persistence sold our farm!

It's been along road but thanks to you and your diligence and professionalism, we made it to a very good end result! THANK YOU for all that you have done to get my property SOLD! YOU made it happen, and for that, I am forever grateful! Now I can turn this page in my life....and with all the twists and turns we've experienced, I'm sure you're glad it's all come to fruition as well! Be well and much continued SUCCESS to you and your partner! Fondly,

Whitetail Properties Real Estate worked well with my need. They were very kind and knowledgeable. I'm so glad I came across their Facebook post!! Thanks Jeremy Schaefer,

Just a few lines to say Thank You! Mark & Jeremy did an excellent job. Courteous, prompt and friendly, I'm very happy with my purchase. We will definitely refer Whitetail Properties to everybody we know. I also look forward to working with Mark and Jeremy to help improve my land for hunting, as in planting food plots and placing stands. We hunted the property 2 times and seen multiple deer including one nice buck! Thank you,

Jeremy was great. He patiently explained the processes to me and was always available to answer my questions. He is truly an asset to your company. I will highly recommend him to anyone I know who is selling their property.

Jeremy did a great job especially with one very difficult buyer.

Jeremy is a truly great specialist. He kept me informed every step of the way. He was always available to answer my questions. He was also very knowledgeable. I cannot speak highly enough of Jeremy.

Easy, professional, helpful, stress free, competent, knowledgeable and personable.

Working with Jeremy was an extreme pleasure. His professionalism in knowledge of the market, coming up with a listing price that met our expectations, and the continued communication throughout the process exceeded our expectations. We will recommend Jeremy to anyone we know looking to sell their house or property.
From the first time we spoke with Jeremy, we could tell he was a no-nonsense type of person. He explained how he approaches each sale, how he comes up with a price-point for the property and house, by giving us examples of similar properties and houses in the area, and how much they sold for. The whole process was pressure-free. We felt completely comfortable with letting Jeremy handle the sale. And, as it turns out, it was a great call on our part :-)


We came across Jeremy a little over a year ago during an emotional time for my family. I was ready to buy anything and almost everything Jeremy showed us, well until he gave us his professional opinion and advised us what we had ahead of us. We have always lived in the city and we were finally ready to move out to the country with land for a horse ranch. Well Jeremy knew what we wanted as our end goal so he was EXTREMELY HONEST when it came down to making an offer or to keep looking. Honest - Jeremy never deterred us from any buy; he however, made sure we had all our facts and options in front of us firsthand for when we wanted him to put in an offer for us, this way we knew exactly what we were getting. Efficient - Jeremy, very knowledgeable in farming and property (which was something my husband nor I knew anything about) he was very responsive to our questions, concerns and quickly responded to our messages with data we asked for or phone numbers we requested. Reliable - Jeremy drove hours away to show us properties. When we bought he kept in touch the whole time, stayed on top of our loan and several times had to go above and beyond dealing with our Lender. Jeremy is definitely someone who will walk you through the process, give you the truth and drive hours away to show you anything. Jeremy wasn't hired help to us by the end he was definitely a great trusted friend and we would highly recommend him and Whitetail Properties to everyone. Thanks again Jeremy we are absolutely in heaven and we could not of done this without your assistance and persistence thank you so much for all your help Ryan's and Gina Roberts"

Very smooth overall. Excellent experience

Excellent he did everything we asked of him.

Jeremy was great. Patient and friendly. Honest about his thoughts on the land.




We like Jeremy and had great experience.
Contact Agent
Contact Agent
Contact Agent
Contact Agent