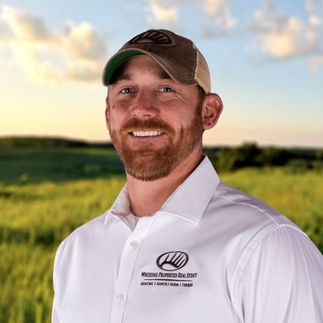 Jerrod Meyer
Broker, Land Specialist, CO Team Leader / Licensed in CO, NM Team Leader
Testimonial Quotes
Jerrod Meyer:

What My Clients Are Saying
"Almost all of our contact with Jerrod was through email. Professional, timely manner, and above all the property sold for the listing price. Would recommend Jerrod."

" May I take a few lines to compliment my agent who has just finished selling 3 of my Ag properties in Colorado. The well deserved compliment goes to Jerrod Meyer out in Pueblo, Colorado. A person goes into these deals hoping for an agent you can connect to. As a reader of motivational books, Norman Vincent Peale wrote a book about ENTHUSIASM MAKES THE DIFFERENCE. Also he wrote MOVE AHEAD WITH POSSIBILITY THINKING. What I knew I needed was: ENERGY, MOTIVATION, TRUTH, HONESTY, DRIVE. Most of all the virtue that I wanted the most was PASSION. Jerrod Meyer gave me that along with the key word: RESPECT. What I liked, he listened to me and factored in my logic, then he added his logic and the above mentioned virtues and all worked out. I am a deeply appreciative seller. "

"Very simple and honest. Despite minor bumps in the road for the buyer and his financing, Jerrod worked a win, win, win closing."




"Thanks much for your help and making the process of purchasing the property very straightforward and simple. The title company was also a good partner in the process so it was great to have your knowledge of the area and your local contacts. You guys made it a nice experience and felt it easy for me to check out the needed details on the parcel and complete all the business. If someone is considering purchasing land and wants some help I would suggest Jerrod at Whitetail Properties."

"Wonderful! Jerrod found a buyer more quickly than I thought would be possible!"

My wife and I had a wonderful experience selling a piece of property with Jerrod Meyer. It was a quick, stress free experience. Jerrod was very helpful every step of the way.




Sometimes you just know you are doing the right thing. My intuition told me it was time to sell the Westcliffe property and you were the one to get it done. The final push was the postcard you sent out that indicated you had just sold the land next to mine.

I am in receipt of your gifts. Thank you. Very nice travel mug and hat. I will use both. Also a nice note from Jeff Evans. Please send him my regards.

You exceeded my expectations. I was on the beach in Ixtapa Mexico when we closed the deal. Amazing technology that allowed us to do that. I hope to meet up with you one of these days to shake your hand and say job well done. But for now, this note will have to do.

Take care and happy trails




Jay

"Jerrod was very professional, answered questions I had very quickly and on weekends."

Professional, responsive.

Jerrod is honest, hard working, and a good family man. I like working with people like that. He got the job done and met my expectations. Always very responsive to my inquiries.

Jerrod is a pro. He understands what I am looking for and does not waste my time.

Jerrod was great. When I find another property I will contact Jerrod to see if I can go through him on the property.




Excellent, very professional, attention to detail.

Jerrod did everything he said he could do. My brother told me he had talked to him and Jerrod said he could get an offer on our property in a day or two. I told him you just wanted a listing. At my brothers insistence I called Jerrod. He did exactly what he said he would do. When Jerrod was out for 2 weeks, he told us to get with his partner in NE Colorado. Dan was totally up on all aspects of our contract and that was amazing to me. I have been a RE broker for 35 years, still can't believe it. Great job in every respect. Thank you, Jerrod and Dan.

Jerrod Meyer, was my agent in the listing and sale of my property in the Trinidad, Colorado area. I give Jerrod the highest rating of listing & selling my property, as it did not have ingress or egress. He was on top of his game in the great job of advertising and taking pictures with a drone. He immediately wrote to a potential buyer, and was successful in selling the property in about 30 days!! Jerrod was very professional in keeping me informed about every detail of the sale. He is kind,warm and very caring. I highly recommend Jerrod, he is an amazing Real Estate Professional!! Thank you,

He was very professional and knowledgeable. He kept me informed about every detail. He did an amazing job marketing the property, I would highly recommend Jerrod for any of your real estate needs!

Jerrod was awesome his response time and attention to every detail of the transaction was above and beyond my expectations! He was returning my emails while he was on his honeymoon. (I hope his new wife isn't mad at me). I would highly recommend Jerrod to any of my friends and family who are looking to purchase land and want a top notch experience!

My husband and I would like to send you a note about how Jerrod took care of us. He put our needs and wants before anything else. We would have to say it has been the best experience from a broker or agent we have ever dealt with. He took the time to listen to what we were looking for and took the time to investigate for us. He showed us several properties that he had a listing for and also showed us several properties that wasn't his listing. He went out of his way to make sure he showed us a variety of properties. We would have to say the experience with him we would be thankful to call him friend. We would and will refer him to anybody we come across looking for property. We are extremely thankful he took the time for us. Thank you Jerrod for making our dreams come true in finding the right property for us. Thank you,

Very easy to work with, professional and courteous.

Jerrod was beyond personal and professional in handling the sale of my property. He went above and beyond with every facet of the transaction. I would recommend him and Whitetail Properties any day!!

Solid, straight forward. He was great to work with. Communication threw text-email-phone calls. He always went out of his way to help me out and answer any questions I had. Couldn't be happier. Thanks

I recently listed, and sold, some property outside of Trinidad, Colorado through Jerrod Meyer. I tried a couple of other real estate companies in the past to try to sell this land and couldn't even manage to get it listed. Those agents wouldn't even follow through on looking at the land, and one of them even informed me that I couldn't have a 58 acre lot in my area because all of those lots were 35 acres!
Jerrod was so very different from those two. He responded immediately, was knowledgeable about the area, looked at my lot and took pictures for the listing within a few days. And in less than 2 months from the date of the listing the sale was completed (for full asking price) and I had cash in hand. I am thrilled!!
Jerrod was always available for questions and responded to emails and phone calls very quickly, and just basically was a pleasure to work with. I will definitely pass his name along whenever the opportunity arises. Thanks,

Jarrod was outstanding to work with through out the entire process.

Jerrod was very professional!

Jerrod did an excellent job selling my property. He came up with the idea to bundle a neighboring property to make both properties more sellable. He kept me apprised of any interest in the property and made selling the property seamless.

Jerrod went above and beyond for us for something that I know was a small deal for him. This was our first land sale in the state of Colorado and Jerrod assisted in referring a reputable title company, quickly got our listing posted with drone footage, and had the property nearly sold before it even hit the market.
When we had an unforeseen hiccup pop up that lead to one buyer backing out, he quickly had another buyer lined up and we were under contract less than 24 hours later.
He truly went above and beyond for us and like I told him once we were closed.... I wish I had more listings to provide him! We'll certainly be doing more business together in the future and would highly recommend.
Thank you Jerrod and to everyone at WTP, much appreciated.

We recently closed a couple of transactions with Whitetail Properties with Jerrod Meyer. We can't say enough about Jerrod! He was terrific! He helped us tremendously in this process! He helped us understand the market and the process. He answered our questions whether we called him on the phone, texted or emailed; he was always available!! We felt his enthusiasm and appreciated his suggestions. He invested a lot of time and effort learning our property so he was knowledgeable of our specific properties and our goals. We loved seeing the sales video he created and photos of wildlife. We felt our property received appropriate attention on social media - again thanks to Jerrod.
Jerrod is very personable and it was truly a pleasure doing business with Jerrod!!

Working with Jerrod was great. He was encouraging and interactive.

This is just a quick note to say how very pleased we are with our realtor, Jerrod Meyer. We asked him to sell our mountain property. Jerrod went to work and was able to sell within just a few months.




We know he was inundated with buyers, so much that he eventually had to pull it from the MLS. We also know that he put in countless hours making this happen.




Valerie and I cannot thank him enough, he was truly a pleasure to work with and always kept us informed. We both high recommend Jerrod and Whitetail Properties to anyone seeking to sell or buy.




He is truly an asset, a friend and one of the nicest people we have ever dealt with.

Jerrod communicated very well and was very motivated to sell our property.

We closed on 3 WP properties in the last month and all 3 agents did a spectacular job. We have sold several properties with Adam over the last few years and this was the 1st sale with Ben and Jerrod.




All of them were very professional and put in the extra effort to get our properties sold.

When I contacted Jerrod with our property listing he acted the next day. Our land was up for sale immediately with a wonderful description and photos.

I just wanted to give feedback regarding my experience with buying land through Jerrod. Jerrod was a breath of fresh air compared to the last realtor I was interacting with in a previous offer that fell through. As opposed to waiting weeks for a reply from the previous realtor, Jerrod's response time was in a matter of hours. He was flexible when I desired wording to be altered on the contract/amendment. The closing did get moved, but that was no fault of Jerrod's as the title company had to do some more research. During that delay Jerrod still remained responsive to my questions and helped me nail down a new closing date.

I don't remember who made the initial contact with Jerrod. We could have seen an ad for another property he had listed in the county and called him? Anyway, he inspected the properties and expressed interest and sounded confident. Listed in May and by July he was working with a buyer. We thought it would require some time and trips into the courthouse and title company. He e-mailed a few questions from the buyer who wanted a survey ($1200-$1500). We could answer some and suggested a surveyor who had surveyed most of the county. Jerrod simply said…"I'll start digging". The last question he relayed was asking if we would hold a note. We said "No" and figured that would be the end of the deal.




From that point on it was completely hassle free. Everything was done on line and the proceeds were in our bank by EFT. We highly recommend Jerrod and are ready to work with him on the next 40 A . We are taking steps to gain assess as this parcel is land-locked on all sides by a single ranch. He's a professional and a gentleman!

Realizing that we did not let you know what a great experience it was working with Jerrod Meyer to sell our Colorado mountain cabin and property. Jerrod was always helpful, professional, and worked exceptionally hard to make the sale as painless as possible. With a property like ours, there were many memories and sentimental value attached, and Jerrod was always conscientious of our feelings. And, when there were situations out of our control, Jerrods calm, upbeat, positive attitude perfectly counterbalanced my continual worry and control-prone personality! Our experience with Jerrod and Whitetail Properties was totally positive and all I could have hoped for in selling a property we had put our hearts and lives into. I would and will recommend Jerrod and WP in the future.

Mera Gleason & Jack Poloen, J

Jerrod did an amazing job getting the property sold and went above and beyond by helping me remove some debris from the property. Jerrod is an amazing realtor.

Working with Jerrod Meyer on the sale of an 80 and 160 acres was a pleasure. Jerrod is really into selling and knowing the land that he is showing. I found him very competent and professional in handling the transactions that led to the sale of both properties. I would not hesitate to use Jerrod again in future land listings and would recommend him to anyone looking for a competent and professional realtor.

I just wanted to let you know that my real estate purchase that I made through your company couldn't have gone any better. Jerrod was very informative and helped make the purchase went through as smooth as possible. He has also kept In touch with me since. I realize how difficult transactions can be when the buyer is from one state and the property is in another. If I decide to purchase another tract I will definitely call Jerrod

I just wanted to pass along what a pleasure it was to work with your team member Jerrod Meyer in locating and buying our ranch in Colorado. Jerrod is an expert on the what's and what not's. He was able to help us maneuver through some very difficult and confusing owner deeds on the land we bought. He made sure that we are protected as the new owners and that all the confusing deeds involved were clear and free for us to buy the land. This was a 3+ month process that without Jerrod's involvement would have fallen apart.

If you are looking to buy land, Jerrod Meyer is your guy.

I was very satisfied with Jarrod's help in selling our properties near Trinidad. I have had a few agents list them in previous years and was very disappointed with their performance. He did a great job in communicating to me. Very professional and responsive!




Thank you Jerrod for a job well done! You are welcome to use me as a reference

After contacting Jerrod to maybe help us with selling our folks farm, he came out to the Gardner Farm and visited with us in the barn. Peggy and I both felt very comfortable with Jerrod. He gave us ideas about selling the farm and how it is done. He said it would be put on Whitetail's web site, which he did and the pictures were great. He informed us about some people coming across the river after he set up the cameras, which was good to know and we checked this out. It was a good visit and then we went for a ride around the farm and in the river bottom.

We signed up with Whitetail.




Jerrod would contact us for info he was needing by Text, a call or email. He was always prompt in getting back to us about a question or situation we were having. He is easy to talk to and informative. Jerrod found several potential good buyers and we got a written offer..

Awesome one on one care and an experienced professional.

I wanted to thank Jerrod for going the extra mile and making our selling process far smoother than we expected. We wish we could have used Whitetail Properties for all of our prior real estate transactions. You guys are the gold standard in real estate! Thank you again for the assistance and answering our questions and concerns.

I wanted to thank the Whitetail Properties Team, and especially our agent, Jerrod Meyer, for helping us to sell our property on Cedarwood Station. Over the years, our retirement needs changed, and we no longer wanted to retire so far away from family. It was a very fortunate day for us, the day we got Jerrod's postcard in the mail!




I called and talked to Jerrod and felt I could trust him with this long-distance, and he was great about communicating. We were very happy with the results, and are just awaiting a final copy of the paperwork from the title company. Please convey our thanks to Jerrod!

Very easy and straightforward process. Open and honest with excellent communication and always answering any questions I had in a timely manner.

Jerrod was a consummate professional throughout the transaction. We found out early on that the property had title issues. Jerrod jumped right in and negotiated with myself, the seller, the title company and an attorney to find a solution. While the solution took a few months, it was the best route to ensure that the property was conveyed in the proper manner. Six months later, my family is the proud owner of a big chunk of juniper, scrub oak and cactus (which just happens to hold big elk and huge muleys but don't tell anyone that). Seriously, Jerrod went above and beyond to make this deal happen and I won't hesitate referring him to anyone I know looking for land.

Jerrod was very easy to work with. His communication was top notch - he almost always responded to emails or phone calls within a couple hours. Since I was not near the area of the land that I was selling, it was helpful to have his expertise and opinion in my pricing decision when I listed.




He got to the property about 3 days after I signed the contract and took wonderful drone pictures, really highlighting the features of the property and had it listed just a couple days later and this was right after the arrival of his new baby.




He told me what to expect in terms of a time frame for selling and we included some wiggle room in the price. I had a serious offer in about 6 weeks. He handled what he could of the documents for me as I expressed to him that I was not interested in traveling back to Colorado to close and kept me informed every step of the way. I had a couple things come up after the closing, and even though we were done with our transaction, he still responded to me right away.




If I were asked for a recommendation for a realtor in that area again, it would be whole heartedly for Jerrod. Having worked for an attorney for many years, the one thing I expect and appreciate is just to be kept in the loop -- and he does that wonderfully.

After visiting with Jerrod Meyer we decided to use Whitetail Properties. I found them to be personable and professional.

Loyde P Gardner Trust- Donna D T

On behalf of myself and my husband Gilbert, we both wanted to thank all of you at Whitetail Properties for brokering the sale of our property. Needless to say, we are very happy at the outcome. We believe we received a fair price for the combination of the land and the turbine, and it couldn't have happened without your efforts. Also, being able to complete everything via the internet was a blessing, and still amazes us.
Contact Agent
Contact Agent
Contact Agent
Contact Agent