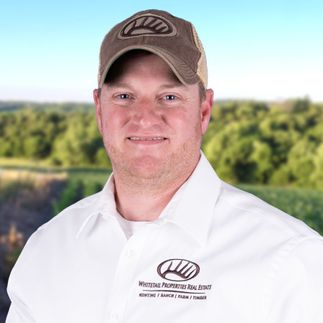 Joe Cebuhar
Broker, Land Specialist / Licensed in IL
Testimonial Quotes
Joe Cebuhar:

What My Clients Are Saying
"Amazing through the entire process."

They were the best! Supportive, professional, thorough, honest and very knowledgeable of land/farm/home sales.

Joe was outgoing and always available. Answered any question I had and if he didn't know he got the answer and got back to me in a timely matter. Joe was easy to interact with and made the experience enjoyable.

Please know that Joe Cebuhar was an incredible person to work with. He was professional, answered all of my questions and walked me through, over the internet, my transaction. He was personable and really gave me confidence in his knowledge and abilities. He was a delight to work with and I would highly recommend him to anyone wishing to have a good experience with their real estate transaction.

Very good. Sale was quick.

Joe did a good job of keeping me updated throughout and working the process once we got an offer and managing through the inevitable issues to get to closing.

Truly Enjoyable! Joe is a geniune professional and he deeply cares about the poeple he is serving. I was impressed at the amount of time he spent with the seller and myself, along with his responsiveness to my inquiries and following through on his commitments.

We had an outstanding experience with our agent from the property search stage all the way through closing. In fact, our relationship is still developing as he is now helping us develop and execute multiple habitat, wildlife, and recreational improvement strategies for our property. Our property search process included several bumps in the road, and at times seemed hopeless, but our agent was always there working through them with us, helping us stay positive and patient, and always taking the initiative to ensure our best interests were covered. To this day we are still learning from him and in constant contact. In our opinion, we couldn't have been in better hands than Joe Cebuhar's during our first ever search for our dream property.

I was a first time farm buyer with a lot of questions and Joe was very helpful. I first called Joe on a Friday and he made time to meet me out there the very next day. Communication at times was choppy, but I understand service in a lot of remote areas isn't great. I felt confident in Joe to act on my behalf as an agent based on our initial phone calls and property visit. I believe this lead to a unique situation with difficult sellers he was also representing. Joe worked with me throughout the process and at the end of the day got the deal done. I am looking forward to staying in touch with Joe and use him as a resource in the transition of my new property.

The experience could not have been better. Joe Cebuhar did an excellent job. He worked hard, kept us informed and followed through.

Made 1st contact with Joe about 3 years on a piece of property in Calhoun county. He has since shown us at least 10 other properties. And has sold our daughter and her husband and our son and his wife properties.

Joe was excellent and communicated through the whole time of listing to sale.

Outstanding! He made it very easy and was exactly what I needed.

Excellent. It took just over a year to find the right place for me. Joe was right there with me, every step of the way.

Joe was prompt to respond and professional. He kept us informed of the timeline with updates throughout the selling process.

Truly a pleasure working with Joe Cebuhar.

Joe was very easy going, knowledgeable and would get back to me right away with all my questions/concerns.




Great experience! Joe was awesome! Very professional and knows what he's talking about.




Joe was already familiar with our CREP property we wanted to sell. Very easy to work with. Helpful and went out of his way to keep the sale from falling through right before closing.

Joe went above and beyond to help me sell the property. He is top shelf!
Contact Agent
Contact Agent
Contact Agent
Contact Agent