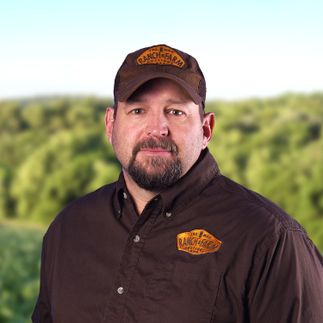 Joe Gizdic
Director of Auction Services, Broker / Licensed in IL
Testimonial Quotes
Joe Gizdic:

What My Clients Are Saying
We are happily settled into our home. We couldn't be happier, had family over for Thanksgiving and for Christmas. It was a great success and everyone just loved our house. We bought our farm from you guys a few years ago and I must say it was a great experience. I knew we would be doing business again. We have really enjoyed our farm; fishing, hunting trail riding, mushroom hunting or just going out there and taking a walk.We love the house so much. It fits us perfectly. It has been great for entertaining. I can't wait for warmer weather so we can spend some time out on our decks. I did get an opportunity to go fishing in the pond by our house and I slayed them. Quite tasty.As you know Alisha is pregnant and due anytime with our firstborn son. I was thinking about your motto "Dreams to Reality" and these last few years my dreams have come to reality. We've got acreage, a beautiful dream home and a child on the way. The mot to means so much more than shooting that 200" whitetail. We just can't thank you guys enough. The whole experience has truly been awesome.

Best Regards,

Joe was very professional and very friendly to me, the buyers, and everyone that he had contact with while he was showing my property. He always stayed in contact and I was very pleased with his performance.

Joe was great to work with and I will recommend him to my friends and family. It was a great experience!

I am very happy and pleased with my Whitetail Properties agent Joe Gizdic. Working with him was very easy and he went over and beyond for me even with the fact that I was only purchasing a small track of land. He is by far one of the best real estate agents I have worked with.

I had never met Joe until a month ago but now I consider him a good neighbor and a new friend. He was very professional from the beginning to the end of the transaction.

Joe did a great job selling this property. He was very knowledgeable and also very responsive to our phone calls & questions. We also fee like he will continue to work with us after the sale. It wasn't like, "Okay, the sale is over & we won't hear from him anymore." We also purchased a deer blind from Joe. He is great with sales & works well with people. He is definitely a fit for the job that he is in. I am very pleased with his service skills as well. He is one of the top rated real estate agents that we have ever worked with. We are extremely satisfied in all areas--Great work on his part.

After having dealt with other realtors, Joe was outstanding! He went far above what I would have expected him to do! Thanks Joe!

Joe Gizdic made the sale of my home and 76 acre farm a pleasant, enjoyable experience. He was efficient, thorough, and diligent in his sale's approach. In a quick fashion, Joe was also able to expertly sell my prospective buyer's farm which allowed for the timely sale of my entire property. Joe steadily goes the extra mile in the best interest of his clients. Joe was a true joy to work with. He is always on his game.

Joe did a great job and is still helping me with a few loose ends after the closing. I have already recommended him to one of my friends.

Joe did a fantastic job and I feel like I have gained a friend throughout the process of buying my first property. Joe has always been willing to answer questions and talk about what we need to do to the property in the future to produce the best results. He is very knowledgeable and I appreciate his efforts.

Joe did a fantastic job and I feel like I have gained a friend throughout the process of buying my first property. Joe has always been willing to answer questions and talk about what we need to do to the property in the future to produce the best results. He is very knowledgeable and I appreciate his efforts.

Joe Gizdic and I went on a roller coaster ride trying to find a property to close on. Through all of our struggles, Joe kept me well informed and provided knowledgeable advice so that I could make the best decision. I plan on using Joe for many more purchases in the future and I would recommend him to anyone. I feel very lucky to have a guy like Joe in my corner for future endeavors. Thank you, Joe.

Joe has done a tremendous job in helping me with the sale of my dad's Illinois property. He has always been just a phone call away anytime I had a question or concern.

I give Joe my highest recommendation to anyone looking to buy rural property. He knows this area extremely well and shares that knowledge honestly. He was responsive to all of my questions, no matter what time of the day or night, weekday or weekend. He never seemed rushed or preoccupied when looking at property or having a discussion. I know he has "higher dollar" clients but I was always made to feel like I was a priority. After the closing, he emphasized that I could call him anytime with questions regarding the farm in terms of improvements, habitat management or anything else I needed. I will take him up on this offer as he truly is a great resource and quite simply, just a great guy to talk to. Simply stated, I am extremely pleased with my experience with Joe Gizdic and Whitetail Properties and would gladly refer them to anyone looking for hunting, ranch or farm land.

Joe treated us like a family member not a customer. Joe's photographs and narrative description of our property were remarkable and accurate. At no point did we feel pressured to act quickly or irrationally. Pleasant experience from start to finish. Definitely would recommend Joe!

Joe is awesome! Your fortunate to have him working for you!!

Ed and Joe are both top notch real estate agents, and I will be doing business with them again in the future.

Joe killed it for me! It was 7 degree's when we first looked at the farm and he didn't care. He stayed in constant contact with me as a buyer and let me drive the pace. He's a great guy and I would do business with him again and recommend him to anyone that asked. Chuck Berra

Joe was very helpful and professional in handling the sale of our property.

Great experience. Excited to get on it. Hope to find some big deer on it. Thanks a bunch

Joe went the extra mile to sell the property. Even split the property into sections and monitored the survey to ensure everything was as it should be.

Joe is very knowledgeable, communicated very well and kept me informed regularly. Was willing and did go out of his way until the sale was complete.

Always available and stayed on top of the situation. I appreciate the timely communication which kept me informed and worked with me in regards to the timing of the closing. Appreciate the fact I feel he works for my interest and will go to bat for me in a pinch.

Was very impressed with how fast Joe had people looking at the property.

Joe was able to find us a buyer in a timely fashion to facilitate a tax transfer to purchase a different farm. He knew the right people to help with the effort. We would for sure recommend him for any farm property sales. He's a GREAT Guy to have on your side and works hard to get it done.

Excellent to work with. Listened to what I had to say and kept me on track. They were both very easy to work with and easy to get hold of when I had a question or problem. Never made me feel like I was interrupting them and gave me their full attention when I called.

Joe went above and beyond expectations. Kept me up to date on progress of showings and sale to all parties involved. 110 %.

If it wasn't for the efforts of Joe Gizdic to come up with a alternative to the farms original access we would have never purchased the property. Not only was Joe incredibly knowledgeable but we found him very personable and a true pleasure to work with.

Great guys to work with. Anytime I had an issue they were right on top of it. Never had a problem getting hold of them. I just can't say enough good things about Clyde and Joe both. I would highly recommend them to anyone.
Contact Agent
Thank you
We'll have an agent contact you shortly.
Contact Agent
Thank you
We'll have an agent contact you shortly.