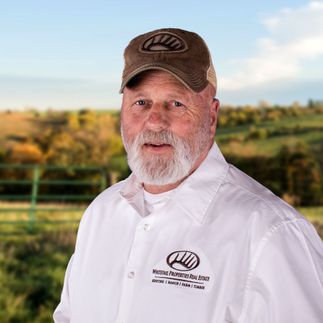 Joe Martin
Sales Associate, Land Specialist / Licensed in KY
Testimonial Quotes
Joe Martin:

What My Clients Are Saying
I have purchased and sold many properties in my time and dealt with many agents from many companies and I must say that Joe Martin and Dave Skinner are by far the most knowledgeable and professional agents that I have EVER done business with. They are not only superb salesmen, they also know the land itself, the property background. wildlife info, community info, etc., NOT ONE question went unanswered. Most importantly they are both men of extraordinary moral and ethical character. These are the type of men who set the standards of quality, reliability, knowledge, and dependability for the real-estate industry. They don't get any better than this. Thank you Joe martin, Dave Skinner and Whitetail properties.

Joe was very knowledgeable and made me feel comfortable in the deal. Me and my wife really like Joe and hope to keep in touch with him. I can not stress enough after dealing with 2 other Realtors, how Joe's knowledge and helpfulness was and is appreciated.

We just wanted to take a moment to thank you for a great experience and update you on our progress. We are thoroughly enjoying our property that we bought in Rock Castle, Kentucky. We strive to spend every second we can there. Brian has begun construction of a small cabin on the property and we can't wait till it is complete. We are hoping to spend Christmas 2015 in the woods! We think of you often and our buying experience, it was such a smooth transaction. We also wanted to thank Whitetail Properties for the wonderful Can Cooker we received in the mail. It was a total surprise and we have enjoyed it immensely.

Joe was great! He went above and beyond for our company. I would definitely recommend him.

Mr. Joe Martin did a fantastic job. He met me on the Friday after Thanksgiving and walked the 90-acre property. He took 113 photos and sold it.

Joe was an excellent agent. Would gladly recommend.

Very impressed with Mr. Martin. Excellent job!

I would like to acknowledge Joe Martin for his support in helping fulfill a lifelong dream of owning a recreational property that will be enjoyed by our family for generations. As first time buyers of a large parcel property, we were extremely uncertain about how to go about the process. We spent about 6 months randomly bouncing around listings in central KY with numerous agents (none WTP BTW) and never felt really comfortable and trusting that your needs and interests were their priority. Until we met Joe Martin! My son and I began working with Joe in March of 2106. From the very first phone call it was clear that Joe had one priority, to exceed my expectations in every way. We spent a great deal of time before ever visiting a property, talking about what it was that we were looking for and what did we want to get out of the property. The depth of his knowledge of the area and land attributes necessary to meet the needs we were looking for was comforting. We quickly developed a level of trust that set my mind at ease. Once we moved on to actually getting out to visit properties, Joe continued to gather insights around what we liked, what we didn't and formulated where we went from there. Living 4 hours from the area we were looking at, Joe always did his homework and we vetted dozens of properties before we finally found that gem. Throughout a 4 month purchase process that was very complicated, Joe's knowledge of the real estate, land, timber and mineral rights was invaluable. We made 3 or 4 trips to the 288 acre property and each time came away with a list of needs to be addressed before close. Joe Martin is the consummate professional and worked tirelessly FOR us every step of the way to bring our dream to reality. In closing, I would be remiss if I didn't mention THE most important thing that Joe Martin so freely gave us.....his trusted friendship. Whitetail Properties is extremely fortunate to have Joe Martin on the team. As for us, we will be excited to share out dream with friends and family, including Joe Martin, for generations to come! With most sincere thanks and gratitude,

The Vucurevich's Pam, David, Nick, Amy and Zack

Agent did a fine job, expeditiously and professionally.

Joe was very helpful and took his time with everything and went out of his way to be helpful, very satisfied.

Joe was great, even though it didn't work out as originally planned Joe handled it very well. He helped me a lot through the process. Thanks Joe y'all need to give him a raise after this one!

Joe did a great job and always kept in contact with us.

Big thanks to Joe Martin!

Many thanks to Joe. He did a great job of showing and selling my place quickly and at fair value.

Joe went above and beyond in an effort to sell our property.

Joe Martin acted as the agent on this transaction and was terrific. Joe is very knowledgeable, dedicated and extremely hard working. We really enjoyed working with Joe.

Joe is an excellent agent. I will use him again. He is hardworking and professional. He goes the extra mile to make the deal work.

This was our third closing with Joe Martin. He's always very helpful and professional.

Our agent, Joe Martin, went well above and beyond what a typical real estate agent would do. He showed great knowledge of the properties and great patience showing us every one we wanted to see. Mr. Martin's knowledge and experienced showed when he was able to choose several properties that met our liking just from asking a few questions (this made it difficult to choose just one). Joe was very patient with us because he knew how big these decisions can be. We visited our new property twice before making the decision to make an offer. Joe was extremely helpful during the offer, contract and closing. I would definitely recommend Joe Martin of Whitetail Properties to everyone I know who may be looking for property in Kentucky.

This was the smoothest easiest closing I have ever experienced. Joe took care of every detail to make sure everything on the buyer side and my side went as planned. The time that Joe took to learn and understand my property was incredible. He knew my property almost as well as I did. Joe was not only professional but he understands timber and is a true hunter. That was so valuable to me. I would highly recommend Joe. He is honest and genuine.

I live in Georgia, and I was able to handle the transaction from listing through closing through email and FedEx without a hitch. That service is excellent.

Mr. Martin was very knowledgeable and helpful in my search for my hunting property. He kept me informed throughout the process. I enjoyed meeting him and the time I spent with him looking at several properties. I am very happy with my experience and would highly recommend Whitetail Properties to friends and family. I would especially recommend Mr. Martin, I can't thank him enough for helping me fulfill a lifelong dream of owning my own hunting tract. I've never been so excited about the upcoming hunting season. Thank you

Since we are from out of state, our agent Joe Martin had to not only review and call on but actual go to many properties and forward us the information about each property to see if we had been interested. He actually took pictures and video while at some of the properties. Joe even went out of his way to make appointments with either my wife or my son to visit some properties. He was with us through the entire process and I would never use anyone else after experiencing Joe's service. He is the BEST and Whitetail Properties should be honored to have him as a representative.

I could not be more pleased with how helpful, professional and diligent Joe Martin was during this process of selling my property. He spent the time needed to know and understand every aspect of my property. That detailed knowledge of my property and the surrounding community that Joe took the time to learn was so key in my opinion. It was like he was trying to sell his own property. I have recommended Joe and his services to everyone I know who is looking to sell or buy.

We thought Joe did a great job marketing our property. He was very helpful and patient with a difficult closing situation.

Dan Perez, you have two awesome dudes in Joe Martin and Derek Fisher. I've known Derek since he helped us buy this property in 2014. He co-listed with Joe and my wife and I couldn't have been more pleased!!! Great guys and great company!!!

Superb!!!!!! He has gone above and beyond the call in every way!! Before closing he had state biologist to meet on site to help plan and tour the property. We are months ahead of schedule for our management plan because of his efforts!!!!!!!!! He arranged for a dozer to be on site the day after closing to start site work. Can't say enough!! He has spent his time and money to help everything progress. I will continue to call on him and his experience in my plans moving forward.

Perfect! Joe found the property which was not advertised publicly and put the whole deal together. Joe has continued to assist with work on the property, finding me local contractors to help with the improvements!

Joe, Kim and I would like to let you know how much we appreciate all your help with selling our farm. Thanks for making all the many trips to the property to appease the buyer, confirm property lines, etc. and for all your advice throughout the entire process. We listed this farm several times in the past with no real interest. Your listing, property description, pictures and drone shots made all the difference. We are sure we picked the right Realty Company and the right Agent. Thank you again!

Excellent! From listing to closing, Joe was very professional and informative, keeping us up to date throughout the entire process. Great experience!

Joe is awesome! I can call him and tell him what I am looking for and he goes to work for us! He truly cares about his clients. He is very thorough throughout the entire transaction. I highly recommend him!

He was always quick to respond to questions, very knowledgeable and friendly.

Great! I met Joe and liked his personality.

Joe Martin has worked tirelessly to see this through to the closing. Great respect for him. He has been a great advisor with land management and improvement.

Professional in every way

Joe Martin was a pleasure to work with!! On a scale of 1 to 10, Joe is a 10 hands down!! He went above and beyond to ensure our experience was top notch. He is a great guy and we would recommend him to anyone.

Even though Joe was working for the seller, he was professional, responsive to questions, texts, and emails. I would definitely use him for my family's future needs.
Contact Agent
Thank you
We'll have an agent contact you shortly.
Contact Agent
Thank you
We'll have an agent contact you shortly.