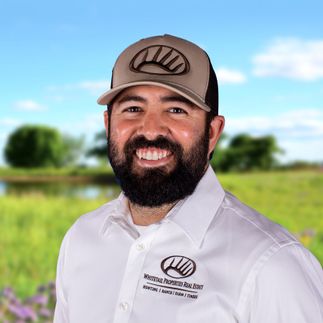 Joey Bellington
Broker, Land Specialist / Licensed in TX
Testimonial Quotes
Joey Bellington:

What My Clients Are Saying
"Thanks to the hard work and professional way our sale was conducted, Joey & Blake at Whitetail Properties got done in 1 month what the other realtor couldn't do in 2 years - Sell our ranch. Within 1 week of listing our property we had an offer and it was sold about 3 weeks later. We really appreciate the fast service."

Thanks


Joey Bellington was a true pleasure to work with. He first listened to what I was looking for, and was very careful to not waste my time with properties that did not fit the criteria. As a first time property buyer I had many questions around what to look for in a rural property. He was tremendously informative and even connected me with third party companies to give me advice and further services. This was truly a great experience and would highly recommend Joey and the Whitetail Properties team!

The decision to sale my property due to my husband's death was a hard one for me. What could have been overwhelming to me was made easier by the professionalism and the kindness that Joey exhibited throughout the process. He was an optimistic agent and also one that kept it real as far as price and potential went to meet the goals I had for my sale. He worked for me to get the best deal and answered any questions I had with straightforward information. He and Blake came out and took wonderful photos of my place, some using a drone which showed the property to its advantage. These were invaluable in presenting a great online presentation. I had a lot of showings and the property sold quickly, the offer that I accepted being made within a couple of weeks. Throughout the negotiation process Joey worked for me to get the best deal not only on the property but on the personal items that went along with the sale. I would recommend Whitetail Properties to anyone wanting to sale rural property. Their marketing process beats anything I could have found locally. They are proactive and energetic and committed.

Joey was great! I would use him again in a heartbeat to sell my property. Our property was very hard to sell and Joey did a great job marketing the property and keeping me well informed along the way. A+ Job

Joey was the best! I hope I come across people that need Whitetail Properties so I can tell them just who to call. Great experience during a difficult time. (Selling my father's estate.)

Joey was our agent for our personal residence and the ranch property. He is professional, dependable, polite and honest. He is by far the best realtor agent we have ever worked with.

Joey immediately connected with my family. He was ALWAYS accessible, which is important to me and has been a shortcoming when dealing with real estate professionals in the past. He has continued to be a trusted advisor even after the sale, which speaks volumes to his character.

This was a difficult sale and Joey helped us every step of the way.

Joey Bellington worked tirelessly to help me find a perfect hunting ranch for my family. And he educated me about some essential aspects of land stewardship along the way. I could not ask for more from a Land Specialist.

We would like to tell you that Joey Bellington and Blake Farrar worked hard to get us two potential buyers, with the second buyer closing on our property and getting us a fair market value for our property. We previously had our property listed with another local broker who tried hard to get us a buyer but just could not find a buyer for our property. We decided after a little research to change our broker to one who had a broader scope of potential buyers available and that was Whitetail Properties. We were glad that we made the change and got our property sold and closed in a relative short period of time.

So helpful, accommodating and professional!


Joey was the complete professional. He always kept us updated on a weekly basis and talked us through several situations. He had the property sold before it went on the market. After verifying the brochure information, we met with Joey and discussed the parameters that we wanted to follow in the sale of this property and he made it all happen. You have a good man handling the Central Texas area.


Excellent Service. Joey was very professional.

Joey Bellington was very responsible and proactive. He was superb in showing the property and dealing prospective customers and following up.

Awesome, very professional. I knew the reputation and the broker.
Contact Agent
Contact Agent
Contact Agent
Contact Agent