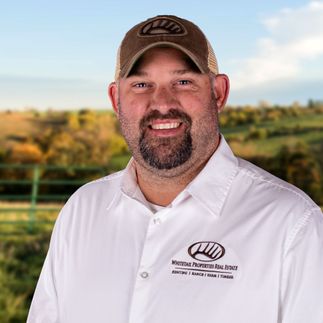 Josh Ongley
Salesperson, Land Specialist / Licensed in PA
Testimonial Quotes
Josh Ongley:

What My Clients Are Saying
"Josh was knowledgeable, pleasant and very helpful! "

"Josh was knowledgeable, prompt and forthright! Great advertising for this type of property!"




Josh was awesome. He was super helpful in explaining the property to me and guiding me through the purchase process. He was really good at keeping me updated and even was responding to me during his off hours. He was in the tough position of having to represent the seller and me, the buyer, and managed to navigate that extremely well too!

It was an awesome experience, everything was well organized an efficient! Our agent was a wealth of information with his in-depth knowledge of the timber industry and wildlife. This really helped influence our decision. It was really refreshing working with someone who knew what they were talking about!

Josh Ongley is a consummate professional.

As a novice, I leaned heavily on his expertise and experience throughout all aspects of this transaction.

I look forward to future dealings with Josh.

Everything went very well.

Josh did a great job. Very helpful and kept me informed during this stressful time.

Josh was great he walked thru thick brush and wet ground to show me a few different properties that he had listed.

The process was extremely smooth and easy. Josh made sure to update me daily on the process status and answered all of my questions. I would not hesitate to work with this company again in my future property transactions.

I recently purchased 155 acres in Crawford County Pennsylvania and Josh Ongley was my representative from your company. I spoke with Josh on the phone first and gave him my wish list. Josh was leaving for vacation the next day and made arrangements with a property owner for me to walk their property. It wasn't what I was looking for. As soon as Josh returned from vacation he called me and said he may be listing a property that might be of interest to me. As soon as it was listed, he met me at the property and we walked it before it went on the website. Josh was extremely knowledgeable about timber and pointed out some future timber values on the property. We both shared a love for the outdoors, especially hunting. We hit it off right from the start. As soon as we finished walking the property, I knew that this property checked a lot of the boxes that were important to me. We left that property and drove to another, but I knew that I found what I was looking for. At that point, Josh took over, and the whole experience couldn't have been any better. Josh gave me the name of a lender that works with people buying raw land. That part of the process went smoothly, and the contact between my wife and I and the property owners, (through Josh) was very easy. We continue to be in contact and have discussed any future properties that may become available. I have referred some friends to Josh as they are looking for property just like I was. In a nutshell, the entire process was smooth and flawless and a lot of that had to do with Josh's professionalism and leg work. I feel as though I have met a life long friend. I would recommend Josh Ongley and Whitetail Properties to anyone looking to buy hunting land. I believe that Josh is a valuable asset to Whitetail Properties and you are extremely lucky to have him on your team. I am fortunate to have met Josh, and lucked out by him being the person I contacted from Whitetail Properties. If you have any questions about my experience, please feel free to contact me. Sincerely,

P.S. Josh gets 5 STARS!

I have looked at a few properties with Josh before buying this one. Josh quickly learned what I was looking for and worked to find it. Josh is a top notch agent and one who is responsive, professional, and displays a high level of knowledge and character.

Jeff is a great guy and a true professional. He always answers his phone. We have become great friends. Jeff referred me to Josh when I had a farm to sell in Pa. Josh did a great job and communicated well! I don't like voicemails, it's nice when people pick up the phone like Jeff & Josh do.

Josh was great from start to finish. He communicate with us through out the process.

Josh took care of everything and made my part in this process virtually painless it was a wonderful experience and I would do it again.

Josh is a very energetic person, positive and very professional. It was a pleasure to look at properties with him. He had good suggestions and was very helpful to see it through to the end.

He did everything he could do to keep my property presentable to the public. I am disabled and could no longer maintain the property.

Property was better suited for hunting than building. Josh came through.

I was very pleased with Josh Ongley. Prompt, very courteous, very knowledgeable and very polite.

It was effortless on my end. Things went very smooth.

Prior to our first meeting, Josh becamse familiar with our place. With that knowledge, he presented a plan that gave us confidence in him, that he would do his best. He was always upfront with any concerns we might have. Josh kept in touch with the progress of the sale and problems which arose from interested people. Any calls made to him with questions - he answered honestly and i knew he had our best interest in mind.

I just wanted to take a moment and thank you for everything you did to sell our property. But most of all, you kept your promise of keeping my parents safe during the process.

This was a tough scenario for them to go through, after owning the property for many decades. You were always available to them or to myself. It's not so much about the actual sale of the property, but what meant more to us, and especially to me, was the way you handled all of the dynamics and kept my parents in mind at all times.

Thank you for being honest, reliable, patient, and taking care of my 90 year old parents in this process. You did exactly what you promised and we will never forget that.

Carol Hardt Meek, daughter of Frank & Gertrude H

Very pleasant, no hassle deal. Very impressed with pictures and videos of land on the listing.

I wasn't sure I wanted to sell the property at first. I knew many people were looking for property and I really didn't find the time to use mine. I reached out to Josh after seeing how well things were going for him selling wise on his social media page. Josh took the time to walk my property and gave me a ball park of prices that my property may be worth. He made me comfortable enough to list with him and I had an offer the very next day! It gave me the funding I needed for my next adventure and gave the buyer a piece of outdoors they can be used and appreciated!

Josh was amazing to work with. He brought knowledge of the land along with his friendly personality, he was easy to work with!

Josh is extremely knowledgeable regarding the area of purchase and understood our needs. He also facilitated our negotiations with the seller. Josh is an asset to Whitetail!!!!

I am very pleased to have worked with Josh Ongley, who was referred to my by Joe Sangimino, your land specialist serving Northern West Virginia. Joe, as a guest speaker to our local Real Estate Investors Association, presented a virtual discussion of land investment as a commercial land investment strategy. The presentation was both informative and impressive. At the conclusion, Joe emailed the graphics and notes used in the presentation, which was my introduction to Whitetail Properties Real Estate. This was invaluable and allowed for further study, as land investment was a new concept for me at this time. I have had years of residential rental property management experience but none with land investment.

This virtual meeting took place during early March of the current year. Shortly after the meeting, I did contact Joe who referred me to Josh Ongley, who works in the North Western Region of Pennsylvania where I was considering a timber land investment. Josh and I spoke on the phone briefly, where I outlined my land interest. We soon planned an in-person meeting at a property where Josh and I walked the land. During the next few weeks and then months, Josh was very patient with me as I continued to explore the possibilities of each unique property.

I finally settled on a property that needed to be part of a 1031 exchange. Josh was able to appease all involved during the 1031 exchange process. It was always encouraging to have the knowledge that although Josh represented both seller and buyer he could be counted upon to be trusted and reliable with all of the information that needed to be shared during the closing process.

From the very first in-person meeting and through the closing on the chosen investment property, I have thoroughly enjoyed working with Josh. Two of his strongest characteristics of his salesmanship are his astute knowledge of reading the land along with his no pressure and easy going disposition. The latter is a skill that can not be taught. You are fortunate to have Josh on your team. Please relay my extra thanks to Joe Sangimino for his exellent introduction to Whitetail Properties and to Josh Ongley whose performance is outstanding. You may be certain that I will continue to recommend Whitetail Properties Real Estate. Sincerely,

Our experience with Josh was an extremely pleasant experience. Josh was very efficient and thorough throughout our whole purchasing process. I would recommend Whitetail Property Real Estate to anyone and direct them to Josh if I could. I can't say I have ever had a better transaction! Thank you, Josh!

Josh Onlgy answered all my questions about the property and in a timely manner. The negotiations were handled promptly. The closing went off without a hitch.

Josh met with me to walk the property and worked with me to get the best offer in.

Great!!!! Want to list house and acreage!! Loved the personal experience.

Was looking at another property and the realtor suggested that I look at this one.

Josh Was Awesome to work with, smooth transaction.

Josh showed us the property twice before we made an offer. The second time was with other family members. He was very open and honest and answered all of our questions during the process. He did have to go back to the sellers a few times to get answers to some of our questions and issues. He was very prompt and kept us informed, even during his family vacation time. We even agreed to use Josh as our Agent in case this particular deal fell through. We wouldn't hesitate to use Whitetail Properties in the future

Very professional, hardworking, and a great personality!

The experience was excellent!

Professional, responsive agent.

My husband and I have always wanted to own land for hunting, camping and recreation with our children and this dream just became a reality for us. Josh was great to work with. He was very prompt and easy to communicate with. The entire process was seamless and much easier than we expected.

Great. Josh was great to work with!

Excellent, timely response.

Josh was very helpful right from the first phone call. He answered all of our questions in a timely manner. We would definitely work with him again and/or recommend him to our friends!




This is to thank Josh Ongley for his great help and professional manner with the sale of the estate property in Venus, PA, earlier this month.




Josh was always available and more than willing to help with anything needed with the listing, property management, legal, and completion of the sale. He was very easy to work with as well. Glad to have had the opportunity to have had him as the estate's agent.




I highly recommend him and would use him again in the future, should the need arise!! It's been a pleasure!

Josh was very professional and accommodating to our needs for viewing the property when we did not live in the area. He answered all of our questions throughout the process and was very helpful in providing guidance.

Josh Ongley was honest and straightforward with me. It was a tough sell and Josh hung right in there with us. He stayed in contact, keeping us informed. He was knowledgeable, gave suggestions when asked but was not pushy. Always had a positive attitude and was upbeat. Returned all of my communications in a timely manner when he was busy. I would not hesitate to refer him to another potential client. I would hire Josh Ongley in a second.

Josh has been very helpful with appraisals and advice on several properties as I decided which one to sell at this time. He answers queries very promptly and follows through on what he says he will do. That's become very rare in the business community these days, so I greatly appreciated his conscientious attitude.




Simply stated, Mr. Ongley was motivated, thorough, and effective. He somehow marketed and landed a very reasonable offer in two (2) business days on the market. Closed in less than thirty (30) days.
Contact Agent
Contact Agent
Contact Agent
Contact Agent