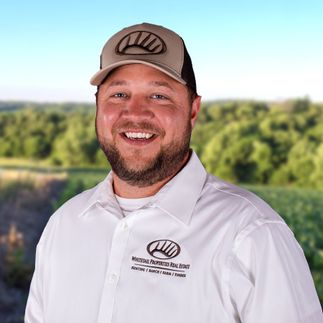 Justin Mason
Sales Associate, Land Specialist / Licensed in KY & Broker, Land Specialist / Licensed in IL
Justin Mason Land Specialist Team
Testimonial Quotes
Justin Mason:

What My Clients Are Saying
Justin was awesome to work with. He got all the information I needed and we closed really fast. Always replied timely and was always willing to help.

Justin was easy to work with and very knowledgeable. He made the process simple and easy for me and my wife.

Justin Mason and his team have handled two different transactions for me over the past few years and I honestly couldn't have asked for a smoother transaction on either occasion. They handled everything for me and with the utmost professionalism and attention to detail. I highly recommend Justin Mason with Whitetail Properties on any hunting or recreational farm real estate transactions.

Without a doubt, Justin is the most enthusiastic outdoor real estate broker I have ever hired. I had a 37 acre piece of property that was previously listed for 3 years with another broker. The only time I heard from her was when she wanted to renew the listing. After listing with Justin, he had a buyer in 13 days! Justin has a genuine love and enthusiasm for outdoor properties. He spent a considerable amount of time getting to know the property and it's assets before listing it. His commitment to knowing his listing and communicating the benefits of the property to a potential buyer can only be attributed to a sincere dedication to do an outstanding job. His communication skills in the progression of the closing were quite remarkable. He was also very professional and thorough in handling the legal end of closing the sale. I would definitely buy or sell outdoor property from Justin again. He is super trustworthy and diligent making sure both the buyer and seller are happy with the end result.

"My Dad and I had 40 acres of hunting property and decided to sell, at first we were unsure of how to start or where to go. Just a week later I received a post card in the mail from Justin Mason of Whitetail Properties. After researching it online we decided to give him a call. We thought there would be this big process and a lot of time spent on our end with paperwork and showings, but with Justin there was none of that. With just a phone call he took care of everything from listing to closing, it was awesome. I would recommend Justin Mason to anyone wanting to sell property. He is honest, stayed in touch and took care of all of the work throughout the whole process. Thank you Justin."

"We hired Justin Mason with Whitetail Properties to help us sell our home and acreage in Massac County, IL. From day one he treated us like family. We didn't have a lot of experience in real estate so he made sure to explain each step in the process so that we were comfortable moving forward. We had several showings and Justin sold the farm in just 3 months! We are very pleased with the high level of service and expertise we received from Land Specialist Justin Mason and the entire staff at Whitetail Properties."

"Justin has an uncanny ability to see and feel the intrinsic spirit and potential of a property and translate it into pictures and words. That ability, coupled with Whitetail's awesome website, attracts serious buyers. We closed on our property only six months after listing with Justin, and credit that success to his commitment and talent for helping the buyer see what he sees."

About Justin Mason, I met him when he joined my BNI (Business Networking International) group. I was impressed with Justin pretty quick as I found him to be a very courteous and knowledgeable young man with a passion for what he does. He is a very talented individual and a great asset to Whitetail Properties. Last year he was very instrumental in starting our local QDMA chapter. I have learned so much more about deer hunting and land management since joining QDMA.

In casual conversation with Justin I mentioned possibly finding another farm to hunt and manage if I could find one close to property that I already own. He immediately showed genuine concern to my needs and wants. We discussed a few options and soon he showed me a farm only 3.5 miles away with great potential. Along with Mark Williams, Justin showed me the farm in detail. We discussed options and made the offer. Soon I was an official Whitetail Properties owner of what we call "The Wagon Wheel Farm". Justin's knowledge of the land purchase process made this an easy transaction. He kept me informed throughout. He has the uncanny ability to help you see the land for what it is and more importantly what it could be. I highly recommend Justin Mason to anybody looking into buying or selling land!!

Joe Goff, JLG Properties L


"I just wanted to send my thanks and support to Justin Mason of Whitetail Properties. My partner and I owned a 127 acre tract in Southern Illinois and had the property listed for close to 2 years with 2 different realtors (one local and one national site). We were getting frustrated with not getting the showings or interest in our property. We contacted Justin and he gave us his honest opinion which coincided with ours on how to represent the land. We, being from a different state and not that close to the ground, Justin handled the ground just as his own which was even better for us. Justin took many pictures and scouted the ground numerous times just as if he was going to hunt it and market it for himself. He presented the property to the right audience since our ground was more catered to the hunter and found a buyer and numerous prospective buyers within months which in todays day and age is not the easiest thing to do.
Both of us could not be happier with how the negotiations went and were just impressed with the quality of work Justin had done for us. He dealt with everything from the Title Company for the closing to the company doing the 1031 exchange to the company leasing our land for hunting. It was all handled professionally and quickly. We would not hesitate to business again with Whitetail Properties and Justin Mason."


"We just wanted to take a minute to thank you for all your help in purchasing our retirement property. We have made several trips out to the property since the closing and we absolutely love it out there. It's quite different from the all the noise and traffic here at home. Thanks for being able to meet with us when we could make it out there and for bringing the side by side so we could see as much of the property as possible. Also, we wanted to let you know that you were very professional serving as both the selling & buying agent and got us through the process very smoothly. We also appreciate your help in finding a lender that offered very reasonable rates. I thought we'd have a hard time trying to get closed with us being so far away, but everything worked out great. I have recently been offered an early out at work, so we may be making that our permanent home sooner than we thought. Anyway, we just wanted to let you know how grateful we were for all your help."



I really want to thank you for all of your help in the purchase of my new home. I am so pleased with how everything turned out. You made the purchase of my home an absolutely enjoyable experience and you were always available to address and answer any and all of the concerns that I had. You made it easy for me to put my trust in you. I was confident that the purchase of my home would be in good hands. Justin, in my opinion, you are a true professional. I am so happy with my new home and I really appreciate all the assistance that you provided, thanks again.

When I first met Justin I was skeptical because of his age. But after talking with him for only fifteen minutes I was impressed. He provided me with a very realistic price of what my ground was worth, and within three months I had a buyer. The way he handled himself from our first meeting, to all the pictures presented on the website, and everything in between was nothing but professional. I would definitely recommend him to anyone, and plan on using him in the future.

We would highly recommend Justin Mason with Whitetail Properties. He provided a very high level of service and professionalism with the sale of our Pope County farm. Our property was not on the market very long when he presented us with a good offer. From start to finish, Justin handled it all. Thank you Justin.

This is my second listing with Justin Mason. He is by far, the best agent I have ever worked with. His passion for outdoor property, attention to detail and strong work ethic are rare in today's business environment. I highly recommend him to anyone I know looking to buy or sell farm or recreational property.

We were extremely satisfied with how easy the process of buying the farm 7,000 miles away from home was for us. We enjoyed working with Justin and looking at several farms that he showed me. If I have the opportunity, I will defiantly go through Whitetail Properties to buy and sell future farms. Thanks and job well done.

Justin was very cordial and professional. He followed up with a thank you note, which is very rare. We were very pleased.

Justin Mason was a knowledgeable, competent, sales professional. As a first time property buyer, he was a huge asset to me. He was able to answer any questions, and address any concerns that I had regarding the purchasing process. He was able to balance my interests with the seller's interests to put the deal together . He is honest and has high integrity, and I would highly recommend him to anyone interested in buying property.......I am sure he is a huge asset to your company. Thank You.

It was a pleasure working with Justin. He sold my place in Herod in just a short time.Within hours after closing he helped me purchase a great property for my needs in Somerset, Illinois. He did very efficient work and I actually enjoyed the whole process.

Due to health issues we recently sold our Southern Illinois farm home place that had been in the family for over 100 years. It wasn't an easy decision, but we knew it was best for our family. When the time came to sell, we contacted Justin Mason with Whitetail Properties. We found Justin to be a most congenial young man, knowledgeable and professional. Justin has an admirable work ethic and a strong desire to please. We are well pleased with Justin's services and would highly recommend him to anyone with property for sale.

- Bob & Pauline Riley, Donald & Vivian B

Justin Mason was our Buying Agent for a property in Alexander County, IL. We had a very pleasant experience with Justin. He was the best and most informative person about all the property we looked at. Justin did his homework for me before we even hooked up. In my eyes Justin is a hard worker and knows the territory for his clients more than any other realtor I have done business with over the years. If I decide to purchase more property and need a realtor I will call Justin to handle it. He went above the call of duty for us. I would recommend Justin to everyone.

Justin was great! Within just a few minutes of getting him on the phone to discuss some estate property I needed to sell, he had looked up the land and could tell me just about as much as I could tell him. His write up of the property was excellent and his support with a complication just before closing was invaluable. His familiarity with the area and others in the business added to his value in the process. I would recommend Justin Mason and Whitetail Properties without hesitation!

Justin was very helpful through the entire process. Any time we had questions or concerns he was quick to help any way he could. He took his time showing us the land and guided us through the process of purchasing. He was prompt in returning our calls and emails. We will highly refer him to anyone!

It is Rich and I who should be thanking you for all of the hard work you did to sell our property. You made the whole process so easy for us. We will definitely recommend Whitetail Properties (and you) to anyone who is selling land. Thanks again for everything!



My husbands dream property has always been a house surrounded by woods at the end of a long private drive, and thats exactly what we got. Justin went out of his way to help us. He walked us through the whole way from when we first contacted him, to closing, and even answering questions after. He really loves what he does and it shows! So glad we explored Whitetail Properties when looking for our land to hunt on. Class act organization, extremly knowledgable, friendly, and helpful. A huge thank you to Whitetail Properties and Justin.

It was a pleasure working with Whitetail Properties agent Justin Mason. I found him to be extremely professional yet very personable. Everything he did, he did well. One thing that I really appreciated was how responsive he was to communication. He always got right back to me whenever I called, texted or emailed. He is also friendly, open and honest. I never felt any pressure, but was confident that he acted in my best interest. Justin really made an impression by going above and beyond his role as a real estate agent. Since I am unfamiliar with the area, Justin provided help numerous times providing recommendations and being a fantastic source of information. I would highly recommend Justin.

I would like to thank Justin Mason for all of his kind attention and hard work in the sale and consequent purchase of my properties. I had a property listed with a local realtor for two and one half years. Justin assumed my listing and the property was sold in 7 months. He then proceeded to help me acquire and buy another property. He also helped me with the 1031 exchange and connected with the tenant farmer that was leasing my land. I am an out of state buyer so his assistance was invaluable. Justin always answers his calls and messages with a positive attitude. He goes far beyond in service to his clients. I highly recommend Justin Mason to handle all real estate transactions and he will certainly handle all of mine in the future.

It was a pleasure working with Justin Mason on our land purchase. We appreciated his time, expertise and enthusiasm in helping us pick the perfect spot for our family. It is apparent that he knows the area and the people, which was also very helpful. My only recommendation is that it may have been good to be in contact directly with the closing company sooner - particularly for us since we were signing documents remote.We absolutely love the property and couldn't be happier!"

"What a simple and easy sale! Justin Mason had located a potential buyer even before I listed my property with him. He prescreens his clients and makes sure that the property is correctly suited for their needs. This makes it really easy for the sellers, because you don't get a bunch of "lookers" who waste your time. So when the offer came it was just right. Amazing. We had a deal that closed almost overnight! The same thing happened with the second parcel that we listed with Justin, too. Wow! Now I wish I had more parcels to sell... as it was a pleasure to work with him. Thanks, Justin!"

"Justin, I can't tell you how much we appreciate your honesty and thorough work in helping us find the perfect property. It really is the property we have dreamed of for years. We couldn't have asked for a better realtor. We are more than impressed with your work and were so comfortable with you. Thank you so much for everything you have done for us."

Justin was awesome. Very Knowledgeable in southern Illinois properties and was a great pleasure to work with. Thanks Justin!

Justin, thanks for making the sale of my Pope County property so brief and professional. The idea of adding roads and areas for food plots made all the difference. You made my 75 acre parcel a hunter's paradise, which is why it sold in no time. Good thinking!! Looking forward to working with you again.

I simply could not have been more impressed as he was not ''my'' agent but the sellers agent. Top notch!

Justin is an extremely knowledgable agent with a great attitude. Everything went very smoothly and he was on top of it every step of the way. It was a real pleasure doing business with him.

I wanted to let you know we love our new property and home. You did such a great job for us. Everything went so smoothly. We received our gift yesterday and Robert (Lamar) loves it. I am sure he will put it to use. Without your hard work, this would not have been possible.

Justin Mason was absolutely excellent to work with. I've been buying and selling land now for over 2 decades, and in 6 different states and I can honestly say that Justin was the best agent that I've had the privilege of working with. He understands the importance of timely communication, getting answers, and the prompt follow though on any and all issues. Thank you for providing me with that service!

After owning a farm for several years and working with Whitetail Properties in the past, my dad and I began looking in Southern Illinois. We started working with Justin Mason a year and a half before we were ready to buy. He showed us numerous farms always shooting us straight on each farms potential. We ended up buying the farm that I first called him about which is a testament to the accuracy of his listing. We have not been disappointed. My dad and I have been fortunate to hunt across the country on some amazing properties. This property is at the top of that list. We had amazing hunts almost every weekend; with my dad taking one of our mature hit list bucks. I personally could't wait for the season to end so I could begin a few of the improvement projects we enjoy doing, planting apple trees, enlarging food plots, and setting up more stands for next year. We built a few permanent box blinds on the property last summer and spent several weekends doing so, not to mention several thousand dollars. After talking to Justin about Banks blinds, I decided to try them. My initial order was for 4 of them. I wanted something we could bow and gun hunt out of so I thought these would be a good fit for that. After receiving them, I ordered 3 more of them. For the money you can't build anything comparable, you can move them easily, and they have a better window and door design than you can build in the field. It took me and my dad two hours to set the first one up and have it ready to hunt. It took two weekends to build one of the box blinds we were building on site and they cost more and aren't as good. Needless to say, dealing with Justin has been great before, during and after the sale of our farm.

Working with Mr. Justin Mason has been a pleasure for my family and I, due to his dedication with getting us the best possible deal in the quickest amount of time. We had been trying to sell land in Southern Illinois for almost 2 years with another firm, but unfortunately, we weren't even able to generate a single offer during that time period. Fortunately, I heard about Whitetail Properties Real Estate firm, and their wonderful agent, Mr. Justin Mason. Within a matter of a few months, Justin got us a great deal, and all the while was very professional and courteous throughout the process. His professionalism and knowledge of Real Estate make him an ideal agent to work with, which is why my family and I are proud to recommend him to interested clientele.

Justin was helpful in every way. He made the closing so easy and he was a very pleasant young man, and would deal with him again.

As a first time buyer, I was a little nervous about the entire process. Justin simplified things and walked me through each step of the way. His knowledge of the property, the surrounding area, and game tendencies were vital in helping me select the perfect farm. He even referred me to a great deer management services group to help with plots and land management. Now all I have to do is rattle in a bruiser!

I would like to thank Whitetail Properties and Justin Mason for selling my properties. Working with Justin from listing to selling; he was in touch with me all the way. He was always giving me updates and progress reports. Thank you again, Justin and Whitetail Properties.

Thank you Whitetail Properties and Justin Mason for selling my property in Southern Illinois. Justin did a great job marketing the property and completing a sale at our asking price. He developed a great web page including excellent aerial views. Good communication. Excellent execution. Thanks Justin for a job well done.

Justin stayed in the game and got the job done, I am very satisfied with his job on this sell.

Very pleased with Justin. And I have used other agents in my business before.

BBD Investments llc (Buz B

I never had the privilege to meet Justin in person, however Justin was professional, courteous, very responsive to every call. He stayed in communication with our probate lawyer, & title company, & me. EVERY detail was attended to even though I live across the country.

Our property sold fast and we were pleased! Justin brought fruit baskets at the closing for us and our buyer! Thanks!

Justin did a great job for me. Excellent agent

My wife and I have worked with Justin Mason, Whitetail Properties to buy and sell property. Working with Justin was a total pleasure. Either buying or selling property Justin takes care of all the details for a quick and stress free experience. If you want to buy or sell property I would highly recommend Justin Mason and Whitetail Properties. Thanks again Justin!

Justin Mason knows his business when it comes to the property we have bought. He is the best in the field.

Justin is a fine young man who was respectable and answered all questions I asked.

Justin is very knowledgable a very service oriented agent would highly recommend to anyone and everyone he is an asset to your team.

Justin went the extra mile to make sure everything came together. A very happy customer.

This is now the 2nd Property that we've closed with Justin (bought one and sold one). It is very refreshing in today's (often frustrating) world of 'doing less is more' mentality to have the pleasure of working with someone like Justin who believes in old fashioned values such as doing what you say, saying what you mean and then following through. Thanks Justin!

I would recommend Justin Mason to anyone that I knew that had property to sell or buy. He was excellent and professional throughout the process. We were also happy with the title company used to complete the closing that he recommended. Given neither of us live in Illinois this was extremely important, to have someone we could trust and would be able to help us from listing through closing.

Justin Mason was our agent, and we really didn't have to haggle much with our purchase. We looked at it, made an offer, and she accepted. After that we ran into easement issues that prevented us from closing in one year, so Justin's involvement was minimal other than keeping in touch with us. However, when the time came to trade a small amount of land for another, he assisted our seller in that transaction. Through this process Justin became a friend, and on our phone calls we talked more like friends than an agent/purchaser. I was pleased with him, would certainly refer others to him again, and actually do consider him a friend now that it is all complete.

Tom and I wanted to thank you again for making the purchase of our property so seamless. This was our first property purchase and you were available for all of our questions. Your willingness to meet us at all manner of properties in Southern Illinois with a smile made the experience so enjoyable! We will definitely come to you if, in the future, we want to explore more land. Tom has seen some beautiful bucks on the property already!"

Justin was truly great to work with and was excellent with communication.

I appreciate all the help Justin gave me and look forward to working with y'all again


A dream to Reality " thanks for all the help with the work you and your company did to help me find and secure this land purchase. I will be glad to recommend you and Whitetail Properties in the future .


Once again, Justin Mason performed admirably! Had a few issues to work with and he mediated will with the seller to get things taken care of to our satisfaction. I am not certain many other agents would have done this (after the sale was done). Big thanks Justin! Kapper

I was very satisfied from start to finish and would do business with him again!

Justin is a great guy very knowledgeable and professional.

Justin did an awesome job from the Listing to the Closing! Would not hesitate to refer him to any of my friends or family wanting to buy or sell land!

Justin is truly one of the best in the business. Cannot recommend him enough! So knowledgeable, go getter!

I would recommend Whitetail Properties to any one looking to buy or sell any type of hunting land. I have purchased 3 different properties using Justin Mason and Mark Williams and I have nothing but good things to say about the experience I have had. They are very experienced in what they do and work quickly in taking care of business and making it as easy as possible.

Justin was a very good agent, he kept us informed the whole time. Also love the website and how y'all do the drone pictures.

Justin was great to work with. Glad we were able to sell in a timely manner.

The transaction went very smooth thanks to the effort from Justin. I would recommend Whitetail Properties and Justin to any one I know looking for property. Thanks again to Justin for treating me in a professional manner throughout the whole process.

Dear Dan,
We most certainly want to thank you and Justin for operating such an awesome company. First, Justin is a quality person to represent Whitetail Properties. We have worked with Justin on many of your properties. I have three quotes he is waiting for me to get to him at the moment. Second, we recently completed a survey of Mr. Robert Saunders property in Gallatin County Illinois. The class of Whitetails is also a reflection of him. We appreciate being able to work together on so many projects. I refer everyone to Justin. Appreciate all of you.

Justin performed at a very high level of professionalism and got the job done, handling all of the admin things to make our deal happen. Much appreciated.

Excellent experience, Justin represented Whitetail Properties and I in a professional manner and made sure the listing to close was seamless and efficient.

Couldn't be more pleased! I would recommend Justin in a heartbeat to anyone wanting a professional knowledgeable agent!

Everything went smoothly and Justin did a fantastic job.

Justin was Awesome! He was knowledgeable and guided us but was never pushy. He also just happens to be a super nice guy!

I want to thank Justin Mason for doing such a phenomenal job as always. Thanks to his expertise, hard work, patience and honesty, I was able to once again sell my property in record time. Less than one week to be exact! All the while I was working with Justin on the purchase of another property at the same time. Justin's approach is one of honest work, kindness and a true and sincere desire to help his clients. I not only consider Justin Mason to be a great "Land Specialist" but a friend. Thank you for everything.

Justin was great! Very helpful. I buy and sell land and Justin and Whitetail Properties always gets the job done.

Excellent! Justin Mason is knowledgeable, hard working, honest, very admirable. An asset to your company.

I had an excellent experience working with Justin.

Thanks to Justin, our recent purchase was handled smoothly and professionally. The process was remarkably swift and in spite of our being technology challenged Justin helped us navigate cell phone communications and a money transfer. When I mistakenly sent Justin a text intended for our grandson Justen, he graciously informed me of the error. Good friends recommended Justin and Whitetail Properties to us when we decided to sell our old farm. We mistakenly thought we would be ok with giving up deer hunting and all of the fun activities that our old property afforded us. When opening day of the 2019 shotgun season arrived, we realized just how much we were going to miss these things - shivering in our tree stands didn't seem like such a bad thing and sleeping in on a crummy weather day highly overrated. Gary began browsing the Whitetail Properties listings and when he found the farm that we purchased in December he shared the pictures with me. It seemed the perfectly suited to our needs so we contacted Justin and the rest is history.

It was an excellent experience! A great agent, very knowledgeable. It was all good!

The buying process went really well. Hope we can do business again in the future.

Justin Mason has sold two farms for me in the past six years. The first sale went pending inside of 3 days from the listing. Justin had a buyer for the last farm inside of 48 hours from his contracts before the listing was even published. Both transactions closed very quickly and Justin was there the whole time to help oversee the process. If you need to sell your land, give Justin a call. You will not be disappointed. I highly recommend him and Whitetail Properties for your land needs.

Great! Even with a very difficult seller.

Justin is one of the best sales agents we have ever done business with. Both of our showings and all the way to the closing were as great as anyone could ask for!!!!

We had a very pleasant experience and found Justin to be personable and quite helpful and knowledgeable.

Excellent! Justin is a pleasure to work with.

Justin kept me informed through the whole process.

Justin, Thank you so much for all of your help!! Working with you was a breeze and we are so excited to be starting 2021 off in our new home!!


Justin Mason at Whitetail Properties is a great realtor. He knows what the market price for hunting land is in the area. He helped us stay within the price we were asking. When we were closing on the property he took all the guess work out of it and made it a very easy transition. He is very professional. Thank you again Justin, my mom and I both appreciate everything you did.


Justin helped my family acquire our dream farm. Lots of moving parts involved but we got it done in an efficient manner. I will use Justin when I buy another farm.

Justin is always a pleasure to work with.

We've had many deals now with Justin over the last few years. He is a fantastic agent. Does what he says, says what he means and follow through! Just the way we like and appreciate it! Thank you.

Justin had great knowledge and knew how to advertise and sell our property.

We just want to say a huge thank you to Justin Mason and his crew for an absolutely wonderful experience ! These guys are true professionals! They made this selling process extremely easy !

The entire experience was excellent. Justin kept me informed of all communications and transactions. The process was seamless.
This farm has been in my family for over 100 years. It was a difficult decision to sell the farm, however, my family has gotten older, live out of state and are no longer interested in farming or hunting. This was the best decision we could have made. We tried to sell it ourselves without any luck, but after being approached by Justin, we were able to sell the property in a relatively short time. He was great to work with, and I would highly recommend him.


This is one of several transactions that Justin and I have done. Justin is very knowledgeable, is very honest, hard working and a very easy person to deal with. He always answers his calls or texts. Truly a great Land Specialist. And a great person. A strong asset to your organization.

Everything went really well. We are completely satisfied with the entire process.

As always Justin Mason excels in his trade.

Specialized and professional.
Contact Agent
Contact Agent
Contact Agent
Contact Agent