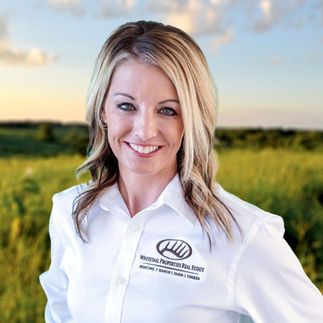 Kaila Carroll
Salesperson, Country Home & Land Specialist / Licensed in MN
Mark Herr Land Specialist Team
Testimonial Quotes
Kaila Carroll:

What My Clients Are Saying
We have known Kaila for about 8 years. When she started her career in Real estate and we found ourselves looking to sell and purchase a new home, Kaila was the best choice. She cares about her clients and their families. Communication with Kaila was always clear. We could always count on her to get us what we wanted when working with other agents. The buying and selling process for us had a lot of ups and downs. Kaila kept us focused, maintained a clear head, and worked hard to get it all SOLD. She will always put her clients first, is honest, and makes it fun! We highly recommend Kaila!

Kaila Carroll sold two houses for me and everything went amazingly with both of them. She took care of everything and has the knowledge and connections to get things done the right way and fast. I would recommend her to anyone and have recommended Kaila to friends of mine. They were all extremely happy with the results! When I sold my two houses I made about $40,000 more on each house than I would have ever dreamed of and I thought I knew where real estate prices were. Thanks, Kaila!

Working with Kaila was nothing short of the best experience. When we put our house up for sale, she made sure that everything was perfect. From the photographs, to the scheduling, to it pending sale within two days. Every question we asked, she was able to answer and it made us feel so secure when it came to selling and purchasing. When we found our next family home, not only was she a shark when putting in offers, she made sure we got exactly everything we wanted. Thank you so much for helping us find our dream family home and we look forward to what we will be purchasing in the future!

We have only positive things to say about Kaila Carroll as our realtor. The moment she walked into our home it felt right. She was honest, complimentary, helpful, and never pushy. She is a great listener and made the whole process very easy. She understands the emotions of selling a home. She was always on time and answered any questions promptly. She even followed up to see if our new move worked out! She rates a 10+ in our book as a realtor, and a person. Feel free to tweak this Kaila and use our names. Good wishes to you and your family! You are a wonderful gal and deserve the best.

Kaila is an outstanding realtor with proven results. She is very professional and prompt in addressing questions and concerns. Her top-notch marketing delivers results. Referred her to a friend with the same wonderful experience. I plan to use her services for future real-estate transactions. Thank you Kaila!

When we were ready to put our home on the market, we "interviewed" a couple of realtors to make sure we chose someone who would be a good fit for us. I knew instantly that Kaila was the one! She was knowledgeable but also sensitive to the fact that it can be hard to part with the home you raised your family in. While she did her initial walk-through, she spoke of our home in an honorable and respectful way. Which made starting the process much easier. This was the first time either of us had sold a home so we really didn't know what to expect but she walked us through every step and made it quite easy. Then on the day of closing, I was an emotional wreck. Leaving the home we raised our children in was much harder than I ever anticipated. Kaila was so sweet and did her best to make me know that she knew how difficult it was for me. I would definitely work with Kaila again should we ever need a realtor in the future.

It was a very good experience! Kaila handled a prior sale/purchase for us.
Contact Agent
Contact Agent
Contact Agent
Contact Agent