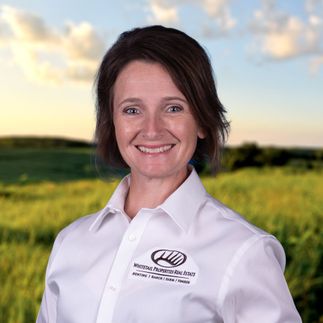 Katie Graeb
Broker Associate, Land Specialist / Licensed in SD
Testimonial Quotes
Katie Graeb:

What My Clients Are Saying
"Excellent experience. We were able to find our property through our agent, even though it wasn't listed on the market yet. Great service throughout the entire process."

"Outstanding!! Katie made the process so easy, there were bumps with the finance company and she handled the bank like a BOSS. She delivers on her promises, is professional, and has the connections to make a tough situation for us, the best it could be. Katie handling our sale and purchase was a blessing. I recommend Katie and her team to everyone I meet."

"Good! Katie is knowledgeable. She was helpful with any questions we had."

"Continuity, professionalism. Knowledge of land and farm sales. We met with Bob Stalberger a few years ago while considering a farm purchase in SE Minnesota. The day spend with Bob was great. We did not purchase in SE Minnesota, but Bob laid the groundwork for using WP for our future Minnesota property sale and our recent purchase in South Dakota."

Very easy process and good communication.

Perfect! Knowledge, professionalism, willingness to go above and beyond.




We are extremely satisfied with the attention that Brian and Katie gave to selling our properties. They were very thorough and wonderful to work with in all aspects. Just wish we were in the area so we could have met them in person as they were awesome.

Brian and Katie were great to work with, they were very helpful and professional.

They worked hard on getting my land sold. They reach people from outside my local area.

Katie was absolutely GREAT - Totally professional, helpful and knowledgeable.

Please allow me to say how much I appreciae your fine organization. People make organizations thrive and Brian & Katie Graeb are top notch! They represented you and your team well at every point in this search. I cannot imagine a more honest, experienced and helpful approach than what we had with them.

Dan - You and all of Whitetail Properties have been a joy to work with! Carry On-

Katie was outstanding!

Very explicitly instructed me how to clean up farmstead to make it into showable condition.

Took six weeks to get it right, but 24 hours after listing we had the cash offer we wanted.

Katie's work is outstanding!

Our experience was delightful. We have nothing but kudos and appreciation for the work and time Katie and others put into our project. We did chat with Brian but never got to meet him. Perhaps next season we can all go fishing of sharptail hunting. Dan, if half your agents are as good as Katie, your company will thrive. Congratulations and wishing you continued success.

It was wonderful! Katie was excellent at communication and answering our questions. The whole process was very easy and efficient




I recently purchased some property in Day County, SD through Whitetail Properties Real Estate, my agent was Katie Graeb. She was easy to work with, answered any questions I had very promptly, and was very thorough. She made the purchase a great experience. Thanks Katie!

Katie Graeb was a pleasure to work with. She is keenly aware of property values, creative in structuring a transaction to its completion, and prompt.

Super knowledgeable and easy to work with.

Enjoyable. Katie had shown me property when I was in the market to buy and I knew then if I ever listed a piece it would be with her.
Contact Agent
Contact Agent
Contact Agent
Contact Agent