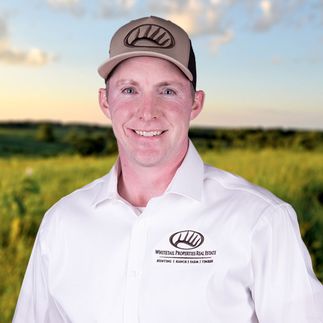 Kyle Herr
Salesperson, Land Specialist / Licensed in MN
Testimonial Quotes
Kyle Herr:

What My Clients Are Saying
"Kyle went above and beyond when listing my property, from the photos to the description of the property it was second to none. When looking at the listing it made me want to buy it and I was the seller! Kyle got it listed quickly and I have a signed offer in under 48 hours. Couldn't be more happy with Kyle's expertise and knowledge of the hunting woods. I wanted to list my property with Whitetail Properties because I knew that they were going to show the quality of the property that a normal listing agent would not. Selling raw land is different than anything else and I wanted a hunter selling my hunting land not a real estate agent. Couldn't be more happy with my decision."

"Kyle was always quick to respond, kind, helpful, and I felt honest. He stopped a major disaster by being attentive to the documents."

"Kyle, was excellent, he was always informative and on top of everything making sure things went smoothly. I will certainly work with him again."

I would without a doubt or reservation, highly recommend Mark and Kyle Herr to handle the selling or purchasing of a property through Whitetail Properties. They provided timely information and follow up documentation to all our questions. They were extremely accommodating to our work schedule when it came to viewing the property. I found them to be very trustworthy throughout the entire process, so much so that I have already listed a separate property with Whitetail Properties and plan to list another in the future. They are truly one in a million in the realty business!

Mark and his son Kyle made this a very easy and pleasant experience from start to finish. I have already referred a friend to Mark and he has sold his land also.

I have bought and sold several properties over the past 40 years. I've learned that real estate agents can be a peculiar bunch. A couple of them would have appropriately had coon hounds turned loose on them. But Kyle Herr is not one of those. I listed my small property in Itasca Co., Mn with Kyle in March. I found him to be very pleasant, totally professional and one heck of a hard worker! He had the property sold in two weeks and for a price 10% over what I'd listed it for. Now that's gettin' the job done! I am very pleased that I listed with Whitetail Properties, and even happier that I ended up with Kyle as my agent. I'd do it again in a heartbeat!

I feel that Kyle had to go beyond the usual in my transaction due to tough logistic circumstances and I appreciate it.

We had previously worked with other realtors who gave us property locations, but never actually met us at the properties to walk them; this left us frustrated because even though we had approximate locations we had no clue where we were! Kyle Herr took great pictures and had detailed descriptions of land. He was quick to return our calls and was willing to work with us to coordinate times to view properties. It didn't take us long to find our Northern Piece of Heaven and with Door-to-acre service you can't lose with Whitetail!

Sincerely,
Randy and Carol C.

I did refer Mr. Herr to another land seller. In that land sale he did an excellent job of representing and selling her land.


I appreciate all that Kyle did, I'm very satisfied.

Very hard working individual. Persistent and knowledgeable. I will recommend Kyle and Whitetail Properties to anyone seeking to buy or sell property.

Kyle always kept in contact with us. Very nice young man. Very efficient and just as motivated to find a buyer as we were to sell. Would recommend him to anyone who is looking to buy or sell!! Thanks again Kyle.

Got the property sold when others didn't

Kyle Herr communicates and works in a professional manner with clients.

Milton Reeve (Reeve Resources L

Property sold in the first week. Thank you Kyle !!

Never met a more professional and knowledgeable agent. As an ex-realtor myself I am picky. He is a gem, very, very, pleased.

Awesome job, very good at his job!!!!

Everything went smooth. All questions answered and explained well.

Very satisfied. Agent was very knowledgeable and accommodating. Sold my property way quicker then I thought I would. I would recommend Whitetail Properties to my friends.

Very hard worker and loves the outdoors. A pleasure to work with.

Kyle was not our agent, he was the agent for the seller of the property we purchased. Kyle was very helpful in getting us this purchase.

Kyle is the perfect agent to sell land. Don't ever let him move on. Everything went very smooth.

Everything went smooth and no issues, Kyle did a good job until property sold. So grateful of all his effort everything went well. Thanks much!

Kyle did a super job. He knew the property well and spent two sessions with me hiking the land and sizing up it's hunting potential.

Kyle did an excellent job in all respects. A complicated transaction went very smoothly.

Kyle was great. Our new property was not listed by WTP. I was happy that Kyle took the time to represent us. He gave us great honest feedback about the hunting potential and was always lightning fast about responding to my lists of questions. Kyle also helped me save my father from certain death by running to get my truck during a diabetic shock incident. We are grateful.... I will not hesitate to call Kyle when we are ready to upgrade!!

Kyle kept us well updated. This was the third property deal he has moved for us. Would not hesitate to work with Whitetail Properties again.

Kyle was was very professional and personable. You have a great agent!

Kyle was really great to work with! Would definitely recommend him to friends and family!

We had a wooded 40 for sale and although it was not on a lake, Kyle had the idea to offer an easement across our other lake property so that the owners of the 40 would have boat access. The lake has no public access. I believe we got $15k more for the 40 than we would have gotten without it. I would never have thought of that myself. Also, the buyers' agent commented at the closing how knowledgeable Kyle is, and how much his expertise helped to facilitate the deal. We now have the larger lake property listed with Kyle, as we are so pleased with how committed he is to doing a really good job for his clients. I believe he also meets prospective buyers at the properties instead of just giving them directions and sending them on alone. Makes a big difference!

Was very good and always kept me informed of any movement or offers. Returned calls very promptly.

Glad we found Kyle, he was awesome!


Excellent customer service!



I was amazed with Kyle Herr. He did his due diligence on my property. Went out and sold it at a truly satisfying price. You employ a valuable asset to your company. I already miss his comradery we enjoyed thru his work.


Kyle keep us updated and keep the process easy and timely. He was a pleasure to work with. Would highly recommended.

Kyle was very patient with the sale of our property. We knew the sale may be lengthy, he stuck with it.

Kyle was extremely knowledgeable and helpful. Was relentless in moving the process along. Appreciate very much his attention to our sale.

Kyle was great. He provided excellent advice on whether to split the properties or sell as a whole, and knew the comps well for similar properties. He helped us to establish highest prices without pricing ourselves out of the market. I was particularly impressed that he actually met each prospect for a rural forty and showed them the land in person so they could see the great timber which was not visible let from the road. He also had the idea of gaining an easement to the lake for the forty by using a corner of the lake property. This was crucial in getting a sale and a higher price than we could have gotten without the lake access. All in all he put forth real thought and effort for us and I would recommend him highly to anyone.

Kyle was one of the best real estate agents we have dealt with. Very hands on and explained things well.

Kyle did a great job. I will refer him to anybody looking to buy or sell.

Very polite and knowledgeable about the property. Would definitely recommend him.

Easy to work with. Very knowledgeable about the property. Couldn't be happier with his service or the property.

Kyle was a great agent and very helpful.

Very positive experience, communication was excellent, response time was excellent. Kyle took the time to answer many questions I had.

Kyle Herr went above and beyond expectations in order to get this sale completed.

Kyle was very understanding and made sure all parties were kept informed and answered all our questions in a timely manner.

Kyle was great to work with. Enjoyed having a experience hunter that knew what he was talking about when it came to looking into a hunting property. He was on top of getting things completed and enjoyable to work with. Great experience overall!

Kyle did a great job of showing all aspects of the property to us and addressing all our questions and concerns without making us feel pressured to buy. If we are in the market for additional property, we would not hesitate to contact him again and would refer him to friends seeking property.

I thought Kyle would do a superior job. Overall good experience. Kyle is a hard worker.

It was top notch! Kyle is very professional and knew how to price land. I would definitely have him work for me again!

The experience was amazing, Kyle got back to us right a way and answered all our questions. We always got updated and kept informed about the process and always helped with anything we didn't understand. He made the experience less stressful and more fun.

Kyle was really helpful and answered all our questions. Couldn't have went any better.

It was awesome! Kyle was always responsive. He looked out for our best interest. He was also very knowledgeable of the land and the areas in which he was showing.

Kyle is very professional and very knowledgeable on hunting property. I felt he was honest with us and gave great insight on the property as well as the buying process. I would highly recommend him, as well as his dad Mark.

Very good, he was very thorough in all aspects of the marketing and sale.

Kyle Herr was helpful in all stages of the process, especially as this was our first time buying land. He also knew the property quite well and has been a solid source of information, even post-sale. Nothing but good to say about Kyle.

Best ever! After meeting Kyle, knew he was professional and wasn't afraid to work hard and whatever it would take.

Knew exactly what to do both logistically and from advice perspective. Provided good guidance but did not pressure a decision one way or another.

Kyle was very efficient and aggresive in marketing the property. I enjoyed working with him.

Kyle was knowledgeable and worked hard to get all of my questions answered.

Kyle Herr was very honest, patient, and professional. He worked hard to show the property and worked with us to sell.

It was very easy working with Kyle Herr since he was very responsive and was a good communicator. He spent time making sure that a win-win situation was done for me (the seller) and also for the buyer.

Kyle was very good got back to me right away with answers to my questions and was very respectful as well.

Kyle was great, very helpful and informative.

Kyle Herr was wonderful to work with. He outperformed a prior realtor we had for over 2 years with no results. Very professional and always kept us updated.

It was a great experience working with Kyle. His knowledge of the area and his expertise was evident from the start. Kyle always responded back right away with things, kept communicating what was happening, and was there every step of the way to the end. It wound up being a very smooth process overall and would definitely recommend to anyone!

Excellent. We were surprised how quickly the transaction was completed. Many thanks to Kyle for being so available and easing us through the process.

Kyle is a professional and I will use him in the future if needed!

Kyle was very active in looking at property, he was familiar with the property from previously selling another part of it for my brother. He kept me informed as I was not in the area living 220 miles away, but he also kept my other brother informed on sale efforts.

Kyle was an absolute gem. 3 1/2 years ago when we looked at the property, his truck was in the driveway and from thy moment, I told my wife we need to buy this. He went above while being my neighbor, which was an easy decision to ask him to sell out property. He was a true professional throughout the process. I work for Morton Buildings, and believe our core values match what Whitetails property also believe in. Customer first and it showed,

Kyle was very knowledgeable in wildlife and helpful with many resources.

Kyle was a hard-working realtor, he was on the job daily showing property to clients. He had frequent calls to me, keeping me informed of new bids. Also helping me on property rules i had to fix before my sale.

Kyle was fantastic. He was superbly professional in acting as an agent throughout. Can't say enough good things about him. He even helped with a final walkthrough during the second weekend of the gun season here in MN. What a guy!

Very good, agent was engaged and knowledgeable

It was good. Kyle Herr was very knowledgeable and kept us informed on the transactions as they were coming up.

Kyle was awesome! He kept in touch and answered all questions and sold fast.

Kyle is very knowledgeable and it was a pleasure to have him as a realtor. He is very professional and I would not hesitate to use him again.

Fair, efficient and easy to work with.

Kyle did a great job of displaying the property on your website. Kyle was willing to walk the property with potential buyers.

Working with Kyle was good.

Kyle has been very busy with multiple offers. Our property has been divided into 3 pieces and he has been on top of each one.




Kyle was very helpful. He says always available to answer questions we had.

Went very well. He listed to us, kept us up to date. He answered questions as we asked. Very busy guy.




Kyle was excellent from first phone call to closing.
Contact Agent
Contact Agent
Contact Agent
Contact Agent