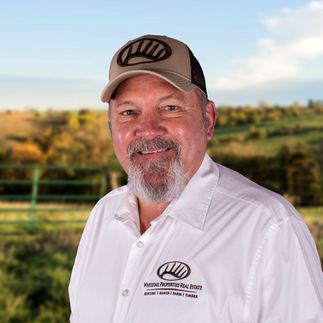 Larry Stewart
Real Estate Salesperson, Land Specialist / Licensed in MS, LA
Testimonial Quotes
Larry Stewart:

What My Clients Are Saying
Larry was very professional. It was very obvious that he paid attention to everything we said and quickly understood what we were looking for. We felt very comfortable from the beginning that he was honest and trustworthy. We would readily recommend him to anyone looking for property.

Mr. Larry was very professional and helpful. He always made himself available to any questions or concerns I had. The process of purchasing land went much smoother and faster than I imagined it would. I couldn't have asked for a better person to represent myself during the process!

Larry is a class act and worked very hard to sell my place. He showed our property more in a month than the last land company did in a year. Larry is honest, hardworking and has great work ethic.

Larry is a great guy and agent. If we sell any additional land, we will come to see Larry.

Agent was one of the hardest working, finest individuals I have done business through or had contact with.

I want you to know that my wife & I greatly appreciate all that you have done for us on this matter. You were truly God sent and we thank you again.

Gary & Kathy Buffington

Larry was very nice & friendly, if we ever have to deal with a realtor again we would use Larry! He was knowledgeable & helpful through the whole process!!


Larry has a friendly personality that is easy to get along with, his knowledge of land purchases was a tremendous help to this rookie purchaser. He made the process very easy.

Larry did an excellent job with selling our land. We had a very complicated issue regarding obtaining an easement. We live in another state from where the property being sold, Larry was very helpful with the whole process and made things easy. I highly recommend Larry and want to use him as our agent when it comes time to sell our other property.

Larry Stewart was patient with us and attentive to our specific property search. We never felt pressured or insignificant throughout the year and a half of viewing properties with Larry. We finally found "the one" and I don't know who was more excited, Larry or us! We are very blessed to have met and get to know such a genuine person! Thank you Larry Stewart and Whitetail Properties!

Larry was a pleasure to work with. He was very professional and knowledgeable. It took only nine days once he listed my property to get a contract on it. I will refer him to my friends that are looking to buy or sell land. I feel like I can consider him a real good friend now. Hopefully, I will get a chance to work with him again soon.

Everything was brought to my attention immediately and handled professionally. He was both, an agent and friend looking out for me.

Larry is very professional and experienced with showing and selling land. He has been a pleasure to work with. I will also refer friends to Larry when they are interested in purchasing their next piece of land.

Larry is a good guy and down to earth....knows his stuff too.

Worked very closely with me all thru the sale. Updated every few days.

We enjoyed working with Larry.

Larry contacted us about having a possible buyer for our property. Larry sold our property quickly. Larry stayed in touch with us during the selling process. Our sell was a very positive experience.

Mr Larry was a wonderful person to work with. He understood our needs and preformed to the max. Mr. Larry is a very, very good Realtor. Thank you so much!

Mr. Larry was very knowledgeable and accessible. I especially appreciate the time he took to answer phone calls and questions regarding the land before and after the closing date. He was always available and made me feel like this property was as important to him as it was to me. I was impressed with how much he knew about the area and appreciated all of his tips he gave me. I'm looking forward to working with Mr. Larry in the future as this was the first of many properties my pawpaw and I will invest in.

Larry was very professional, knew the property well and kept me informed every step of the way. I would recommend him to anyone without reservation.

Larry is an excellent agent that was at his best in keeping this sale together for a whole year. He does a great job of communicating, keeping us fully informed ( even while on vacation), and was always professional. We have already recommended him with great confidence. You are fortunate to have him represent your company.

Larry was great to work with. He kept us informed every step of the way and worked diligently to insure a smooth transaction.

Larry was very professional. He kept us informed every step of the way. Even when one sale fell apart, he worked diligently and got us another very quickly.

My agent did a good job staying in contact with me while my property was listed, keeping me up to date on any changes, and informing me when potential buyers showed interest. He also made good recommendations on things I could change about my property, which I believed helped with the property being sold.

Fantastic! Very helpful and easy to communicate with.

Professional, friendly, helpful.

EXCELLENT! Yes I'm shouting. Larry was over the top professional.

Knowledgeable and very professional. Excellent communicator and timely responses provided for all information request.

Expedient and trustworthy, Larry and I communicated by phone relative to each transaction without knowing anything about each other. I learned to trust and appreciate him based on the way he handled every detail. I strongly recommend Larry as an agent to anyone interested in offering their property for sale.

Best experience I have ever had purchasing property. No pressure. Larry was so helpful with any questions I had. He also referred me to a land bank that made the process supper easy.

Larry is top notch, straight forward, a good realtor an even a better person. Highly recommend Larry to all!

Larry is knowledgeable, interested, kind, polite and ready to go to bat to help you sell your property at its most advantageous price. Larry listens well but he doesn't mind sharing his straight up thoughts on it and his advice is solid. Great guy, he is a friend now and I expect that friendship to continue regardless of real estate. The real deal.


Our experience with Larry was simply AMAZING!!! We first spoke with Larry over the telephone. We inquired about a property that was a little outside our price range. But Larry suggested a couple other properties. We set up appointments to view those properties and fell in love with the one that we ended up purchasing. We have worked with many real estate agents. None come close to Mr. Stewart. He was patient, knowledgeable, kind, and extremely helpful throughout the process. I could go on and on. He's a top-notch agent!!! And, kudos to Whitetail Properties. You all truly are an amazing company and we are forever grateful. I pray that God richly blesses you all.


Larry was very honest and responded quickly to our phone calls.

I want to start with how grateful I am to have chosen Whitetail Properties to assist me in selling my home property in Meadville, MS. It was heart wrenching to sell this place as this is where my husband was born and died, but I could no longer care for it as I should. Larry made the decision very easy. He was caring about my feelings and went above and beyond to make the property accessible to buyers. He called me everytime he showed the property and worked with me to make decisions about making the price attractive to prospective buyers. Larry is an excellent agent and I will recommend him to anyone that might be selling their property in the southern district. Thank you again for everything,

Larry is the most genuine and honest person you will ever meet. He made purchasing our property a pleasant experience.

Very good, accommodating, knowledgeable, personable.

Mr. Stewart was very professional, friendly, knowledgeable, and kept in touch to answer any questions I had from day one to closing. He has even kept in touch after the closing to make sure everything is going great. I will definitely recommend, as well as use, Mr. Stewart on future purchases.

We met and I knew he was the right man for the job! Great ... easy.

Knowledgeable, went out of his way to show property on Sunday, no nonsense! Took our offer right away and locked it in. He was the best agent I've dealt with in a long time.

Larry is a first class guy who helped me not only buy property but sell property also.

Very pleasant, Larry was excellent! He did things in a timely manner and was helpful all the way through closing and beyond!

Perfect. Could not have been better. Larry Stewart is the best!!!

He was a total professional, he already had contacts in which he contacted when I called him and within a few weeks we had our property sold. I could hardly believe he got it done that fast! My property connects to a hunting lease and so it was a natural fit to sell the property and pass on the lease to the new property owners.

He was a pleasure to work with.

Larry did a great job. The property sold in less than 48 hours.

Really enjoy working with Larry. This was my second time, I also put a friend on him a couple years ago.

Larry is a true professional with much knowledge.

We know that Larry does a great job marketing properties, we see the properties that he sells on his Facebook page. He did a great job, he kept us informed as well as kept the property visible for others to see. It sold fast.




Larry acted as a dual agent. He had previously worked with the buyer to purchase a large parcel south of my land. He contacted me, and he worked diligently to get a deal that was satisfactory to me and (I presume) the buyer. I highly recommend Larry Stewart.
Contact Agent
Thank you
We'll have an agent contact you shortly.
Contact Agent
Thank you
We'll have an agent contact you shortly.