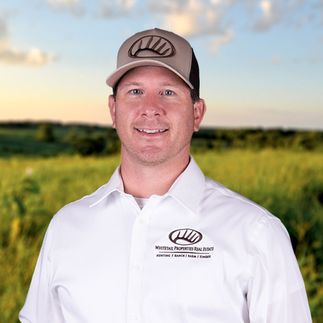 Luke Gliniecki
Salesperson, Land Specialist / Licensed in WI
Testimonial Quotes
Luke Gliniecki:

What My Clients Are Saying
Excellent Luke kept me informed and was very knowledgeable. After talking to Luke I was impressed with his knowledge and professionalism.

"Luke was very knowledgerable and was very helpful."

"Luke was great to work with, prompt in responses and provided documents in very timely manner. I had worked with Luke on a piece of property that didn't come together in the past about a year ago and that was a great experience also."

"Luke is extremely professional and honest and very willing to earn respect and trust."

I was in search of a piece of property I could hunt on and just get away to enjoy the outdoors in late November of 2012. After speaking to a few realtors on some properties, I spoke to Luke at Whitetail Properties, and I was very impressed with his knowledge. He's the type of person who once you talk to him, you would think you've known him your whole life.

Luke showed me properties from Shawano County down to Adams County and everywhere in between. We walked through deep snow (he even let me use his snow shoes), rain, wind and cold. He rearranged his schedule when I was only able to search on certain days. My wife and I decided to put in an offer and we were able to reach a deal. We had many hurdles to overcome, and without Luke's help there's no way this deal would have ever been finished. He went above and beyond anything I ever expected of him. I can't thank him enough for all the effort he put into making this deal happen.

I was looking for hunting/recreational property in Waupaca, Shawano, Marathon, and Portage counties for quite some time. I wore out all the usual websites but couldn't find just the right combination of acreage, property type, price and value. Yes, I am very particular.

Luke found several listings for me that I hadn't seen before, and we just closed on a beautiful parcel of woods, swamp, and fields that has the privacy and deer potential I was looking for. I am impressed with Luke's knowledge of both real estate and habitat. He is thorough and highly professional. I put my trust in him, and he came through. I can't wait to share the pictures as well as get to know this property and its wildlife.



Luke did an exceptional job in keeping us informed and handling the transaction. could not have asked for a better agent.

It is my pleasure to work with Luke Gliniecki with the marketing of my home and acerage near Wausau, Wisconsin. Last week we closed on the sale of 109 acres. Never have I been so impressed with an individual's service that I felt obligated to pass my thoughts on to the employer. I have bought and sold several homes over the years and I can say that I was impressed with perhaps one or two of the real estate agents I dealt with. I rate that Mr. Gliniecki is clearly head and shoulders above the best of the agents representing me in the past, and is as personable as any realtor I have ever met. Luke has excelled in this situation where some realtors may very well have found a way to terminate their services. I could not speak more highly of Luke's professionalism or of his character.

Luke was wonderful to work with. There were a few issues that arose and he always kept me well informed and helped the sellers work through it. I will work with and refer him to anyone I know looking for property in the future.

Luke went out of his way to accommodate my concerns with the property and adjusted his schedule to be able to meet with me at my convenience.

Luke did an outstanding job considering all of the delays. Luke kept us informed as to all of the situations as they evolved and provided us with outstanding advice throughout this ordeal. We will strongly endorse Luke as well as Whitetail Properties. Please feel free to use this evaluation in any format that can help Luke and Whitetail Properties. Thanks again Luke, you did an outstanding job, best of luck hunting and God Bless You. Bill and Patti Shreve Shreve Weld Tech

Luke was on top of every message, every meeting, every email. We felt he took care of us as if we were his seller. It was a great experience. We are so grateful.

I actually asked Luke if some sort of opportunity would be coming for me to offer my opinions of his performance, or if I could supply him with a letter of reference. After having the property listed with the 'major' realtor for recreational property in this region for a full year and only getting one showing, I was very pleased that Luke and the Whitetail Properties program had several showings in the first month, with an accepted offer within 60 days of listing. He was furthermore very diligent and patient when the buyer's lender repeatedly delayed the closing and required multiple amendments to the offer. I would strongly recommend Luke to anyone wishing to buy or sell a piece of property, especially one with unique features that might require a little extra effort on the agent's part. Thank you Luke and the Whitetail Properties team!

Very polite and helpful at showing the boundaries of the property. Helped us with the county also.

Luke provided accurate, and realistic feedback regarding the status of the current market in the area and the appropriate listing price. We were able to accept an offer less than 1% below our asking price and less than 1 month from the time we listed.

Luke assisted us in obtaining the property we really wanted, he represented the seller. We were pleased with the online DocuSign to keep the process moving forward. Luke was responsive to all our request. We were thankful for the in-person closing, it was great to meet the previous owners. Once we closed we were a little disappointed that the buyer removed a lot of things we could have used. The closing company (Knight, Barry & Marina Randrup) was very helpful throughout the process. Over all it was a great experience.

Luke drove quite a distance to meet me at the property. It was a treat to have a fellow hunter as a realtor. The whole process was great. We did a starker exchange with this property and Luke didn't miss a beat. Thanks to Luke and Whitetail Properties.

Transaction went very smoothly and Luke was very helpful and knowledgeable which is a huge plus when purchasing high quality land for managing trophy class whitetails.

Everything went very smoothly with the whole deal.

Good person who does a good job!

Luke was GREAT!! His communication skills were OUTSTANDING!! He kept me informed every step of the way. EXCELLENT JOB!! Highly Recommend Luke!!

Our agent Luke was extremely easy to work with and very professional. I would highly recommend him to anyone we know selling a property.

Luke was great! Very friendly and professional.

The entire process went smoothly.

Always a pleasure working with Terry & Luke.

Working with Luke was a great experience.

Excellent! Very prompt, always available for questions.

Excellent! 3 good offers the 1st week.

From the start Luke was a pleasure to work with. He always responded very quickly, was very prompt, efficient, but not pushy. He was knowledgeable about the area which of course was great. Would not hesitate to use Luke in the future.

Loved working with Luke. He was able to find prospective buyers that would be interested in our land.

Excellent! Great communication and updates. He was familiar with the managed Forest Law program in WI DNR and had successful sales of similar properties.

Very pleasant working with Luke. Kept us informed of activity.

My experience was great from the get go! Luke listened to our properties attributes and wrote the add for it based on our conversation and pictures that he took and from our own deer cam pictures.

Very friendly and knowledgeable during the whole process. Always returned calls promptly.

It went well. Luke was easily reached.

Luke was an exceptional Agent that provided great guidance and support as we managed the purchase side of this property. I really appreciate that he was supportive of both buyer and seller and very agile, flexible and timely with his support, meeting me where I was at with my level of understanding (first time recreational land buyer).

Very excellent! I'd recommend Luke to anyone looking for or interested in selling hunting land.

Very helpful on answering any questions I have asked.

Recently we sold our property through Whitetail Properties. We had an exceptional real estate agent, Luke Gliniecki, (North central Wisconsin) help us to accomplish this. We would like to tell you about Luke. From our very first conversation with him he always answered all of our questions with much knowledge, expertise and intelligence. He was consistently on time for each meeting we had with him and he quickly responded to all of the emails and texts we sent to him. The property he sold for us was in our family for over 120 years and Luke was always "gentle" as he talked to us during the selling process. He never pushed his agenda on us and he supported our decisions. And when we were in the "Counter Offer" phase he guided us and handled all of that with finesse. We were blessed to have Luke as our agent. You must be proud to have him as part of your team representing your company in Wisconsin. Sincerely,

Luke was very helpful. He walked us through the process and answered any questons in a very timely manner.

Excellent. Luke was very professional and persistent in getting the property sold.

Luke was awesome. Very responsive to our questions and requests. Handled the entire purchase very professionally. Couldn't be happier with the outcome.

Always a great experience with Terry & Luke. Very nice guys.

Great experience. Luke listened carefully. The advice he gave was sound. The pictures he took were great. The drone pics were very helpful in getting buyer interest. I would give Luke and Whitetail Properties the first chance at my land buying and selling opportunities.

Very good. Answered our questions and kept in touch.

He contacted me often through email and by phone. I don't always check my emails and phone messages so it was helpful that he communicated so often.

Professional, Timely, Helpful, Friendly!


Terry and Luke are kind and understanding with selling our properties and always looking for the best with us. It's a pleasure working with them.


Excellent from start to finish, helped us with all questions we had and did an excellent job selling the property.

Everything was done with e-mail and two phone calls. Everything went smoothly.

Easy to contact. Responded promptly to inquiries. Very Helpful!

He was very knowledgeable, accommodating and helpful.

Quick response with good information. Maintained communication throughout process.

Luke was awesome from start to finish. We hadn't bought property in 30 years and he was extremely helpful in answering questions, keeping us up to date, making sure we got specific documents, etc. His communication was world class.

Luke kept me informed all along the way and took care of action items quickly. Great experience.
Contact Agent
Contact Agent
Contact Agent
Contact Agent