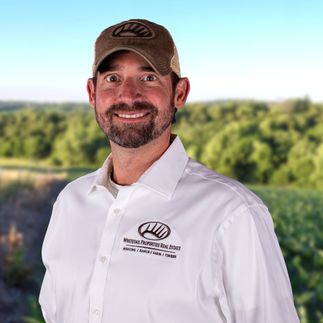 Luke Wallace
Salesperson, Land Specialist, NE Team Leader / Licensed in NE
Testimonial Quotes
Luke Wallace:

What My Clients Are Saying
"Luke was extremely professional throughout the entire process. He was readily available for any questions we had, and he was very informative. Communication was excellent as well. Luke made sure to contact us as things developed, but when things were slow, he called at least once a week to touch base. This helped reduce any anxiety on our end during the entire process."

I enjoyed working with Luke Wallace, he is an asset to your team. He is down to earth and helps any way he can to make a person feel comfortable, and he does what needs to be done to seal the deal.

Excellent! I have worked with Luke for 4 years now successfully.

Luke Wallace was just outstanding from start to finish. He put in the work from the initial "death march" through the mud when initially surveying the property (it was only accessible by foot) to managing significant complications with the sale due to WRP survey issues. A+ work on his part.

I will be reconnecting down the road for other Northeast property sales. Luke was great!

I am grateful to Luke Wallace and Whitetail Properties for their efforts in selling my property in Nebraska. Luke was always willing to go above and beyond the normal call of duty. He never hesitated to take a late phone call to answer questions or to make a drive to get signatures. He was very business oriented, honest, and kind. He did a great job for me and I would definitely recommend both Luke and Whitetail Properties.



I couldn't have found the property I purchased without the assistance of Luke Wallace. I started my land search several years ago by calling auction houses and real estate agents that I located on the internet from counties within 2 hours of Omaha. Every couple of weeks I would make my calls or send my emails to see what they had available. I was surprised that through all the contacts I'd sought out, I couldn't find someone that would help me look for a property. They were eager to sell what they had available, but not willing to listen to what I wanted and reach out to me when they had a property that met those needs. It was a very one-sided relationship. This all changed when I landed on one of Luke's properties this spring. He showed me the initial property that I requested. Even though it wasn't a fit, he took the time to understand my preferences and my budget, and continued to look for and suggest properties. This was my first land contract, and I had many questions. Luke was very prompt to respond. He either had the answer, or found a resource that could answer the question for me. Even after the sale, he continues to provide me with resources for work I am looking to get done on my property. Luke walked the property multiple times with me. I appreciate that he was always accommodating to my schedule and made it easy for me to get there and get around. He helped me understand the property's many potentials and helped me think through some quick and easy items to maximize my first hunting season on the property. Plus, he is just a really nice guy and you can tell he enjoys the outdoors/hunting/fishing. Once I locked in on the property, I wanted to move fast to negotiate and close the deal. Luke worked at my aggressive pace and ensured that all of the paperwork was in place to keep things moving. He made things happen. Overall, I am extremely happy with my purchase. Some members of my family has been out at the property about every other week since purchase. There is something for everyone there and it is the perfect escape from the city. I look forward to my first hunting season on the land. I am very satisfied with Luke as my agent. I will definitely refer anyone I know that is looking for land to your company, and specifically to Luke, because I know they will be in good hands.

Thank you,


Luke was great to work with, and would highly recommend him to anyone. Thanks

My name is Marty Edwards. I live in Papillion, NE, which is a small suburb of Omaha. I'm in the process of selling 2 small farms and consolidating them into one larger farm. As you know there are many moving parts to a transaction like this. Especially with mine. There will more than likely be a standard 1031, a reverse 1031 component, and a 'plus improvements' component. In addition to that, there's a ton of little snags/issues/complications on the larger piece I'm buying. The reason I'm boring you with those details is really to let you know what a professional you have in Luke Wallace. I've bought, sold, and built on real estate multiple times before. I've dealt with sellers and buyers agents. Some have been good. Some not. Luke stands out, way out, in the crowd. Never have my wife and I felt like we had such an advocate before. Not even close. Every time a new snag, or complication pops up, Luke is right there, without us even having to ask, volunteering to get it handled, to find a solution. Luke's style of selling is zero pressure, if he has the answer, he gives it straight & honest. If he doesn't have an answer, he finds the answer. He's offered his personal time and sweat equity to go above & beyond.

Luke went above and beyond in order to help us through the process and make sure our concerns were addressed.

Our agent, Luke Wallace, went above and beyond to help us get our own piece of hunting property. Luke had a solution to any snag that came up. I would not hesitate to refer someone to Whitetail Properties and Luke Wallace.

Luke was our agent for the Masters family in the sale of hunting ground near Syracuse, Otoe County, Nebraska. All of our family members were very pleased with his work that led to the sale of the property. Various issues during the sale arose and Luke handled all with professionalism, good humor, and preciseness to make sure that all the Ts and Is were crossed and dotted. All would recommend Luke as an agent for sale of real estate. In addition, his cordiality and friendliness was much appreciated.

Luke was very good. I was extremely satisfied with the job he did. He priced the property right and I was very happy with the selling price. My only regret is that I don't own other property that I could sell with Luke.

Went fine, Luke is my son in law. Great guy and agent.

Luke was very thorough and persistent on getting deal closed up. That's what I want so he exceeded my expectations. No issues at all he did a good job. Thanks

Luke did a good job of letting us know options and putting us in touch with the right people at the city to answer our questions. He setup multiple meeting to make sure everyone was good before proceeding.

We are very pleased with the work Jason and Luke did on our property sale in Cass County Nebraska. We have never sold "recreational property" before and contacted other firms in the area. These firms responded poorly to our needs. Jason and Luke were just the opposite. Once they had a site tour they arranged to photograph the site and place it on the web site. I think Jason said it had some of the highest hits on record for this area. Jason was also instrumental in suggesting a split of the property to make it more affordable. This split proved to be successful and the properties sold within a very short time frame. I also want to commend Jason for NOT spinning answers to my questions. He provided straight to the point answers which I very much appreciated. Bottom line - we are very pleased with their work and will use your firm again - if we have more land to sell.

Luke was awesome! Super responsive to calls /text / email. Pleassure to work with!

Luke did a phenomenal job for us.

Luke Wallace was very easy to work with. I found him easy to communicate with. Luke answered my questions promptly and if he didn't know the answer, he got back to me in a short time period. I felt like Luke did a good job treating me and the seller fairly.

We just wanted to let you know what a great experience we had with Luke Wallace in purchasing some land in Nebraska. He was very easy to work with and kept us up to date with land that was available until we found the right one. He was very knowledgeable and took time to explain everything about the properties we were looking at. He is a very good asset to your company.

Luke Wallace was extremely good about communicating with me.

Luke was awesome and very patient. His knowledge of the property and how best to mange it was top notch. Going forward if I have any questions I know I can call Luke and get answers and solid advise.

Good knowledge of selling.

Great! Knew Luke in the past and leaned on him for information even though I never did business with him. Always helpful friendly and informative!

We are very pleased with the representation Luke Wallace provided selling our Page, NE farm. We live in Des Moines, which is about 300 miles from the property. Luke took care of all aspects from promoting through price negotiation with the buyers. We were able to receive our asking price via cell calls, texts & emails. Luke really made the process trouble free.

Thank you very much for the great professional help of Luke Wallace and the Whitetail Properties team with my recent land purchase. The services of all of you were great and appreciated. Sincerely,

Luke did a great job facilitating the purchase of our new land. He was very responsive and really helpful. We felt like we ended up with a great piece of ground at a fair price, and we think it was a win-win for both us and the seller! We'll certainly call Luke if we're in the market for more land in the future.

Luke has been excellent to work with on this and other properties we are selling.

This is the 2nd farm I've purchased with Luke being the agent. I'm a very simple no nonsense kind of guy when it comes to these matters and Luke keeps it at just that. So many realtors like to make things more complicated than necessary and draw timelines etc out. Luke's good at what he does and listens. I have appreciated his attention to detail and making things simple, it goes along ways with me. Hats off to him, he's a great realtor for you guys.

6 out of 5 stars. Luke is a professional and a gentleman through and through, period. I've recommended him several times without hesitation.

Good experience. With the mix of recreational and ag land on the property, I felt the strength of the property was the recreational and Whitetail Properties would fit.

Wonderful and smooth transaction. Thanks so much for the congratulations letter after the purchase.

Excellent Luke went above and beyond to assist with the sale.

Luke was great to work with. He was prompt, informative, and gave us straight answers to our questions. Luke was great to work with throughout the entire process.

"My son and I are really, really happy with Luke Wallace and apppreciate all the help he has given in multiple land deals and has helped me a lot since my husband passed in December. He has done an awesome job and bends over backwards for us.

Our experience was outstanding. Mr. Wallace was very much in touch throughout the entire process.

Great experience in every way. Luke is not just very knowledgeable and professional, he was very conscientious, followed through on every question, and was always a pleasure to talk to.

I just wanted to say thank you to Whitetail Properties and Luke Wallace for the great experience we had in buying our new home. Luke was extremely good about keeping us informed and helping us through the whole buying process. It very nice to work with such capable and considerate people. Thanks for helping us get the property that we had been wishing for.

My husband and I had been looking for a hunting and weekend getaway site for several years when we brought Luke onboard. I was immediately thrilled with his expertise. With every property, he pointed out risks and opportunities we hadn't considered while making me (the wife who doesn't hunt) feel included and important. It's clear that he'll continue to answer our questions as we transform our little corner of SE Nebraska. We simply could not have made this dream come true without Luke's consistent, expert, and joyful support. I eagerly recommend Luke to anyone looking to invest in land.

My husband and I had been looking for a hunting and weekend getaway site for several years when we brought Luke onboard. I was immediately thrilled with his expertise. With every property, he pointed out risks and opportunities we hadn't considered while making me (the wife who doesn't hunt) feel included and important. It's clear that he'll continue to answer our questions as we transform our little corner of SE Nebraska. We simply could not have made this dream come true without Luke's consistent, expert, and joyful support. I eagerly recommend Luke to anyone looking to invest in land.

I must say that we could not be more satisfied with the sale of our property. Luke told us what our property was worth and that was what we were wanting to get and Luke produced. The sale went so smooth that we really couldn't believe it was happening so fast. We are happy to tell our friends and neighbors that Whitetail is the best. We thank you for all the work put in to our sale.

Whitetails were the sellers agent and could not have been better to us.

Luke is an awesome agent. I told him to be on the lookout for a great waterfowl property. He did not disappoint. The process was easy and Luke was helpful and prompt throughout the process.

Jessica, Dan, and I want to thank you for the great experience we had with selling our farm through Whitetail Properties Real Estate.

Luke, we realized right away after speaking with you, and you touring the farm with us, that you were the right person for our family to partner with in this endeavor. We could tell that you were such a genuine person, who we could trust and easily communicate with. Someone who saw the benefits of our land and quickly knew what the farm was all about better than I did! You helped us understand the selling process and technology procedures. I sure hope I can remember how to use a lot of that technology—thank you for being so helpful and patient! We were amazed at how quickly we had contracts on the three tracts of properties after listing them (one day, 14 days, then a few weeks later on the final tract). After the first two closings, you also helped us understand that when a lawyer needs to be involved in obtaining a written document it can take a longer time than expected. We thank you so much for communicating with the buyer and keeping in contact with him during that process.

Dan, we hope you realize (which you probably do) what an amazing person Luke is, and what a great asset he is to Whitetail Properties. His knowledge of farming, hunting, the land real estate market, communication and people skills are all fantastic! He was very respectful to everyone, and replied quickly to our phone calls, texts, and emails. He is very patient and answered all my questions in ways I could understand. Luke is really a pro in his field and is a great representative of Whitetail Properties Real Estate. He really worked closely with our family, which we all appreciated.

Luke, Dan, and Whitetail Properties, thank you so much for everything. We definitely recommend to anyone who is thinking about selling or buying land, to use Whitetail Properties Real Estate and Luke Wallace as their realtor. If you are using a 5 star rating, Luke would be at the top of the 5 stars!

We were right, Luke was the perfect person and perfect realtor for our family!

My family had a great experience working with Luke. Luke was very knowledgeable about farming, hunting, and the real estate market. He has great communication skills, people skills, and is very respectful of everyone.

We listed it with Whitetail Properties Real Estate because of Luke Wallace. After having a phone conference with him, learning about Whitetail Properties, and then having a tour of the property with him, we knew he was the right one for our family to work with.

Luke Wallace was amazing. He was approachable, personable, genuine, and knowledgeable. He was very polite and professional while assisting us. I would not hesitate to work with Luke in the future. Solid guy who is good at what he does.




Luke was professional in every way. Very knowledgeable and very personable. Very helpful--in order to view the land for purchase, he brought his four-wheel vehicle to the site so we could drive on the land itself. Would recommend highly Luke to anyone!

A friend of mine had previously used Luke for several pieces of land for hunting (like mine) so I told him to have Luke call me, and glad he did! Luke was a pleasure to work with! I hadn't sold a piece of land like this before so I had lots of questions. Luke was very patient with me and got 99% of the price I wanted.

Luke is Efficient, Professional, and Personable!
Contact Agent
Contact Agent
Contact Agent
Contact Agent