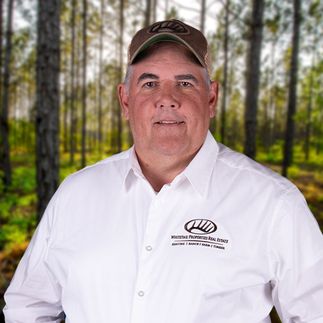 Matt Glander
Salesperson, Land Specialist / Licensed in GA
Testimonial Quotes
Matt Glander:

What My Clients Are Saying
Awesome. I thought it was a good fit.

Matt has done a tremendous professional job for me and I have put him in contact with several others, which have sold.

Just a short note of thanks for your company. I must say a big thank you to Matt Glander. Matt guided us thru the process of selling our property. Matt made the process go smoothly and was with us every step of the way. We feel that he is a valuable asset to your company. I also want to thank you for the knife, hat, and decal. All three will be used with pride.

It was an absolute delight that he answered the phone whether day or night, no matter what time I called him. He is a good man and worth every penny in my opinion.

Good guy to work with on this land transaction.

Matt was the seller's Agent and I purchased without an agent. Matt was great to work with and did a great job getting the deal done.

Matt went over the top with his efforts. My Family can't thank him enough! I had a tight budget and Matt was able to make it all happen! Thank you Whitetail Properties and Thank you Matt!!

Matt was awesome when helping us make decisions for the property. Would recommend him to anyone and hope to do business again in the future.

Matt was great to work with.

Matt was very helpful and professional throughout the process of selling our home. I would recommend him in a heart beat and will use him in the future.

100% satisfied. Matt did a great job!. We knew nothing about buying acreage and Matt helped at every step of the way.

The transaction went great with the attorneys and Whitetail Properties Matt Glander

Matt was excellent and would definitely recommend.

I was happy with my Whitetail Property experience. I will consider using Whitetail Properties in the future.

Matt Glander did an amazing job. He got me a great price for my property and sold it fairly quickly. I could not be happier with Matt's work.

It has been a long tedious journey to sell my cottage and 1/10 shares of Wildlife Enterprises. This was a complicated transaction with many challenges. The cottage and shares had been on the market for four years before I heard about Whitetail Properties. I did not have a great deal of hope when I first talked to Matt Glander. However, he assured me that I was in good hands. After a short period of time, it was apparent that Matt was an extraordinary person. He gave me periodic updates. He frequently drove the one hundred miles plus distance from his office to my property to show it to prospective buyers. His fuel bill must have been astronomical. He was relentless. But most important, he was successful. And he was able to get an offer that was very close to my asking price. In this process, he never exaggerated the possibility of a potential sale. In other words, I trusted Matt. If I am ever in a similar situation, I can promise you, the first and only person I will call is Matt Glander and Whitetail Properties. Thank you,

Matt found it for me. I gave him a good idea on what I was looking for and he found this property for me. He had already done the homework on certain properties so not to waste my time going and looking at them. Time well saved.

Matt was the listing agent when we bought the property. We liked working with him then and we thought he would be a great partner for selling and he didn't disappoint. He wrote a great description of our property, loaded a ton of pictures and we had an offer in less than three weeks. He did an amazing job!

Matt outdid every agent we ever used.

Matt was the very BEST! Worked with us and had the best knowledge of what we needed. Sold our property quick. Just what we wanted.

Very professional, good communication and prompt response to any sort of inquiry.

Matt was great to work with. I definitely felt like he was working to sell the property.

Good understanding of the property market in our area. Easy to communicate with.

Very professional, and friendly it was great working with Matt.

Very good. Matt was very knowledgeable about the property and the area. On our tour of the property he pointed out the various boundaries, attributes and habitat. He also made various recommendations of possible improvements I could make to enhance the property for enjoyment and future re-sale.

Matt was very knowledgeable about the land in this area and the land values. He was very easy to work with.

Matt was the listing agent for the seller. Matt responded in a timely manner when I emailed or texted him. He provided all the information I requested and answered all my questions. Very good experience dealing with Matt.

Matt was awesome! In addition to my role as the selling agent, I was also one of the 6 buyers of the land tract. Matt went above and beyond the call of duty to make this sale happen. I would welcome an opportunity to work with him again.

Matt Glander is highly professional and very knowledgeable within the field of selling real estate. He always had answers for any questions that we had for him regarding the sale of our properteis. He was quick and diligent getting back to us if we called or emailed him about anything at all. My husband and I were highly impressed with the listing of our properties description on the Whitetail Website. The photos that he took to showcase both of our listing with Matt were great. In our opinion, he couldn't have done a better job. Working wtih him was a great experience and we would definitely use him and Whitetail Properties again in the future. Matt truly exceeded our expectations. Top notch real estate agent for sure!!!

Matt is an absolute pleasure to work with. He is extremely knowledgeable and answered all of my questions. We traveled to different properties and he was easy to talk to and friendly. I am very appreciative for his guidance through the entire buying process and beyond.




Good realtor,very professional and courteous.

Matt was always available and ready to go look at properties. He would research each property history and surrounding area as well get me comps for the area. He helped work with the listing agent to get access to the property on multiple occasions during the process. Used his Polaris to ride me around making the experience comfortable.

Excellent from beginning to end!! Matt was spot on the whole process...
Contact Agent
Thank you
We'll have an agent contact you shortly.
Contact Agent
Thank you
We'll have an agent contact you shortly.