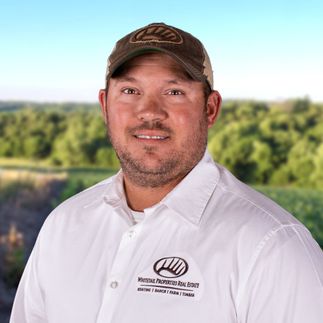 Matt Young
Sales Associate, Land Specialist / Licensed in KY
Mark Williams Land Specialist Team
Testimonial Quotes
Matt Young:

What My Clients Are Saying
Matt is good. knowledgeable, and efficient.

I would like to commend Matt Young on the way he handled my property sale. He did everything in a businesslike manner and carried out the tansaction in the way I wanted.

If the occasion arose, I would be happy to work with him again.

We would like to thank all of the staff at Whitetail Properties for the swift and easy transaction of our property. We would like to give an extra thanks to Matt Young for his help in explaining and answering all of the questions that we had. These words are not enough, but it is all we have.

Thanks so much for making the sale of my property so easy. You did a great job of taking care of everything. From answering questions, showing the property, handling, and meeting with surveyors. You were always on top of things. I appreciate everything that you did.

Thank you so much for your help with the purchase of my farm. I really appreciate your time and professionalism during this transaction. One cannot know the countless phone calls, emails, and texts that go into a real estate purchase. I'm glad that you took your time and expertise to help me acquire my "little piece of heaven". I know that I will be able to count on you in the future with any of my future needs with this property. Hopefully, I will be able to buy another farm in the years to come. I certainly know who I will use in the future.

Matt listed my hunting property in June and it sold in November. I was very pleased with the time that it took him to sell it. He was very nice and courteous. He came to my home with all the paperwork. He always answered all of my questions. He is a very nice young man to have as a salesman for your company.

Matt is a very impressive young man. Matt worked very hard for us. I feel this deal would not of happened without Matt's persistence.

Matt went well beyond what you would expect to get this deal done. And we gained a lifelong friend in the process.

Mr Young worked diligently over many months to find a buyer for our property. Ours was a rather unique situation involving 5 other individuals who owned a 10% interest in the 320 acre tract; my sister and I owned 90%. Obviously communication was a great challenge and satisfying multiple parties was as well! Mr Young did an outstanding job for us, and I give him high marks for representing our interests. Rest assured, I would recommend Whitetail Properties and Mr Young to anyone looking for an agent to sell their land. We sincerely appreciate all the hard work that went in to making our sale a success.

Matt was great to work with. Every time we contacted him he got back with us right away. He answered all our questions and got us everything we needed in a timely matter.

Friendly and went out of his way to help. Matt was such a great guy to work with. Wish him all the best.

Good. Excellent property presentation techniques. Ability to source others from a large geographical pool.

Very good. Knowledge of agent, reputation of company.

Excellent! Matt is very receptive to your needs and delivers what you want and doesn't steer you like some agents do.

Our experience with Whitetail Properties was great. Mostly because you represent them. It all started with you just answering an email on how to buy land not knowing who you were talking to or what we were even interested in. When you took the time to write back and fill us in on everything, we knew you were going out of your way to help 2 hunters and a dream. Needless to say you were most professional and courteous. Whitetail Properties is lucky to have you. Thanks for making a dream, a reality. Sincerely

Great, covered everything, very knowledgeable.

Matt did a great job looking out for my interest.

We found our little piece of heaven, thanks to Matt and Whitetail Properties. We had been searching for over a year for the perfect piece of wooded property, and thanks to the help of Matt, we were able to make this our future home. Matt was knowledgeable, easy to work with, and great at communicating through the entire process. If you are looking for your own perfect property in Western Kentucky, Matt is your guy!

He was very helpful and responsive.

For anyone looking for or to buy/sell real estate property, especially wooded and/or farm property, I would like to fully recommend contacting Matt Young ! We recently had a very unique expensive property of which would have been difficult to find a buyer. However, because of Matt's extensive and current knowledge of potential buyers and sources for them, he had an idea of a buyer almost before we even had it listed on the Whitetail Properties site. His special qualities of matching professionalism and promptness with such a personable combination are rare in the business world but are greatly appreciated by both buyer and seller! My wife and I consider ourselves fortunate to have found such a gentleman to so competently meet our real estate needs; thus, our full recommendation of Mr. Matt Young.
Contact Agent
Contact Agent
Contact Agent
Contact Agent