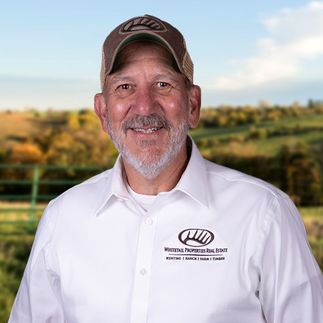 Michael Poor
Salesperson, Land Specialist / Licensed in AR
Testimonial Quotes
Michael Poor:

What My Clients Are Saying
"A+++ Experience all around."

"Mike and David were great to work with from start to finish. As someone who is not too familiar with the real estate market in Arkansas, it was nice to feel that we had an experienced team on our side to get the transaction done. I felt confident the whole way, and any questions I had were promptly answered. One of the easiest deals I've ever been a part of thanks to Mike and David at Whitetail Properties!"

"Mike, along with David Hamilton in Mike's office, were pleasant and professional throughout the process. Good people who are good at their jobs. I would refer them to anyone."

"Great team to work with!"

"Great experience. Mike was very knowledgeable and helpful!"

Great experience - highly recommend Mike Poor.

Great agent, very knowledgeable, honest, helpful and agreeable.

Being from out of state, we contacted Mike Poor to help us find property in Arkansas. Mike asked us a lot of questions in order to find the right property that fit our needs. He went above and beyond our expectations in our search and found just what we wanted. A couple years after we purchased the property, a private individual made us an offer we couldn't refuse. So we sought out Mike's advice and he helped oversee the sale of the property. His assistance was greatly appreciated. Mike is a man of great integrity and he will be our realtor for our future property needs. We highly recommend Mike Poor as your realtor.

Tired of living in your wide open spaces of life? Do you want to move to bigger and better places? Or just feel like spreading your wings a little. Sell your current residence now and move to your potential. Call Mike Poor @whitetailproperties.com. He'll find your buyer, take care of the necessary paperwork, get the needed agencies together, and make the transition to your new place as seamless as possible. He's the guy I picked, and if I need to move again, he's the one I'll call again! Rick & Deb F. Beebe,

I would like to thank Mike for going the extra mile in the sale of my propery. Mike spent a lot of time getting to know the property and marketing it to the buyers. When we hit a snag with the survey Mike jumped in and had it worked out with hardly a delay. I would recommend Mike anytime.

He was very knowledgeable and listened to us.. Very helpful in a stressful situation.

Purchasing a piece of land through Whitetail Properties has been an awesome experience. Mike spent a lot of extra time with us walking the land, providing background information, and doing research to answer our questions. He is extremely friendly, very accessible, and doesn't mind going the extra mile for a client. We had been saving for several years for that perfect piece of land. Mike's hard work and attention to detail took away the stress and made this a great experience!

Mike was extremely knowledgeable about forest lands and willing to share his knowledge.

Mike, I just wanted to thank you and Whitetail Properties for a good job on selling the place I bought. I think you guys did a good job thru it all. I appreciate all everyone did concerning buying and selling of the land. Maybe we can work together again on something. Thanks again,

Great experience! Mike was very helpful in showing me multiple properties until I made up my mind. Mike answered all of my questions was easy to work with during the negotiations. Mike continues to help me out and answer questions after the sell.

For someone who was making their forest land purchase, Mike was great to work with. He showed me multiple properties until I found what I was looking for. Even after the sale, Mike continued to answer questions I had and offered his help when I needed it. M Knapp

Mike did a good job describing the properties he showed my wife and I.

We are so thankful to have found our property with Mike. He is a straight shooter and worked incredibly hard to find us the perfect place. He did plenty of research before each time we went out looking at properties making us feel like we had all the information we needed in order to make the right decision for us. The perfect place turned out to be one of his listings and let me tell you, buyer or seller you will be in great hands. He managed the process open and honestly and was always available whenever we had questions!

I contacted Mike Poor just the week before Easter Sunday and asked that he find a property of at least 30 acres with water, either lake or stream. After looking at many properties on the website I stumbled across the lakefront 60 acres that I purchased just a week later. Mike, to my surprise, called me back on Easter Sunday within minutes of my text regarding some properties that I had reviewed. When I first selected an Arkansas agent I was very concerned that my budget for buying land only was so low that I would not be well represented. Mike proved me wrong on all of my trepidation's. Not only did he call me back on Easter Sunday, he returned my phone calls within minutes of my text request. I chose him over the phone a week earlier because of his down home expertise and easy going manner. When I stumbled on the property a few days later he made contact w/Zeke the second that he was available after showing the same property to another prospect. (within 2 hrs), and when he realized how motivated that I was he lent his vast knowledge to give me tips on how to bid in order to secure, as he called it "the driver's seat". Mike was also instrumental in securing a closing for me weeks before the allocated date. I have bought properties in the past worth at least 5 times more than this land and had nowhere near the service. I'm so embarrassed about how hard he worked on this small land purchase that Mike has a standing offer to hunt on my new land and I hope that he and I will remain friends. My best regards,

1st Class. Mike Poor is the best agent that I've ever dealt with. I'm very impressed.

Excellent! Mike Poor's good old-fashioned honesty.....a man of his word.

Thank you Mike Poor and all who assisted in the sale of my Arkansas property. I could not have been more pleased with the professional way I was treated. Thanks again,

Mike did a great job throughout the process. He kept us up to date and answered any and all questions we had.

Very knowledgeable and responsive.

Michael poor was very patient for the last three years helping me find the property that I wanted. He is an awesome realtor.

Was great, very knowledgeable, was an exceptional experience! Would recommend.

Mike has been great to work with. He's easy going and works hard to get all of our qustions answered.

Thank you Mike for being such a great realtor. You obviously love your job. You are patient and listen to what your customer is looking for. You take your time in showing properties and never rush customer. You went the extra mile by bringing your side by side to better show large property since my friend has a bad knee and can't walk well. I think you were as excited about the property as we were. Thank you for taking care of everything to get to closing. You always answered your phone when I called and answered my questions or would find out an answer. Since we are out of state you checked on everything for us to make sure it was right. Thank you again for doing a great job.

Mike is a great guy, and has a cool dog named Charlie.

It was beyond easy to list and sell my acreage. If I had known how simple it was going to be, I probably would have done it much sooner!

Mike Poor was great, there were many things I didn't understand, and he really walked me through the whole process.

Best land agent I've ever worked with! Mike made it easy to see the property. He not only came prepared with his side by side in case I wanted to ride the property, but also blazed a trail on foot, exploring the property with me for several hours! Although I'm sure he was busy with multiple properties, he made me feel like I was his only client, giving me all the time in the world! Again, best land agent I've worked with (and I am a land agent myself in Louisiana)!

Mike is a model agent! You couldn't ask for a more knowledgeable, friendly, honest and sincere agent to work with. If you are looking for someone with knowledge of land, topography, timber, wildlife, etc., then this is the agent for you! I would highly recommend him (and already have), and will only use him for my Arkansas property needs.

Pleasant, Mike seemed to stay on top of things.

Micheal gave us a white glove land buying service. With this being my first experience buying land, he answered even the smallest question with urgency. I called for information on the land the day it was listed and he immediately took me out the same day on his side by side. It was exactly what I was looking for so we made a full price offer. I can't thank Michael enough for his knowledge and efforts in helping us. He is highly recommended.

Mike was the best at his job. I had gone through a personal tragedy in the middle of this process with my son's brother committing suicide, and even cussed Mike once because I just wanted to give up on everything because I was grief-stricken and out of my head. So poor old Mike took the whole load upon himself and got it sold in two days as I was heartbroken and could barely get out bed because I was so heartbroken...old Mike is a credit to the human race and went above and beyond the call of duty and is a credit to your organization. As a military man, I don't really even LIKE Civilians, but ole Mike's a one in a million...God Bless him. Thanks Mike...took me a few months 'n a few gallons of Whiskey, but all is well now. You're an Outstanding human being and as professional as Phil Robertson is at hunting and fishin, at your trade as well.

All went well and I believe they were the best to sell the property.

Excellent. Mike was very informative, accommodating and knowledgeable.

Michael Poor was easy to work with, knowledgeable and had sold other properties in the area. Very good experience, quick results, property closed in a timely manner.

My husband, Paul, and I would like to take a moment to express our appreciation to our agent, Michael Poor. Although our property was located in northern Fulton County, AR, which happened to be slightly North of his Central Arkansas area, he didn't hesitate to help us. I chose Mike because he had been a registered Forester for almost 30 years, a Boy Scout, a Certified FAA Pilot, his love of land and he also enjoyed helping people with their goals. So I knew right off that he and my husband had a lot in common. Mike is very knowledgeable and was always a straight shooter. He went the extra mile keeping us aware of everything. Once the offer was accepted, the closing transaction to complete a 1031 Exchange was handled very professionally & prompt.

Mike was an excellent representative and I would recommend him to anyone wanting to sell their hunting property.




My second time working with Mike Poor. He is absolutely the best at what he does. He went above and beyond helping me through a tough time with the land owner. Mike made my experience the best it could possibly be by having my back and giving attention to detail and going the extra mile to get the deal done. I would personally not want to use anyone other than Mike Poor. He is an absolute professional!

Mike Poor is a fine person to work with. You should give him a bonus! Mike knows the area and is on top of the market. He is a forester and is a straight shooter.



Contact Agent
Contact Agent
Contact Agent
Contact Agent