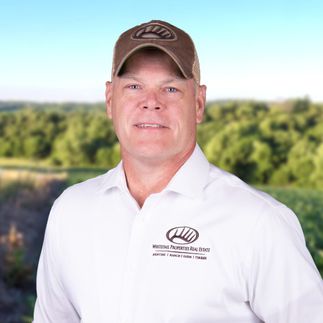 Michael Turner
Real Estate Salesperson, Land Specialist / Licensed in MI
Testimonial Quotes
Michael Turner:

What My Clients Are Saying
Friends told us about Whitetail Properties and we knew Chris Garza. Mike and Chris were very friendly, courteous, and very professional!

Excellent, great communication!

I wasn't sure what to expect when I emailed Mike about a listing on Whitetail Properties website. At the time I owned a 59 acre piece with sub par deer hunting but knew I would probably have to sell it to afford what I wanted. Mike was very quick to respond and and answer all the questions I had. He informed me an offer had already been accepted on the property I first looked at, but said more would be available shortly I would be interested in. Mike came out to give me an appraisal on mine and informed me to get with my tax adviser on a 1031 transaction in the event mine sold and I had an offer in on another piece. Within a couple weeks he had me at a newly listed property and once I saw it I knew I had to act fast as it was exactly what I wanted. We contacted the owner and Mike negotiated a contingent offer, giving me 45 days to sell my current piece. I decided to list it with him as I didn't have a private buyer lined up and had to sell fast. I wasn't sure it would, but in a few short weeks we accepted an offer well over asking price. Everything went smoothly with the 1031 and within a couple months I was the owner of great new property I thought I would never own. Thanks Mike!




It has been a pleasure. Michael made the selling experience easy on us while making sure all of our questions were answered during this process.

Thanks to Michael Turner and Whitetail Properties, my 70 acre hunting property in Kingston, MI sold for what I had hoped to get from it. He gave advice, walked the property and posted pictures, kept me updated each step of the way, from listing to closing. He worked with the buyer, as well, answering all of their questions. If you're looking to list property or buy, if you go through Michael Turner @ whitetailproperties.com, you'll be very satisfied. I was. Thanks Mike.

It was great having Michael Turner sell our property! He was very pleasant to work with and knowledgeable about his job.The fact that he answered his cell phone promptly, when you called, was very important to Gary. We will definitely be promoting Mike as a real estate agent to all our friends and family! Thanks Mike! Sincerely,

Michael,
Thank you for your outstanding work selling my vacant land. I am impressed on how quickly it sold and the amount of interests you generated in a short period of time. The icing on the cake was getting more than what I actually was asking, how great is that. Thanks again for a positive and professional experience.

I have had several agents try to sell my land with no offers. Michael was very personable, and very knowledgeable about my particular area. He sold my property in 6 months after it being on the market for three years. I will recommend Michael Turner to anyone needing a land.

He was very professional and knowledgeable about hunting and the property. I would recommend and consider him again in any future possibility.

Michael dedicated himself to sell our property. It was a very difficult sale because of a radio tower and the property needed tiling. One of the potential buyers told me several times how hard Michael was working to sell our property.

Mike Turner made himself available to us whenever we needed anything. He even reached out to the seller without us asking him to do so. That action is why we were able to close the deal on our dream property and our forever home. Mike wanted us to be happy with the land we purchased. Thanks to Mike we truly are living our Whitetail Properties dream!!

Michael has interest in the same kind of things that we do and right from the get-go he was in step with us. He communicated well, explained things that we asked about and valued our opinions.

Michael Turner is very personable, respectful and professional. He is knowledgeable and explained everything well. A thorough, hard worker, he walked the entire property and personally inspected it so that he was well acquainted with what he was selling. He was enthusiastic and energetic, he loves his job and it shows. It was refreshing to see this and was an absolute pleasure working with him!

Michael was awesome to work with. We initially met on a piece of property that fell thru. When It came time to purchase this property I knew we wanted to work with him again.

Michael was awesome to work with! He got me top dollar for my property and always explained everything so well.

I think Mike did a fantastic job. He kept me informed about offers for the property, and diplomatically/patiently handled any request/demands from potential buyers.

Very knowledgeable. Worked very hard on our behalf. We were always kept informed of issues, options and progress.

Mike is very knowledgeable about hunting property and was very professional. He stayed in contact with me and let me know about any potential buyers.

The listing was great. Exceeded my expectations.
Tried local real estate brokers who did not meet my expectations.


Michael did a great job. Very attentive throughout the entire process. Because the property involved multiple sellers, buyers, probate, etc. it was not the normal land experience, yet Michael handled the process well and made it go as smooth as possible. This was my first land purchase and lack overall experience, but I would definitely work with Whitetail Properties and Michael again.

Michael's expertise helped me a great deal in pricing the property and reaching the right audience. It was especially helpful to me as I am located in another state.

Very personable and very knowledgeable. Mr. Turner believed he could sell my property in a short time for a fair price. Which he did!

Michael was easy to work with and provided timely feedback. He made the transaction process quick and painless.




Michael was great to work with, very knowledgeable and likable agent.

Michael was extremely professional. Timely, responsive, accommodating, transparent, pragmatic, knowledgeable, and friendly. I can't think of anything that he could have done better.
Contact Agent
Thank you
We'll have an agent contact you shortly.
Contact Agent
Thank you
We'll have an agent contact you shortly.