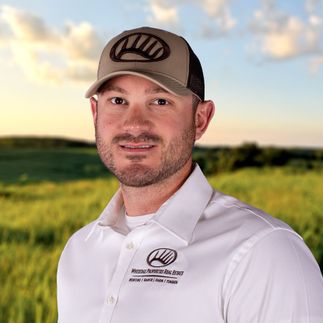 Mitch Keeley
Salesperson, Land Specialist / Licensed in KS
Testimonial Quotes
Mitch Keeley:

What My Clients Are Saying
Mitch was great; worked very hard; communicated very well, had excellent advice, and performed flawlessly.

Mitch Keeley did a good job in bringing the sale of the land to a close. He is a very nice guy and a gentleman in every way.

I appreciate Mitch's enthusiasm to do things promptly. He was always "Johnny on the spot" to meet with us or return phone calls etc. I appreciate that. Mitch did a great job, in fact I told my brother about a piece of property in Rozel that I would like for him to list.

Mitch was very knowledgeable and friendly to work with.

Good communication all the way through closing.

Great experience. Mitch was professional and quick to answer questions and take care of business. Will use Mitch again.

Schraeder Family Trust Ray S

Cooperative and professional.

Adam and Mitch have been great to work with.

I just wanted to take a minute and let you know how great of an experience I had buying a piece of ground with the help of Adam Hann and Mitch Keeley. It was the second land purchase I have made with Adam and my first time meeting Mitch. Both guys were knowledgeable about the area in which my potential new farm was located. With that information, Adam and Mitch helped me to see the future potential, not only in wildlife production, but also agricultural production and how these two elements could work together to make one heck of a family farm. On top of that they really had a bead on the land markets and were able to give me the confidence to act fast if I really wanted this property. I did and now my family has a place where we can go and make memories that will last forever. Thanks Adam and Mitch!

Mitch was very good at his job, he was knowledgable and professional. He always acted in my best interest and I would refer him to a friend or family member. I was very satisfied with his performance.

He was courteous, let me know when he was showing the property.

Great. Worked leads and kept me informed.

Mitch was great to work with and did all he could to get the deal done for both of us.

Friendly and patiently. Worked out any delays and questions in a respectful and prompt manner.

Mitch knew what was wanted for the property before even contacting him. My sisters and I owed it to our dad to stick with Mitch since he had such a great experience with another piece of land.

Mitch at Whitetail Properties assisted my dad with the sale of some recreational land we owned prior. My dad trusted Mitch, and the sale went better than expected! When listing my dad's residential property, Mitch was helpful in deciding list price, any changes we might need to make, and made sure we had great photo to showcase the land. He made the process easier in a time when we had so many other things going on to take care of, and we appreciated that.

Land sold quickly! Mitch was great to work with!

The sale was quick and went smooth. The agent was very knowledgeable and communicated well. Mitch helped me find another farm to buy

Very Professional, even thru problems.




It was excellent, he did all the work! Was sold within a couple weeks of being on the market.




I wanted to let you know how much I enjoyed and appreciated working with Mitch Keeley in selling our homestead in Rawlins County, Kansas. I had always seen the billboards along I-70 and thought if we ever sold our property, that is who I was going to contact. I also know Mitch as our daughter went to school with him, she was a year or two older. He was also recommended by our local abstractor.




When I contacted Mitch around the middle of May, he immediately responded to me. He and Adam drove up to Rawlins County that last week of May, inspected the property and took some awesome pictures! On June 2nd, Mitch sent me a suggested asking price along with a breakdown of how he arrived at the price. He told me the commission charges and all he would take care of for us. On June 5th, my brother and I agreed to list the property with Whitetail Properties for more than what Mitch suggested. On June 7th the listing agreement was signed by all parties. The listing hit the market on June 10th and everything looked GREAT! On June 17th, Mitch let me know that he had a very interested buyer from Colorado that wanted to inspect the property. June 19th, Mitch received a verbal offer from that gentleman; we made a counteroffer. On June 20th, the buyer agreed to our counteroffer! On June 22nd, the contract was signed by all parties and earnest money was paid. Closing was on July 22!!




In two months, our property was sold and all paperwork completed. I know we wouldn't have sold our property for the price we received, as soon as we did, had a cash buyer, and didn't have all the headache, if it wasn't for Mitch and Whitetail Properties. Mitch was patient and understanding while I worked with my brother to come to agreements on things. I would recommend them to anyone who asks my opinion!




THANKS MITCH AND WHITETAIL PROPERTIES!

This is my 4th property to purchase with Mitch & Adam. They are top notch! Really enjoyed the experience. Very professional and attentive to every detail.

Trennon Massengale / Sloan McLane L

Mitch did a nice job keeping us informed throughout the process. We requested a quick closing so we could lock in a rate before interest rates went higher yet. He drove down and met us on two occasions at the property. The first for our initial review and the second for inspection of the list of items we requested be completed prior to purchase.

This was a big purchase with a lot of considerations. Mitch Keely made himself available onsite at the land according to our limited schedule. He was excellent at communicating the value of the property and the conditions required for the sale. Mitch obviously understands rural real estate and the transactions and walked us through the process of making an offer, negotiating with the seller, and preparing for closing. I would describe my experience with Mitch as excellent and would use Whitetail and Mitch Keely again without hesitation.

I felt with Mitch experience in this area, he would get us top dollar for the property! He was first class and handled everything very professional.

Thank you for. your help. Adam Hann and Mitch Keeley were very nice to work with - my expectations were met in a timely manner. It was a pleasant experience.

All I can say is "PHENOMENAL". I called him and he got right on it and had it sold almost immediately. We didn't have to worry about a thing. We even got way more out of our property them we thought was possible. Mitch kept us informed about what was going on regularly. We will definitely recommend him and his partner whenever we can.

Great guys. I would recommend Mitch and Adam to anyone looking for a property.
Contact Agent
Thank you
We'll have an agent contact you shortly.
Contact Agent
Thank you
We'll have an agent contact you shortly.