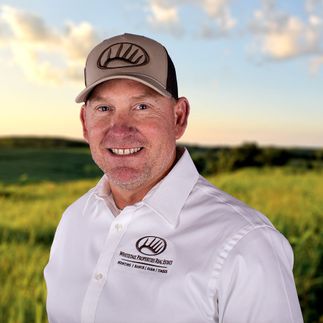 Neil Hauger
Salesperson, Land Specialist / Licensed in WI
Testimonial Quotes
Neil Hauger:

What My Clients Are Saying
"Whitetail Properties, Kyle Schultz, and Neil Hauger got me the right buyer quickly!"

"Neil made it pretty simple."

"Neil was excellent to work with. Very professional and responsive."

Neil has been an absolute pleasure to work with. He was very accommodating with my needs to meet and get our land listed. He spent a lot of time reviewing the land with me and taking pictures, which made for a very thorough and informative listing. The closing process on our property was far from simple and Neil was very helpful, open minded, and patient through the entire process. Neil is very knowledgeable in vacant land hunting properties and I highly recommend others to contract with him as a listing or buyer's agent. Neil is a very valuable real estate asset and you should be very thankful to have him on your team.

Overall the process went as well as expected. I enjoyed the experience and look forward to the next property purchase.

Neil was a pleasure to deal with when we sold our land. We previously had our land listed with another company for several years and had very minimal results. When Neil listed the property, he went above and beyond, taking about 100 pictures and posting them on his website. The result was that he sold our property within 9 months. Neil kept us informed throughout the process on the status of showings, etc. We would highly recommend him.

I have nothing but high remarks to say about Neil Hauger. His communication and knowledge were superb. Our deal took 6 months to complete due to issues related to the seller and Neil was always there to assist. He treated us, the buyer, with great insight and advice. I can't imagine getting this deal put together without his expertise. If I had land to sell or buy, I'd recommend Neil in a heartbeat. He's rock solid.

After eight years of attempting to sell our property through seven different realtors without receiving a single offer, we decided to list with Whitetail Properties. Neil Hauger did a remarkable job, bringing more prospective buyers in three months than we've had in the last five years. His knowledge of hunting land, accurate assessment of our property, aggressive marketing and his ability to deal with a difficult tenant were key to quickly bringing us an offer we could accept. If you want a knowledgeable, ethical, hard working agent, list your property with Neil.

Neil Hauger from Whitetail Properties did a tremendous job with the purchase of our new land. He was very punctual and attentive to all my questions and concerns. We purchased our new land from another state and the transaction went flawlessly. I will definitely use Neil again for future purchases.

Neil

Thank you very much for the sale of my property. You did a great job and good idea on using a drone to show the property!! I know you spent a lot of time and effort out there so thank you for keeping me informed and updated on all the procedure. I will have my brother talk to you on the sale of his property also.

Thank you so much

JOB WELL DONE NEIL, EVERYTHING WENT VERY SMOOTH.

I had a very wonderful experience having Neil as my agent. He was very respectful, thorough, and was a very strong advocate for my best interests. My property had some delayed maintenance that he was awesome and honest about. He made sure that we were up front with anyone interested in the property regarding those issues, as was my wish. Neil still ensured that the positives about the property were well represented. I would recommend him to a friend in a heartbeat.

Our real estate agent, Neil Hauger with Whitetail Properties surpassed our expectations. Our family was collectively selling 80 acres of vacant forested hunting land. Having heard horror stories of vacant land being difficult to sell we chose to go with a premium real estate company which specialized in selling land like ours. We contacted Neil sometime in early Jan 2017 and our land was sold and closed for an amount above our asking price by Feb 23rd. That speaks for itself. Beyond that Neil was pleasant, genuine and forthcoming. I would definitely do it the same way again and would recommend to a family or friend.

Neil, Sue and I just wanted to take a minute to thank you for all that you did to help make purchasing our dream hunting property possible. It isn't often that realtors possess the knowledge, experience and moxie to know how to be of assistance without adding the pressure to what should be an enjoyable buying experience and you threaded the needle perfectly. We look forward to making decades of family memories on this property and hope to pass it down through our family for generations to come. So, once again, Thank You!

Neil Hauger was an absolute pleasure to work with! Extremely professional and knowledgeable. Anytime we sent an email or text he was very prompt at answering it. He is someone that we feel we could call a year from now if we had a question. If we buy more land it will definitely be with Neil Hauger @ Whitetail Properties.

"Neil did a great job selling my home and land. I owned a very unique home where I converted an old barn into a year round home. As such, the uniqueness made it a bit challenging to market. Neil assessed not only the home but the land as well. By marketing my property as a lifestyle legacy purchase Neil was able to successfully sell my home and land. Neil's approach is unique in the industry, couple that with his excellent communication, marketing and exposure and we were able to find a qualified buyer and retire to the Philippines. I would highly recommend Neil and Whitetail Properties!

Neil Hauger and Whitetail Properties were great to work with listing and then selling my 50 acres. Their website ad for the property was extremely well written and the follow-up service was excellent. While any selling process has stress, Neil did an outstanding job managing the process, from getting leads, qualifying leads to closing the sale. At all points in the process he kept me well informed. I would strongly encourage others to work with Neil and his team to sell and buy properties. Nice job Neil.

Even on a Holiday weekend, Neil was there to take my call and help me.

I have referred Neil to others. He is absolutely the best realtor I have ever dealt with. He knows the properties well and understood exactly what I was looking for. I have never had a realtor do this well. I think it is genius to have an outdoorsman selling hunting properties! I do not think there is a single thing that I would do differently! Thank You Whitetail Properties!!

Solid agent, knows his stuff and got the property sold faster that I expected and for more money than I expected. I would do business with this agent again.

Neil was always bringing in more leads than any previous person and pieced together a deal where buyer and seller weren't always in agreement. outstanding job! Thanks

Neil seems to be an ambitious person. Hard to find these days. Kept pushing toward the end goal. The sale.

We want to give a big shout out to Neil Hauger and acknowledge a job well done. Neil showed us property (60 acres) with an Amish built cabin in Clayton, WI. He went all out, brought his gator along, so we could see all of this amazing piece of land, we spent hours touring the property and asking lots of questions, which Neil answered. He was very knowledgeable about the trees/food plots and lay of the land. We ended up purchasing it in a timely fashion, just in time for deer hunting. Thank you Neil.

Neil is a very honest and thorough agent. I consider him a friend.

Neil is a great agent, super knowledgeable, keeps one informed, good insight, very connected. I would not hesitate to recommend him to all in need. Outstanding job and advice!

Agent was very accessible and understood market values. Quick to respond to outreach.

Neil was very knowledgeable and easy to work & communicate with. He would update me even if there were no updates! The sale & closing was trouble free. Thanks Whitetail Properties!

Neil should be commended for his willingness to step up and walk the extra mile. We have purchased a number of properties over the years, and Neil has been the only agent we have had that has been willing to step up in this way. I was particularly impressed that Neil made the extra effort, on his own time, after the sale was closed, to pick up the buyer at the Minneapolis airport, transport him some 200 miles to northern Wisconsin so we could cover some items we had on a separate bill of sale, which, I might add, Neil received no commission. Then return the buyer to the Minneapolis airport, all in the same day. Wow! I'm guessing that Neil must be one of the top producers, if not the top producer, in your organization. This guy should be conducting sales seminars for your organization. Great job!

Neil went out of his way to have me meet the buyer even after we had already closed on the property the day before, meeting me at airport in MSP, driving me to Port Wing, WI to meet buyer, and then driving me back to airport the same day.

Neil did the one on one personal contact with the owner to get this transaction done. I certainly appreciate his extensive one on one effort. I thank Neil for getting it done. It would not have happened without his effort.

Neil was very professional and made the sale of our property quick and easy.

Neil is a great agent. I enjoyed working with him and would recommend him to friends/family.

Neil is a good agent. He is a caring, personable and professional. My only disappointment was not being able to meet Neil and shake hands. Distance did not allow.

Neil Hauger was a great agent to work with. A very nice and professional agent who always returned my calls, texts, and e-mails and helped me greatly through the land purchasing process.

Neil very ambitious seems to work all hours of the day never had trouble getting ahold of him very professional. Closing couldn't have been any smoother.

Neil was fantastic to work with and I wouldn't hesitate to work with him again or to refer him to my friends! Very professional!!

Neil Hauger is a exceptional real estate agent. He went well beyond our expectations in communication with our questions, property marketing, and ease of sale. We strongly recommend him to someone looking to sell their land.

I was impressed by his past experiences. Very likable man

Very good experience working with Neil and Whitetail Properties. Neil was there to answer questions throughout the process. Very happy customer here....

First time buying property. Neil made it a breeze and made sure everything went smoothly.

All went smooth and appreciate all of Neil's hard work to sell our hunting property that really meant a lot to our family. Thank YOU!

It was great! Had worked with residential agents in the past and they knew nothing about land and value beyond a home. Neil took the time to get to know us, encourage us to visit a couple of different property types to really understand what we wanted and where our boundaries were. He was patient and knowledgeable, and really tried to listen to what we were hoping for, even if we couldn't explain it very well! He encouraged us to really think through our assumptions on managed forest law, floodplain, hunting, location, house size/type etc. He helped us develop a relationship with the previous owners so we had enough information to be ready to purchase the property.

Easy and convenient. Great communication.

All went well with the close. Met Dale the next day and he was thrilled to get the place so everyone is happy. Thanks for your hard work Neil, you made the process easy. Amazing what proper marketing can do. That's why I reached out in the first place. I will keep you in mind for the future for sure. Take care and good luck.

Great experience! Neil worked hard to list the property well and followed-up with us regularly. He provided advice and insight when requested.

Mike Brust / Wisconsin Bowhunters A

Neil was very helpful with finding references.

It's not easy being an out-of-state property owner and also needing to sell that property. Especially if there are any constraints on time and finances it can be a very stressful situation. But Neil Hauger of Whitetail Properties was our man and both my wife and I were pleased and confident with the way Neil conducted our property sale. It was a successful business transaction and Neil was able to impart his own natural enthusiasm and expertise for real estate at the same time. We felt respected and well supported throughout everything. Thank you Neil for your professionalism and thank you Whitetail Properties. Consider us future repeat customers. Thanks,

Easy to talk to. Easy to problem solve. He handled all details professionally.

Neil and Denise Hauger where very friendly, helpful and professional. Always kept us updated during the whole process. The experience was A+++

Neil and Denise did a great job handling the sale. They brought us a well qualified buyer within a few days of listing and we got a good price for the property.

Neil was professional and extremely knowledgeable. He had our best interests in mind regarding purchase price. We have purchased and sold real estate for for over 20 years now and worked with a lot of realtors. Neil provided info and service without sales tactics. We look forward to working with him in the future.


Neil was professional and straight forward the whole time. Couldn't ask for more. He listed and had a full price offer day one!

Personable, direct, honest and to the point. He has a reputation, strong expertise in properties comprised of raw acreage.

Neil was very knowledgeable and professional. His experience was appreciated to help get us through the entire process, and he was always available to answer questions.

Neil was very professional and helped me on every step of the purchase.




Neil and Denise are an incredible team. With a single phone call, Neil already had a couple of potential buyers in mind, and got our parcel listed within a few days. We had a purchase agreement with emails and texts of negotiation. And closing went smoothly. Pleased to work with both of them!



Contact Agent
Contact Agent
Contact Agent
Contact Agent