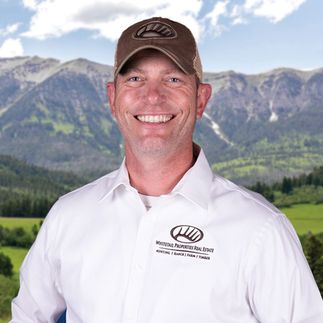 Ray Primmer
Broker, Land Specialist / MT Team Leader / Licensed in MT
Testimonial Quotes
Ray Primmer:

What My Clients Are Saying
It was a timely pleasant experience. Ray was helpful, knowledgeable and friendly.

Very positive. Ray is an exceptionally upbeat person and doesn't get frustrated easily.

Ray takes a genuine interest in what people want and does his best to research that out for them. He's patient and helpful when a person just doesn't know actually even WHAT they want. He makes the showing fun and interesting, it's a lot of fun to go out looking at properties with him! We highly recommend Ray!

Ray at Whitetail Properties was amazing! He was extremely knowledgeable about the area and I received 100% of what I wanted after only a month listing with them and they kept in constant contact weekly. I WOULD STRONGLY RECOMMEND WHITETAIL PROPERTIES AND MR. RAY PRIMMER TO ANYONE BUYING OR SELLING!!!!!!!

In Helena, MT. we had the pleasure and are extremely fortunate to have met and to have worked with Ray Primmer. From our first day in exploring land possibilities, it was evident that Ray was prepared and researched eight specific properties generally meeting our expressed criterion. Accessing unimproved roads and trails in mountainous locations were easily accomplished in Ray's four person Can Am ATV. (snacks and water provided). During our initial search, we did not locate the land I would ultimately purchase and I returned to Texas. My wife and I later reconnected with Ray and returned to Montana. Consistent with identical enthusiasm and level of preparation, Ray presented five offerings ranging from 10 to 25 acres (two became serious contenders for consideration). By the end of our day we located the "Right Property", ultimately making the purchase . Scheduled to return to Texas the following morning, logistical issues arouse in solidifying our offer. Ray effortlessly streamlined a resolution; Including disrupting his early morning making of M&M pancakes for his seven year old daughter's birthday. Ray left his home, driving some distance to meet with us prior to our leaving for Texas. This level of personal commitment has continued through the close of our escrow. Under Ray's guidance, our locating and acquiring a beautiful 10 acre parcel above the Missouri River has been an exciting and satisfying experience. Ray is commended for his knowledge, preparation and personalization throughout the process. Cordially,

Ray is the best. Very helpful. Ray went above and beyond being we live in Wisconsin and bought land in Montana.

Ray assisted my wife and I in the sale of our ranch near Cascade Montana. Ray has the qualities and tools that make him extremely qualified to market recreational ranch style properties in Montana. He has very high integrity and professionalism as traits. He is always mindful of the property owners wishes and shows the listing with enthusiasm.

Ray Primer is excellent, he's quick, efficient and went above and beyond for us. Highly recommend him.

Ray primmer was amazing and great. Everything went smooth and he always called and checked up and gave me updates.

I put Ray in the awkward position of representing me on a piece of land half way across the state. He didn't bat an eye at making the drive and he was on top of our transaction. as first time land buyers Ray explained everything to us and put our minds at ease. I honestly hope to see Ray and his family at our place as guests someday, Thank you Ray for your help in getting me home.

I looked at many properties and decided on a Montana listing. As I contacted the agent Ray Primmer, he answers most of my questions about the property. Those questions he didn't know, he researched and got answers. He was thorough, friendly and factual! I was impressed with him in every aspect of the transaction to buy the property. He closed on the property in less than a month, when other offices were affected by Covid-19 over the state, he somehow navigated closing on the property to satisfy my timeline before years end. I cannot express how Ray Primmer and Whitetail Properties made my dream of property ownership in Montana come true. All I can say is, if anyone wants to own property, do not hesitate to be represented by Whitetail Properties, and if you are extremely lucky, you might find an agent as I did, like Ray Primmer. My opinion, Ray Primmer is the very best real estate Agent I have ever known or work with, PERIOD! He belongs in management. Sincerely,

Very smooth sailing even though everything had to be done long distance over the internet and telephone lines.

Ray was excellent! Provided details, maps, was knowledgeable of the property and area.

Amazing customer service!

It was good. Ray and Jen walked us through every step. They responded quickly as well. I never felt we were waiting for information.

Dan, I just wanted to take a minute and let you know how completely satisfied we were working with Ray Primmer of Whitetail Properties. We selected Ray based a cold mailing we received from him detailing his work. As advertised, and more. Ray did a fantastic job in locating potential buyers, and kept us fully informed as to progress on the showing and sale of our property. He phoned and texted us to let us know of the changes-real and imagined-that were taking place and advised us on our position and what we should do next. He led us through the paperwork and what we needed to do right up to closing. We certainly feel you and your company are fortunate to have a person of the caliber and expertise such as Ray. He is certainly an extremely positive asset for you, and we want to thank you and Ray for the exceptional job he did for us. Please convey our many thanks to him, for us.





Ray Primmer handled our real estate listing sale with real professionalism. Ray made himself available with short notice to list it and the write up for the property couldn't have been any better. It sold in a week. Thanks,


We have purchased many properties in the past. Ray was the most knowledgeable, professional and friendly realtor we have ever worked with. He has become a dear friend.

Ray made himself available with short notice to list our property, and the write-up for the property couldn't have been any better. It sold in under a week!

Exceptional. Was responsive and available on demand.

There were some unforeseen challenges along the way, but Ray was extremely helpful and guided us through those challenges. If we have any more real estate needs in Montana, we will definitely be reaching out to Ray. For us it was a year long journey but worth it in the end.




Ray - Thank you for all you did!

Ray was absolutely amazing to work with. He was personable and very flexible around our late notice of coming both times. After finding the property he came out to take a look with us, and gave us his expertise on land in Montana/building.

Ray primmer was so excellent. He is totally responsible for this sale. His work ethic was fabulous.




We spoke with Ray and he just seemed like an honest trustworthy gentleman, which proved very true. Can't praise Ray enough for the wonderful job. He sold our property in 3 days from listing.



Contact Agent
Contact Agent
Contact Agent
Contact Agent