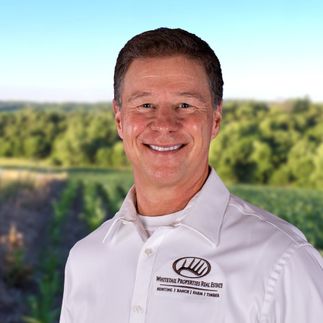 Rich Baugh
Real Estate Broker Officer, Land Specialist / Licensed in IA; Broker/ Licensed in NC; Broker Salesperson / Licensed in MO
Testimonial Quotes
Rich Baugh:

What My Clients Are Saying
Rich did a professional and thorough job.

Rich did a great job as always. He recommended the right price, made a great presentation, and sold the property quickly. I have used Rich before and am greatly pleased with his professionalism.

I have been a Realtor and in other sales most of my 80 years. Rich Baugh is the best expeditor and salesman I have ever known. Don't lose him. Rich Baugh spent over an hour looking over the property in a side by side and discussing how he valued the property. Another agency just dropped off a brochure and left.

Just two short years ago I made a call to Rich Baugh to inquire about a farm in Clarke County, Iowa. Lyla and I would like to say THANK YOU for the time he spent with us. We really appreciated the night we had dinner with his family, researching potential properties, along with the two following days looking at farms. Surely he will never forget driving us through a half dozen counties, looking at eight different farms, in just one day.

We clearly remember loading his four wheeler when it was almost dark, asking him if he had time to look at one more farm. Thank you for making the sacrifice to stay overnight that evening so we could look at three additional farms the next day, without even knowing whether we would purchase a farm from you. Rich is a truly committed professional. He answered the hundreds of questions we had without bating an eye. His HONESTY is second to none.

Bow hunting has been my passion going on 40 years. I decided to invest in recreational land by looking for a realtor with the same passion for the outdoors and understanding of giant whitetails that I do. I was fortunate to meet Rich Baugh. After spending many days "scouting" with Rich I soon realized I had the right person guiding me through this process. Since that fateful moment years ago we have been through nine closings together, all flawless. One investment farm Rich told me "You won't want to sell this farm". Another 'spot-on" evaluation. That farm became my family farm. It has been a joy for me and my son to do some bonding on as well as friends and family. My first deer taken was a 205" monster which was the highlight of my bow hunting career that spans many countries. There is no better feeling than owning your own piece of heaven. Working with Rich has brought me many blessings including a wonderful place to spend with my son, a place to relax and investment opportunities. I now consider Rich and his family true friends. I would tell anyone that is looking for a recreational property that you can't go wrong using Whitetail Properties. My experience with Dan, Rich and others has been exceptional. Honest, knowledgeable and true "Stand up" guys.

Our experience with Rich was very smooth and professional. He answered all of our questions and always emailed us back very quickly. I this was a lot of extra work for him as we had one other property which we were doing a 1031 exchange on and another property which we did a reverse exchange on. He kept in touch with the IPE 1031 lawyer and emailed him all the necessary forms. Everything went very smooth and we are thrilled with the property.

Thanks to Rich Baugh and Whitetail Properties

Mike & Marcia Terpstra & F

I was very impressed with Rich. He is a great guy with a true passion for whitetails. I look forward to working with him on the purchase of another farm in the future.

Rich was very professional and worked very hard to answer any questions or problems we had. This is the 2nd property we purchased through him and were very pleased.

Rich was a representative for both the seller and the buyer in this land transaction. I felt Rich played the part of middle man very well, hence the reason I did not want to cut his commission in half by bringing in my own representative. Had I felt he was not acting in my best interest this would not have been the case, but Rich did a great job, and was very instrumental in this land purchase. This being my first time purchasing land at age 25, Rich took the time to explain the process to help me understand what was going on at all times. Thanks again Rich!!!!

Rich did an awesome job selling my property. I will reccomend him to anybody I know that is also selling land.

Performing as a dual agent, Rich did a great job of staying impartial and treating both parties fairly. He stayed on top of the transaction the entire time (and it was during the deer hunting seasons)! The transaction was made without a hitch.

Rich Baugh was fantastic throughout the whole process keeping me updated in a timely and professional manner. I completely trust him and have already referred him to several friends. Great experience.

I thought Rich did an outstanding job giving us his perspective on why he liked the land as if it were his rather than from a realtor's perspective. I didn't feel like I was being pushed to buy something like I have felt with other realtors in the past. Since we have had a purchase agreement he has been great about answering any questions that we have had. All of that is a great recipe to keep a loyal customer base.

Rich is a fantastic individual and really represented me well. This is the third and biggest hunting property that I have purchased in Iowa and Rich has excelled in his service to me. He has represented me in all three purchases and I couldn't be more pleased with his responsiveness and professionalism. I will definitely list my properties with him and Whitetail Properties whenever I decide to sell. Thank you!!

Rich is absolutely awesome! Knowledgeable, trustworthy, hardworking and he knows market. Already gave him a referral, he was that good!

I have 3 siblings, our mother is Maxine Schlegel and we are all very pleased with the way Rich Baugh listed the property and helped me get it sold for the estate. My sister is a realtor in the Los Angeles area and wanted me to specifically pass on to Rich that she thought he did an excellent job putting the listing together.

Robert Schlegel, Maxine Schlegel E

Our property sale was on a lengthy time frame due to an easement issue. Rich has been supportive in every way possible and did an excellent job for us.

Living in Colorado, I very much appreciated Rich keeping in contact with me promptly. Thanks Rich! Great job! Now let's get the next one done.......

Good experience. Happy with the farm we bought. The website was great and the online listing basically sold the property. Rich was polite and responsive and seemed knowledgeable of the area. We did significant personal research before purchasing which helped with the process. Being able to complete the entire process remotely was helpful as we are not local. Hope to meet Rich at some point after the sale to discuss land management and hunting/property strategies to get the most out of our buying experience.

Rich was the sellers agent but handled everything in a professional and personable way. One of the easiest transactions I've ever been part of.

Rich was good. I'll use him again given the chance.

These guys are great. Will work with them again, and recommend them to others.

Went very well. Rich was very good about getting me answers to all of my questions. Was extremely knowledgeable about layout of food plots and even invited me to tour his farm and food plot layout. All in all an excellent agent. He managed to turn a high stress event into a pleasurable experience.

We had a few issues arise with the transaction (none of which Whitetail Properties caused) and Rich maintained professionalism and made himself available if needed. If it hadn't been for Rich's constant efforts and communication the sale probably would not have happened.

Rich is a great guy and came highly recommended by others. He did promise that I would be able to kill a Booner this year. Haha. Thanks Rich

I have been working with Rich Baugh since I purchased my first farm over 10 years ago. He has assisted me in the purchase of 3 farms and the sale of one. He is a top notch professional and extremely helpful. I wouldn't go anywhere else to have my real estate needs met.

Rich Baugh was our selling agent and Jeff Propst represented the buyers. Both are top notch professionals that are great to work with! It's refreshing to work with honest and ethical people that actually do what they say they will do. I was also very impressed with the thank you gift in the mail after the sale. I will enjoy the hat, sticker and Yeti tumbler. Thank you!

Rich was wonderful to work with and helped sell our home quickly.

This is my 3rd transaction with Rich. Great guy to work with!

Rich was very patient and helpful. This was our first time buying and he walked us through every step and was always available for questions.

No problems, thought it went smoothly. He did a lot of showings and encouraged the price by what he thought would bring the best price. Because we had no electricity on the property, took a little longer to sell and we did end up dropping our price considerately. But happy for the young couple who purchased it and hope they enjoy it as much as we did. Age and health issues made us realize we could no longer maintain it as it should be.

Eugene A. and Shirley A. H

Very professional and honest.

Rich was easy to reach and very professional.

The entire process from start to finish was wonderful. I never felt that Rich was too busy or unavailable. He always answered any question promptly and explained everything. I had dealt with a different realtor earlier. The difference between the two were night and day. Rich did a wonderful job keeping me informed. He would text me often to let me know what was going on. He worked hard at getting the property sold. Very happy and will call again when I need a realtor.

Top notch. Rich was very professional, extremely responsive and highly available. I've purchased 2 farms from Rich and sold another and all experiences have been flawless. I really feel like he has my best interest in mind. Will be a lifetime customer of Rich Baugh and Whitetail Properties.

Professional and timely. He did an excellent job with the listing.

My experience with Whitetail Properties has been an exceptional one on both properties that they sold for me. One in Wisconsin and the other Iowa. Rich Baugh is very good at what he does. I would recommend him to anyone, very professional. I have know doubt that he will get this third deal in Iowa done with no problems. THANKS AGAIN RICH and Whitetail Properties team.

Rich was great! Answered all of our questions very promptly. Went way above and beyond the call. He also dealt with Henry County delays very professionally and kept us in the loop. Would definitely do business with him again if we were in the market for any other land.

Very helpful and professional experience.

Excellent working with Rich. Had lots of questions and he was always available and prompt. He was going on vacation a couple of days after I contacted him so he met me on a Saturday morning in the rain to show the property since I was very interested and didn't want to make me wait. Closing went very well from his standpoint and was patient with getting everything in place to close when we wanted. Rich was very knowledgeable and helpful and is an excellent hunting property agent.

Rich is a great agent. Very professioanl and personable.

Doug DeMeulenaere -Turkey Creek P

I had known and worked with Rich Baugh over the years, but had never purchased a property with him. This is purely an Ag property and was close to other farms that I own. Rich was always very responsive with questions and requests and up front with negotiations. Great job!

Excellent! Rich did a nice job working for us and helped in many ways connecting the dots for management as well.

Rich was awesome! Knowledgeable, attentive, and patient.

Rich was a pleasure to work with. Great guy will recommend him to anyone.

Our dealings with Rich were great! He kept us in the loop of what was happening on the sale of the property. Although we had a good relationship with Jim and Erica Hadley, Rich answered a lot of our questions and made the sale go smoothly. It was obvious that Rich had the same passion for land and whitetail hunting as I did. Buying this property made our life-long dream become a reality for my wife and me. We have looked at a lot of properties; but never found the "right one". This property had everything we have been looking for and it was represented well by Whitetail Properties. You are truly specialists in hunting properties - both for the land and wildlife management. We would highly recommend Whitetail Properties team to anyone looking for a place to call home!

It was a very easy process even with Rich on vacation. He kept in touch with us every step of the process.

Was very nice and they sell a lot of properties.

Very good experience, he was knowledgable and professional.

They were extremely professional and helped come to a workable solution when presented with fence line challenge. I had a unique listing with a high end home on 40 acres. I felt WTP presented me with best option to getting full value of my investment.

Very good handled everything extremely well.
Contact Agent
Contact Agent
Contact Agent
Contact Agent