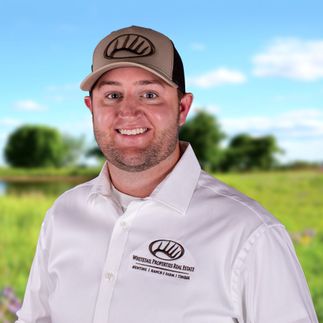 Rustin Hayes
Sales Associate, Land Specialist / Licensed in OK
Testimonial Quotes
Rustin Hayes:

What My Clients Are Saying
"Very enjoyable and very responsive!"

Rustin Hayes is a professional in every way and easy to work with. Sold land quicker than expected. He was very prompt to get back to us. Great Specialist!

Excellent! Rustin Hayes had helped my buy or sell 3 properties in Southwest OK. Rustin Hayes, knows more about Red River property in Southwest Oklahoma than any other person I know of. I have had discussions with other brokers, but Rustin far exceeds in knowledge and understanding of this area!




Good job by Rustin on a complicated Red River property.

Rustin Hayes was always very responsive in every step of the land sale -- very professional! Will be working with him again in the future! Thanks!

Rustin was great and was constantly in communication with me which being in a customer service business I greatly appreciated and would recommend him for future endeavors.

Rustin did a good job. He admitted from the beginning that he had very little experience in selling mineral rights. He still went out and found a buyer and kept at it until he got he job done.

Very professional. Kept us updated as to progress and provided us with information and details as needed. Would recommend Mr. Rustin Hayes as a realtor to anybody. Excellent service.

Rustin's willingness to market the property quickly and his general knowledge of the Oklahoma land market, I am a Realtor in Houston, and Rustin impressed me. Great understanding, professionalism, and tremendous contacts. Even in today's market, he delivered a buyer in only a few days. I never met either Rustin or the buyer!

Rustin knew what we wanted and mentioned after not being able to purchase other listed properties, that he would have a piece of land that would be listed soon.

Rustin is great to work with and very knowledgeable of land values.

Very good...easy to reach and communicate with him. Good follow through. He communicated quickly!

Rustin is wonderful and I really felt like he was and still is looking out for my bet interest.

Excellent. No problems at all.

Very professional. After visiting with Rustin, I thought he would sell the property for a good price and do it quickly.

Great experience! Very professional! Rustin was the best, he made the sale happen!




Great experience, easy to work with, very helpful and informative.

Extremely efficient. First offer brought to me ended up being the eventual buyer.




Simple, transparent, and easy. Since I met Rustin on the land and my initial visit and decision to purchase the land it was an enjoyable experience. There was no unnecessary fluff, drama or hyped sales pitch. No oversell and or under deliver. Rustin had most important my trust from day 1 thru the end which is super important.

Rustin was very knowledgeable and worked through various offers to identify the best buyer. When we encountered issues and concerns, Rustin always presented a recommended way forward and made the effort to follow through to resolution.

Rustin was great. He was the agent who assisted with the purchase and with the sale. He was easy to work with, reachable and helped us through the process.

Rustin worked to make the process smooth and easy.
Contact Agent
Contact Agent
Contact Agent
Contact Agent