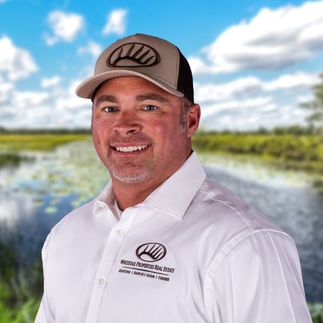 Scott Hicks
Broker In Charge, Land Specialist / NC,SC,MD,VA Team Leader / Licensed in NC, VA
Testimonial Quotes
Scott Hicks:

What My Clients Are Saying
Very good. Great marketing and agent stays on top of the process.

The best! Very professional. Scott was a friend.

My agent acted with integrity when a potential buyer lied and would not honor their commitment. I will choose honor and integrity over money any day.

Scott not only found the perfect piece of property but also handled the perk test and setting up closing etc. Made it very easy for us.

Scott Hicks was awesome! He made the purchase of our property a very enjoyable experience! He is extremely knowledgeable when it come to land and all of it's potential.

Agent made both the buyer and seller happy. Smoothest sale that I have ever had.

I don't know another realtor that would walk a 2.5 year old cut over in August in NC.

Whitetail Property Agent Scott Hicks goes above and beyond to assure both seller/buyer are very satisfied. Even after the closing for this property, Agent Hicks came back out to the property to cut ATV paths and lanes for hunting. Agent Hicks comes highly recommended from me to anyone looking for their dream property to live or hunt!

Scott was very helpful in getting back to us when we had a question. Being from out of town, I am very pleased how smoothly the transaction went. Thank you Scott and Whitetail Properties. Happy Holidays to all :)

Scott did a fabulous job keeping me informed of what was going on.

Scott hicks was very professional and good to work with.

Agent Scott Hicks went above and beyond to ensure satisfaction on both the buyer and seller of the property. Agent Hicks followed up with me after the closing to ensure everything was ok. He also offered to cut shooting lanes and ATV paths for my children to ride on the new property. I was very pleased with Whitetail Properties and would recommend their services to others!

I want to thank Scott Hicks with Whitetail Properties for everything he did to help my husband and I find the perfect piece of property. Scott never gave up and was determined to make sure we were happy. I appreciate all of Scott's hard work and his professionalism. He was more than helpful and always answered his phone or my text when I had questions. That meant a lot. I have told my friends how great Scott was to work with and to let me know when they are ready to find their perfect property. I highly recommend Scott Hicks to anyone that is in the market. Thank you again and it has been a pleasure working with Scott Hicks. Sincerely,

My husband and I appreciated the time our agent spent with us, working with us to find the best company to get our mortgage with.

Scott did a fine job of staying on top of the transaction and is enthusiastic about his job.

Scott was very knowledgeable of the area and went above and beyond his means to get the property sold.

I met Scott Hicks from Whitetail Properties at a sportsman show in Raleigh last year. For several years, I had been trying to sell my property through 3 other previous realtors with no success and very limited showings. Scott and his team produced a top quality video of my property. I am very pleased with Scott and how he marketed my property and was able to find a buyer in less than 7 months. If you have land and/or property you want to sell, I highly recommend Scott and Whitetail Properties.

He did all the work. Made the sale very easy for me.

As first time home buyers, we didn't know what we were getting into. We were so fortunate to have Scott walk us through every step of the process and always putting our needs first. We first met Scott after he sold a piece of property to my father out in Spring Hope, NC. When we mentioned to my dad that we were interested in buying a house, my dad immediately picked up the phone to see if Scott would be interested, and lucky for us he was. During our initial conversations, Scott made sure to pay attention to our wants and needs and compiled a list of many great options. After touring a few properties, we decided to put in an offer on a new construction house in Middlesex, NC. Unfortunately, the seller received an offer a few hours prior to ours and they ultimately decided to go with the other buyers. As disappointing as this was at the time, Scott wasted no time and found even better options for us. The next house that we looked at was another new construction home. This particular house was already sold, but the builder had other lots that he could build this same exact house on. When we first walked in, we fell and love and completely forgot about the other house we put an offer on. After terrible weather and a few closing extensions later, we are finally in our first home! We know it may sound a little cliché, but we honestly couldn't have made it through the process without Scott. He was there every meeting with the builder and every walk through. When we noticed the builder was behind schedule, Scott was on it and figuring out a solution. One thing that we really appreciated was Scott's communication skills. He was always getting the answers to our questions in a timely manner and made sure that we were in the loop. There never was a time when Scott couldn't be reached. Scott treated us like family and made sure that our first home was everything we wanted, and more. It is very obvious that Scott is passionate and knowledgeable about his work and this is what made this entire process painless. We can't thank Scott enough for everything he has done for us and we will definitely recommend him to our family and friends!

He went above and beyond and successfully sold our property.

Scott was great! I'm glad we went with a land expert, not just a realtor with house selling experience. He made the process as easy as possible and helped us navigate a couple of potential problems and got a deal done in a timely fashion! Great job!

Scott did an excellent job, marketing was spot on, communication was well and closing went very smooth.

Scott put in a LOT of work over the 1.5 years we were trying to sell. If not for the things he did above and beyond I am not sure it would have ever sold. He is a great realtor and a great person. Selling that property meant a lot more than usual to my family. Thanks.

Doug and Scott were experts at what they do. Doug provided excellent photographs and road side advertising. Scott worked hard to get us the price we were after in this listing. They both were awesome to work with. The listing closed in under 45 days which was faster than I anticipated. This shows the experience and professionalism the agents posses.

Agent was amazing! Extremely knowledgeable and informative with the process. He took great care of us!

The week after my property was listed, we got hit with a hurricane in September, 2018. I was very skeptical about it selling as quick as it did (5 Months total). Scott hit the ground running and I was impressed. I have since recommended him to other potential clients.

Scott Hicks has been wonderful through the process. He helped on the buying side as well as the selling side. He was very helpful and knowledgeable. We will definitely have him help us with our next land purchase. Very professional!

Scott was a great help in getting this deal complete.

We absolutely love Scott and all his hard work. He has helped us out on multiple closings. He makes the process very easy for us and keeps us up to date at all times.

He met us at the property and put boots on the ground. He walked the land with us and showed almost the entire property.

Scott and Tracie did a phenomenal job! They were very organize and efficient. Will definitely be referring them to others and using them in the future. Highly recommend the Hicks Family!!

Scott and Tracie went way above the call of duty to help us.

Unquestionably knows the area and reality of what will fit my needs. Very serious agent that just gets the job done. Good experience.

It was a landlocked tract, one mile off the road and they worked hard through many trials until it closed.

Amazing!! Have bought and sold many properties with other agents and this was by far the easiest most professional transaction yet.

I had a very good experience with Whitetail Properties and the Land Specialists I worked with. I had the recommendation of an attorney friend of my daughter's, and this company specialized in farms and land sales.

Wonderful! Scott and Tracy work harder than anyone I know.

Absolute wonderful experience working with Scott.

I am more than pleased with the work performed by Whitetail Properties for me. Scott and Tracie are extremely professional and made the entire experience simple and stressless! I have dealt with many real estate companies over the years, without a doubt none come even close to Scott and Tracie's level of service at Whitetail Properties. I will definitely contact you for future needs and will relay to anyone asking of my experience at Whitetail Properties my complete endorsement.

Great, very responsive and offered helpful ideas to market the property. Provided keen insight to the market and the expectations we could receive.




Very professional and easy to work with.

Scott and his wife did an awesome job selling me the property in 2019, and they did even better in selling the property for me.




Great experience kept us up to date on market conditions, offers and made suggestions on how to counter proposed offers.




Decided to go with Whitetail Properties because they seemed to concentrate more on land than housing. Smooth as glass!
Contact Agent
Contact Agent
Contact Agent
Contact Agent