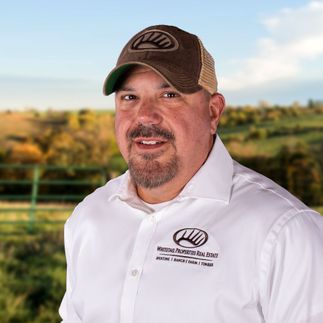 Sean Maxwell
Affiliate Broker, Land Specialist / Licensed in TN
Testimonial Quotes
Sean Maxwell:

What My Clients Are Saying
Everything went smoothly.

Sean is a wonderful agent that represents your company in a first class manner. I would not hesitate to use him or recommend him to others. He goes out of his way to help you in any way needed. It was a great experience for us.

Sean Maxwell handled every aspect of this listing, sale, and closing in a very professional manner. He went above and beyond to make it all happen when a difficult situation arose. I would certainly recommend him to anyone. He became just like one of the family. I appreciate him so much!

Sean really out did himself on selling our 516 acres. He was quick to pickup on the details of the property so he could promote it well. He also went above and beyond to meet with our property manager to learn more about the little things that made the property great. I can't wait to use Sean again to sell one of our properties.

We were very pleased with Sean. He actually showed us a piece of property that we did not even know about. He had a good feel for what we were looking for and we wound up buying that property.

Sean was outstanding and I will use him again.

Sean was great and like a member of the family. A+

Sean was great, went up above the call of duty, too make this happen. Very easy to get along with, down home. Great communication, got it done for me, didn't give up on me... Worked with me and helped me through all the ups and downs. Best Realtor ever, good people. SEMPER FI.

We had been searching for a property with acreage for almost a year before we started working with Sean Maxwell. Not only did he help us find the perfect home and land in about 2 months but he also found us the best value for our money. He was always professional and knowledgeable while being personable and easy to work with. I would recommend Sean to anyone looking for their perfect piece of land who wants an agent that is knowledgeable about land and homes, who is trustworthy that he is working for them and their best interest, and who will work until he finds the perfect place for them! Thank you Sean, we love our new home AND our perfect farm!

Sean Maxwell went above and beyond to get this very complex deal done. You got a superstar on your team.

Sean Maxwell was always available to help us, and took a great deal of time to assist us in finding just the right property. The entire process went smoothly with Sean handling things. Thank you,

Professional, friendly, got back with us fast on any questions we asked. Boundary markers where not probably outlined but otherwise was a great experience!

My wife, Dayane & I had been looking for property for just over a year, looking in both Georgia and Tennessee, while living in Florida. As such, the majority of our searching was conducted online where we looked over hundreds of properties. After finding listings we wanted to know more about, see and/or entertain making offers on more often than not we never heard back from the agents, some after repeated attempts to contact them. This was not the case with Sean. Not only did Sean respond to us in a timely manner, we often heard back the same day. He sent us additional information on the properties we were interested in and after listening to what we were looking for, he even suggested we look at an additional tract we had not found on our own. The morning we met Sean he was waiting for us and ready to go, touring us through the properties while answering our questions about the surrounding areas, schools, local attractions, places to eat, and more. We closed on that additional tract he showed us approximately a month later, and have already been discussing another with him. Dayane & I would without a doubt recommend Sean's services to anyone interested in property in his area.
Regards,

Very good. This is not the only property he has sold for me.

We just purchased our dream farm, we could have looked a lifetime and never found such a unique and beautiful piece of property. None of our dreams would have come true without the diligence of Sean Maxwell. Sean worked his butt off finding the perfect buyer for this farm and we are sure glad he did. We have had a wonderful experience with Sean and Whitetail Properties. We are looking so forward to the memories to be made with our family and our grandchildren and their children in the future on this farm.

We are so grateful Sean was our agent when we purchased our land. We had emailed several realtors asking about different properties, and Sean was the only one who responded right away and then followed up immediately via phone. He offered to meet us at the property and show us around in a side by side, which we took him up on. Sean is very knowledgeable about land values and current market trends, especially when it comes to hunting / recreational property. After the showing he responded to every text message and phone call, never made us feel pressured, and kept in contact with us and the seller's agent until the deal was completed. We are extremely happy with the purchase and grateful for Sean's hard work and perseverance on our behalf. If you need a Realtor in this area, do not hesitate to contact him. You will be glad you did!




Great both buying and selling. I trusted Sean.

Sean is helpful, detailed and stays on top of everything. This is my second purchase through him.
Contact Agent
Thank you
We'll have an agent contact you shortly.
Contact Agent
Thank you
We'll have an agent contact you shortly.