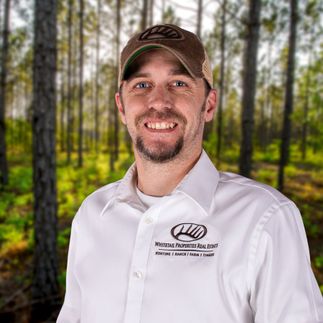 Sean Wilkerson
Sales Associate, Land Specialist / Licensed in OK
Testimonial Quotes
Sean Wilkerson:

What My Clients Are Saying
Sean was extremely successful, professional, had a positive attitude and carefully listened to me regarding all aspects of selling process.

"Couldn't have gone any better!"

Great experience, I will use Sean on any future deals.

Sean answered all our questions. Was willing to go out of his way to ensure we were well informed. Was willing to assist us by allowing us to set up viewing dates and times. Sean also assisted by being knowledgeable about finance companies and title companies in the area. Sean is a legit good guy and Whitetail Properties is lucky to have him. Thanks again Sean

Sean was very courteous, attentive, knowledgeable, prompt, easy to deal with. Shucks, I could go on and on. He made the process smooth and easy. Thank you for having such awesome people on your team.

This was a very difficult sale as I held a deed to 80 acres and we had a buyer for $240,000 and when I arrived to finalize the deal I found out I didn't really own 80 acres and that sale fell through. I only had 46 acres. After a year or so we made a sale for $135,000. Wasn't what I had expected but Sean did a good job of selling what I really owned.

Agent was easy to work with, knowledgeable on most questions, answered my calls on the weekends/nights, and was a pleasure to work with. Will definitely recommend him and will contact him on the next transaction.

Sean did a great job. We are very satisfied with how things went.

Sean went above and beyond what was necessary. So glad I found him!

Excellent communication. Excellent thorough professional knowledgeable agent. Sean's the best! Really he is.

The process, listing, showing, and closing were over before I expected.

Sean was one of the best RE agents that I have ever dealt with. A very pleasant experience.

Sean was very helpful and prompt, this was not the only property we were looking at or the only Realtor we were talking to. Sean always answered my calls, texts and emails right away, the other companies I called were hard to deal with or get any information from.
Thank you Whitetail Properties for your excellent service!

Efficient. Sean helped us refine what we were looking for which ultimately resulted in a fast search and decision process.

Sean is very helpful, friendly and courteous.

Our experience was seamless with very few issues at all. Sean was always accessible and I would use him again to sell one of my properties.

Great! Sean was awesome, professional, hard working and very knowledgeable.

I want to thank you for the experience we had while shopping for property. We had an investment property sell and had to reinvest the money but we honestly did not know exactly what we wanted. To complicate the matter, it was myself, my wife and two of our adult boys that wanted to be a part of the process and have an opinion. I have to admit, we were probably a hard group to deal with because we would all email or text message at random times. The agent we dealt with, Sean Wilkerson, was beyond fantastic. We would text late at night, call on the weekends and had him traveling all over the place looking at properties for us and trying to GUESS what we really wanted when we honestly didn't even know ourselves. He even answered us once when he was on vacation in Alaska (we didn't know he was on vacation or honestly we would not have bothered him). One time he met us (we live 5 1/2 hours away) and made the appointment even though he was in terrible pain from a kidney stone. He finally told us when he needed to stop for a few minutes and we felt terrible. We told him he should have cancelled our appointment and he said he wouldn't inconvenience us that way. Even though we have completed the sale of two properties, our boys are still looking (there is a small amount of money left) and they are still calling, emailing and texting Sean about possible properties. They had him contact someone that didn't have the land for sale and got us a contract and it is one of the properties that we bought. I don't know if you have a salesman of the year, or give special bonuses or whatever but I guarantee you that Sean deserves special recognition. We had contacted several realtors prior, trying to get information but no one seemed to really want our business and not one realtor offered to go with us to any of the properties! I just felt I needed to let you know what an exceptional realtor you have working for you and if/when we buy more we will certainly use Sean. Thank you again,

Sean was great from start to end.

Very easy to talk with & answered all questions.

Sean was great to work with. no complaints at all.
Contact Agent
Contact Agent
Contact Agent
Contact Agent