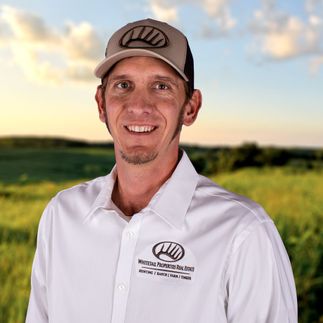 Seth Gade
Salesperson, Land Specialist / Licensed in WI
Testimonial Quotes
Seth Gade:

What My Clients Are Saying
"Smooth and professional."

"I'll preface this by saying, we called several agents from different agencies. Five minutes into the call with Seth, we knew right away he was the perfect fit to find us a property, and fast because orders were ending in the USMC and our timeline was limited. Seth always answered his phone or called us back and he was consistently on top of everything. One particular thing he did that I really appreciated (because we purchased unseen in person) was he checked for apparent issues and got a feel for how well the home was built/land quality. This gave us peace of mind when making the purchasing decision. We lost out on a few homes but Seth was right there leading the search for the next one. He encouraged us to keep trying. On multiple occasions he scheduled immediate showings and was always punctual. His professionalism and eagerness to help us is so incredibly appreciated and is why we will comeback to him when it's time to purchase a homestead on more land! We're so thankful for Seth and have already recommended him to family."




Seth Gade was great to work with. He was very kind, professional, and easy to communicate with. He took the time to help with thinking of all the potential the land might have as well as any questions I had. I would refer friends and family his way any day.

Very professional and responsive, experience in land sales.

Seth went above and beyond what other agents I have worked with would do. He drove back and forth several hours, on numerous occasions simply to get things done. Even though I am sure that it took extra funds for him to do this. I would definitely recommend Seth to others and would work with him again myself.

Other Real Estate companies that listed my 80 acre parcel. I saw that Whitetail Properties had a neighbor's listing. After talking with Seth and what he had to say about my property, I decided to list with him. I think Whitetail Properties did a great job advertising my land for sale. Seth personally checked out the land and knew what to tell interested buyers. I think Seth Gade and Whitetail Properties did a great job and I would list with them again.

We just arrowed our first hit list buck on the property we bought with your help. Even though it's only 45 acres, it hunts really big like you said it would. Thanks for all your help and knowledge, you helped make a dream come true. I'm looking forward to working with you on other projects.

I could not be happier with the outstanding service we received from Seth Gade from Whitetail Properties. We have owned our hunting/rec land for over 30 years. He was extremely prompt on all return calls and emails. He took the time to answer each and every one of our questions to the fullest extent and explained every single step of the process. The photos of our land were amazing. He gave our listing an extraordinary amount of exposure and had showings lined up the first week the property was listed. Not only did he have showings lined up but he sold our 40 acres in less than a month!! I would not hesitate to use him again if we ever have a hunting property to sell again. His customer service and abilities are second to none.

Whether you are a buyer or a seller, you owe it to yourself to meet Seth Gade. My wife and I enjoyed a premier piece of hunting land in Wisconsin for over 20 years. We put it on the market with Whitetail Properties. Seth didn't just walk the land, he studied it until he understood this unique property entirely. His communication with us was exceptional and professional. In a short time Seth identified the right buyers who were looking for that special hunting haven to buy for themselves.

Excellent experience with Seth. He made time when needed to speak and/or visit properties.

We had gotten a mailing for Whitetail Properties which sat on the counter for some time. Something told me to save it. I again showed it to Tom and he called Seth. Within the week we were signing to list it. Advertised on the Saturday, offer on Monday, excepted on Tuesday. Under contract. We didn't think this would happen so fast and at a price everyone was happy with. Thank you Seth for everything. I hope more people will follow their gut for you to list their property. Results were spectacular. Tom would have been so pleased.


My name Is Michael Breitung and I have been actively looking for hunting land for over a year. I have worked with a number of agents will little to show for it. A couple months ago I picked up the phone and called Seth Gade from Whitetail Properties and explained what I was looking for. I explained to Seth that I know exactly what I want and will not settle for less so it's not going to be easy. Seth agreed that the type of land I was looking for is hard to find but assured me that he would be able to help me. Well, I had heard that before only to have agents call me to look at land that did NOT meet my criteria at all. In other words wasting everyone's time in hopes of just selling land to collect a commission. Seth did not do that. He only showed me two properties and both were worth looking at (matching my criteria) in fact I bought the 2nd one and am VERY happy with it.

But it does not stop there. Seth also is very talented in land management. I was very impressed with his knowledge to mold the property to maximize it's potential with things like food plots, hinge cutting, water holes, clover planting likely areas, etc. I could tell he was not just giving me a sales pitch he actually believed in what he was suggesting and made me believe as well. Not only that but he as offered to actually come out this winter and help me get started which I thought was above and beyond. No other realtors offered anything like that. We also are going to shed hunt together this spring. But probably the most important thing is Seth listens to the customer and works to truly find the exact type of property that they are looking for. He is very friendly and truly does seem to care. I think not only did I find my dream property but I think I gained another hunting buddy to swap stories with! If you are looking to buy or sell I would wholeheartedly recommend Seth Gade!

We had our properties for sale with other realtors for 2 years, listed with Seth Gade and both properties were sold in less than 6 months. He is honest and hardworking.

This property purchase was so easy, I will be coming back to Seth & Dave to purchase more land down the line.

Seth did an outstanding job and really knows his stuff! Thanks again Seth

A small but important sale. The guys really did a good job for me. Thanks

Seth went above and beyond to make sure all our concerns were addressed. Would recommend him to all my friends

Seth was knowledgeable about the property, he was able to answer our questions on the spot. Seth was patient with us during the sale process.

Seth was extremely professional and enjoyable to work with. He answered my questions and responded quickly. Most importantly, I trusted what he told me. I would definitely refer friends and family to work with Seth in the future.

Seth spent a lot of time with us. Getting to know our property our wishes and our goals. At one point we changed our selling plan and Seth took that in stride and never missed a beat. He accomplished what we did not think any other realtor could. We are extremely happy. Seth is a real processional and we could not be more satisfied.

Seth went above and beyond to get my property sold. Seth also provided me with great advise on selling my equipment. Thank you, Seth

Everything went smoothly, it was a great sale experience.

Seth has stuck with me for a lot of years. Looking at multiple properties a year to finally find "The One". Everything went smooth besides setting up the closing date but that was all on the title company having issues.. Thanks again!!!!


Seth went above and beyond to his job as my realtor.

Seth was so great to work with and went above and beyond to help us. I highly recommend him!

Seth is a great agent. This is our second time working with him and would and have referred him to others.

I want to express my sincere appreciation for the professional and personal manner in which Seth handle my purchase of this property. Seth has a real vision for the potential of the property he is selling for his clients. His vision and his ability to show the potential value of the property I purchased kept me engaged throughout the entire sales process.

Very pleasant. I felt that he went out of his way to broker the deal we wanted.

I had an awesome experience working with Seth. He is super knowledgeable not only in relation to the property I was buying but also when it comes to whitetails in general. Walking the property with him for the first time I would've missed half the things he was able to point out. We talked about travel corridors, surrounding properties, food plot strategies, morning/evening hunting strategies, browse species, entry/exit routes, etc. and this was before even making an offer. During the process, Seth was always available for a call or to meet in person if needed. He was professional, timely, and helpful. All in all you couldn't ask for much more than working with someone like Seth.

This is the first time that I used Whitetail Properties and I want to let you know that Seth did a wonderful job and made the entire process very efficient and painless. Seth was very accessible and responsive to my questions and requests. My family and I look forward to generations of successful hunting. Thank you,

Seth did a wonderful job for us throughout the process. He was responsive, informative and had our best interest in mind. The entire process went very smoothly and quick. Seth had a personal engagement on the Saturday we closed the deal and he made sure all documents were complete, signed and delivered to both parties before he left for his event.

We enjoyed it thoroughly. Seth made the whole process easy and painless. Great guy.

It was very easy and smooth. Seth was professional and easy to talk with. Couldn't have went any better.

Seth was recommended by a friend. He was friendly and helpful.

Seth was very knowledgeable and extremely easy to work with. He discussed every aspect of the properties we looked at, not only from all the amenities that we were looking for with a cabin, but he was so helpful in talking about the layout of the land for all of the hunting and recreational aspects we were looking at (deer, bear, turkey, fishing, ATV & snowmobile trails, etc). He was knowledgeable and patient with us, we truly can't say enough about his knowledge, professionalism and willingness to find us exactly what wee were looking for. And to top it off, we have more than a land specialist/client relationship, we have now become friends. We couldn't have asked for a better experience!

Seth was a pleasure to work with. He professionally corresponded at every step of the listing, showing and selling. He is very personable and knowledgeable about hunting/recreational land. We couldn't have picked a better specialist.

Excellent! Seth was a solid salesman and the type of property we were trying to sell fits the category of the land you sell.

Seth is world class to work with. This is the 2nd property I have bought through him.

Took a little time to get to Seth from Zillow but once we did he was great. Agreed to meet at the land on very short notice and was extremely knowledgeable about the property and water bodies on it. Once we decided to submit an offer he was very prompt in helping us get the offer written up and submitted.

Everything went very well. I couldn't believe it would sell that fast.

Perfect experience, Seth is the best agent. He did everything right.

All went well and quickly.

Really enjoyed working with Seth. His knowledge and expertise was extremely helpful through the whole process. He did such a good job of presenting the property I almost wondered why I was selling it in the first place.

Seth was very easy to work with, knowledgeable, overall a great experience with Seth.




Excellent and his compassion was so special.
Contact Agent
Contact Agent
Contact Agent
Contact Agent