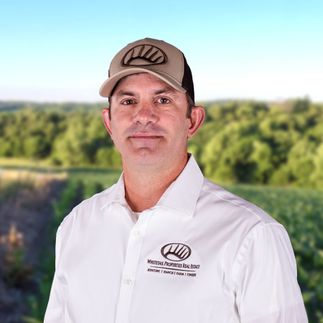 Shad Woodruff
Real Estate Salesperson, Land Specialist / Licensed in MI
Testimonial Quotes
Shad Woodruff:

What My Clients Are Saying
Shad was very helpful, any question my wife and I had he answered responsively. Very satisfied on how everything was preformed from the time we inquired about the property until the day we closed on it. Would recommend him to anyone looking for land to buy!!

Had tried to sell property previously with no success. Very happy with the results from your company and land specialist.

Shad did a great job. If he did not have an answer to a question he was resourceful and got the answer. My wife and I liked the fact that he took the time to walk the property with us. Lots of swamp and brush to walk through.

Everything went flawlessly. I really don't think I could've picked a better agent to work with. He's a hunter, he was easy to relate with since I was buying hunting land.

I couldn't be more happy with how everything turned out. Shad was such a pleasure to work with. Thank you again

Shad and Jeff we're both wonderful to deal with. We had called on 6 other real estate companies and Shad was the only one that followed thru and return every call and or text. I highly recommend him. Thank you.

Shad was great at getting the job done. We are very happy with the outcome.

Went very smoothly!!! Jeff and Shad handle everything promptly, were very professional, took a time constrained situation (1031 property exchange) that was very stressful and worked very hard to minimize and ease any and all stress. Jeff work at all time of the day/night based on my work scheduled, always made himself available, provided property after property that fit my criteria with professional input on each. These guys are top notch, best-of-the-best and will be highly recommended to everyone I come in contact with!

Both Shad and Jeff went out of their way to show my property during the hot days of summer. My property was a little unique in that it also had a Conservation Easement which limited some of the interested parties looking at our property. Shad was able to get past this objection and found me a good buyer.

Jeff and Shad are a great team. Both are effective communicators, and experienced hunters with impressive resumes.

Shad represented me in a very professional manner and I would do business with him again.

Very good commitment to the job. It was a tuff sale at best. Persistence paid off. I am very pleased.

My mother and I had recently used your company to sell a plot of land in Michigan. We chose your company based on selling it as hunting property. We had the pleasure of having Shad Woodruff as our realtor. He did an amazing job for us. Shad knew the area well and helped guide us in selling the property. He put our interests first while making sure we new what the market would bare. Shad was excellent at communicating with us throughout the whole process and was very diligent on explaining everything we needed to know. He made sure we had no uncertainties about anything and that we were comfortable during price negotiations. I would used Whitetail Properties in the future and would also highly recommend to anyone interested in selling property to give you a call. Thanks again for all of your help.

Shad was easy to work with.

Outstanding help and very knowledgeable agent.

Thank you for all your hard work on the land sale.You and your office truly make the process smooth and painless. It's not what you do when you have to...it's what you do when you don't that defines you.

Shad was great to work with. Very accommodating!

Shad did a nice job. We did all pricing and terms over the phone. Worked out problems or questions about the property as we went along. Closing was done with documents emailed to me, notarized documents were UPS'd back to title company. Closed 1/13/2022. Check came the next day. Things were handled very well. Thanks!!!

Good experience, I would recommend using Whitetail Properties ... especially for locating hunting property.

Shad was great to work with and was very responsive to my questions and feedback. He definitely showed real interest in the property and helping us sell.

Shad was very prompt on getting out to the property, taking pictures and getting the property listed.




Easy to work with, they listen to your needs and value your opinions.
Contact Agent
Contact Agent
Contact Agent
Contact Agent