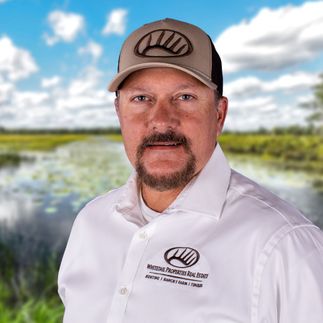 Steve Purviance
Sales Associate, Land Specialist / Licensed in OK, KS
Testimonial Quotes
Steve Purviance:

What My Clients Are Saying
"Great, honest, communication. Worked closely with my son, Eugene and myself."

"Very helpful and Informative."

"Very smooth transaction. Steve was easy to contact."

" Steve was a pleasure to work with and answered all my questions. He showed excellent care about helping me achieve my dream of owning a place in Oklahoma. Steve is a class act and represents Whitetail Properties Value in helping and providing care to his clients."

Excellent. Very helpful finalizing the contract and kept us well informed.

Steve was always quick to respond with good info and explanations of anything I needed. I appreciated his attitude about hunting and area properties, plus his knowledge of the region where we were selling.

Both Lance & Steve were great to work with. They freely shared information with each other to answer any questions or address any concerns that I had. Steve even spent some time at the property ensuring that the well system was still functional.

Kind, and full of insight and options.

Great person! Very responsive to my inquires. Quick callbacks if I had any questions.

Steve Purviance is a true professional and was an excellent communicator throughout the acquisition process. I was impressed with Steve's knowledge regarding the land and habitat this property offered for hunting and outdoor use. We thought so highly of Steve that he's currently representing us on another purchase transaction. Thank you Steve and Whitetail Properties for the great experience!!

Steve was honest which was new for me when working with someone in real estate. He kept good communication with me and kept me updated on anything to do with sale of property or those who wanted to buy property. He was understanding through the whole process, which was appreciated.

Steve was the Seller's broker, but as the buyer, he was excellent to work with. Great experience.




Steve was wonderful. I hope to work with him again soon.

We can't say enough good things about Steve Purviance and Whitetail Properties. Steve did a wonderful job showing and selling our property. It was located in the "boonies" which wasn't easy, but he made it seem like it. His enthusiasm to sell our property certainly told us we made the right choice. He has the personality and professionalism that we wanted and appreciated. Whitetail Properties was highly recommended for their ability to sell properties fast and for a fair price. You did not disappoint!

Steve was extremely professional and knowledgeable. It was a pleasure working with him and I look forward to working on future deals with him.

Steve is an outstanding individual and professional at his job!

This was my first vacant land transaction and I really appreciate your professionalism and responsiveness throughout the process. It was great working with you.

First rate, prompt and courteous.




Steve was outstanding! He explained how he was going to list the property. He kept us informed on the showing.




He listened and solved every issue. I couldn't sell it myself no matter how I tried.
Contact Agent
Contact Agent
Contact Agent
Contact Agent