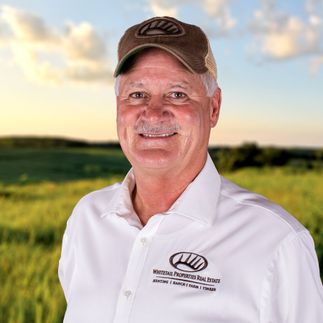 Terry Patrick
Salesperson, Land Specialist / Licensed in WI
Testimonial Quotes
Terry Patrick:

What My Clients Are Saying
"They did a great job of marketing the land and got us a wonderful final price."

Very fast, very professional and hope to work with Terry Patrick again in the near future.

Terry Patrick is excellent to work with, highly creative and very trustworthy. I believe he is very good at finding a win-win for the buyer and seller.

Knowledgeable, very likable, knew what type properties I would like, and showed them well and knew little nuances of the properties.

Terry Patrick is the fourth real estate agent I worked with on this property. Without a doubt he was the most professional I have seen in my 76 years. I would recommend Terry every chance I get from now on. I feel I have gained a friend for life!

My agent Terry Patrick was very professional, did a great job and explained everything before signing the contract. The transaction went very smoothly, I did not even have to be present on the closing. I strongly recommend Terry to anybody who is looking for good and honest agent.

Terry worked diligently on making the sale happen navigating through an abundance of obstacles. Without his help the entire sale would have collapsed. He did a tremendous job!!

Terry worked hard and found a buyer very quickly. We were pleased with all he did and would highly recommend him and Whitetail Properties.

Very helpful and understanding.

Terry went over and above to handle some issues with old locks on the properties log cabin. He was very open to listening to my thoughts and ideas. I believe he sold the property before it hit the market...by putting a sign by the road he drew interest immediately. This was the best case scenario I could have hoped for. Terry was always very good about keeping me updated and returning my calls. I couldn't have asked for a better experience. Thank you

It has been a pleasure working with Terry. It was difficult to sell land that belonged to our family for over 50 years, but Terry was very compassionate. I could tell from our first meeting he loved being an agent. He always had a smile on his face. He sold five properties for us and we were very satisfied with the outcomes. He is an honest man and agent who we now call "friend".

Coleen Bereza-successor trustee Laurel Stepien T

He was very knowledgeable and went out of his way to get the property sold for the best price. Because of this large wetlands property he used a drone to take incredibly beautiful photos.

"Terry made this a very positive buying experience for me and my family! We have already enjoyed the property a great deal and we have only started!"

"Terry made it easy for us "old folks" to do most everything from home. We sure appreciate this very much. Thank you so much for your service in selling our land."

Always a pleasure working with Terry & Luke.

Terry was straightforward, honest, fair, and represented us as sellers very well. He priced the property fairly and it sold to the very first buyers to whom he showed the property. The listing was exceptional with overhead views from his drone. We will definitely contact Terry again when it is time for us to sell our Gillett property.

Transaction went very well and was very easy to complete. Terry Patrick was a great help, very professional and made everything flow very smooth. I would recommend him to my friends that are looking for property.

Terry is a pro. Good communicator, energetic and creative. My family trusts him and that's a rare thing with brokers and we have been involved with many over the last 25 years on various projects.

Terry Patrick has represented our property and has done a great job so far. We are excited to see what happens next with additional land. Highly recommend Terry

Our agent Terry Patrick was a "go-getter" from start! He provided great insight and guidance to us and was able to answer our needs in selling our property in a short time. I believe it was his knowledge and understanding of the land market, coupled with the way in which Whitetail Properties allowed him to market our property using drone video, marketing to hunters, etc., that helped to sell our property in a timely manner.

Thanks so much for your excellent service! We have dealt with lots of realtors in our lifetime and you are the best!

Great! Sold quickly at the right price. Listing was written well so that the right people looked at the property.

Excellent and very professional service. Plenty of on-going communication provided as well as answering of all questions I had in prompt manner.

Terry was a delight to work with. He was extremely helpful in the sale of my property and in the search for an additional property. I have delayed the search for new property for now but really appreciate Terry's help in preventing me from making a mistake in purchasing a home that needed a lot more repair than I expected based on the representations of the other realtor. I found Terry to be highly ethical, kind and knowledgeable.

Outstanding. Friendly, knowledgeable, and experienced. Terry FAR exceeded my expectations!

Terry did an amazing job. I looked at the property late Thursday (11/12). Made the offer on 11/14. Offer accepted 11/14. I dropped the check & signed doc's off at the title company on 11/18 and owned the property on 11/19/20. The questions I had were answered immediately.

Terry Patrick is an amazing human being. He is a seasoned, honest, forthright person. A person of integrity and old school values. Terry felt like a friend from the very beginning. Terry is the kind of person that we look for when we hire our employees who become like family and treat our customers with care and go out of their way to serve others. We had a awesome experience with Terry and of course highly recommend him to others who are looking for special land. May God bless Terry and his family and may God bless America.


Excellent communication and timeliness.

Always a great experience with Terry & Luke. Very nice guys.

Terry was great. I would highly recommend him to any client interested in purchasing a property in Wisconsin.

Excellent, Terry keep after this difficult sale for nearly 3 years.


Terry and Luke are kind and understanding with selling our properties and always looking for the best with us. It's a pleasure working with them.


Could not have been better!

Terry was a joy to work with. I liked what he had to say about how my land was set up. Local realtors didn't seem to think it was worth the money Terry did. With the extensive work done on my property for whitetail deer it just made more sense to list with you.

Terry was great to work with. We knew we wanted the property and the agent did a great job helping us get it within a day or two. Everything went extremely quick and easy.

Very professional and timely. Sold in less time than I anticipated.
Contact Agent
Contact Agent
Contact Agent
Contact Agent