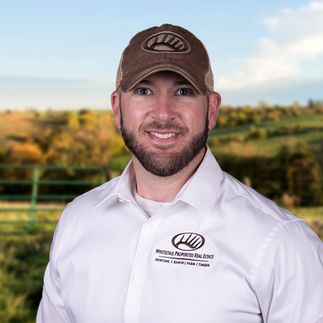 Thomas Crutcher
Affiliate Broker, Land Specialist / Licensed in TN
Testimonial Quotes
Thomas Crutcher:

What My Clients Are Saying
Very knowledgeable, very respectful, friendly and helpful. Enjoyed spending the time with him.

Perfect experience. Thomas was on it, everything I asked for I received within 1 day.

Very professional, quick to answer questions I had about sale. The other realtors I talked to didn't seem as interested in selling the property.

I have purchased 3 different homes over the past decade. However, this was my first land purchase. It was my best overall purchasing experience. Thomas Crutcher is the best agent I've ever worked with or known. He's detailed, prompt, caring, helpful and clearly passionate about what he does. Whitetail Properties has an incredible agent, employee and asset in Thomas!

Thomas is a good agent. Knowledgeable.

I am a grumpy old codger at 82 (bragging). Thomas handled me well, answering my objections without possibly losing a listing. He is a good salesman. I am a retired sales manager for 23 years having hired and fired a number of salesmen. He is a level young man with a very likeable personality.

I know Thomas as a competent and trustworthy person, and I thought there would be no one better to help me get my property sold quickly and efficiently. Thomas was extremely knowledgeable and accessible; he took on the tough questions from the other party's realtor and managed expectations. He was an excellent advocate on my behalf!

Thomas was very helpful throughout the process. He was especially helpful when we were having problems getting the perc test through the county.

Very responsive to all questions, helpful in every way.

Thomas was great to work with. We liked him so much we bought 2 farms with him. He is very knowledgeable about the area, hunting, bedding, food plots, etc.

Thomas Crutcher was amazing. He viewed our property, assessed our needs, and recommended a price.




Thomas was unbelievably helpful. He was always professional. We lived in our previous house 31 years, so a lot has changed in the buying and selling process. He helped us navigate the buying and selling processes with ease. We consider ourselves lucky to have had Thomas help us. We have referred him to several other potential buyers.
Contact Agent
Thank you
We'll have an agent contact you shortly.
Contact Agent
Thank you
We'll have an agent contact you shortly.