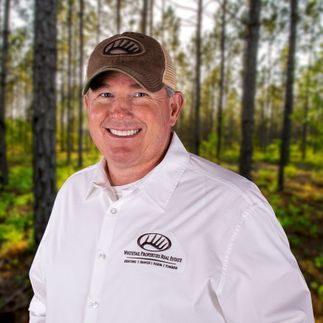 Todd Edwards
Sales Associate, Land Specialist, FL Team Leader / Licensed in FL, Qualifying Broker, Land Specialist / Licensed in AL, Sales Associate / Licensed in MS
Testimonial Quotes
Todd Edwards:

What My Clients Are Saying
Todd was very knowledgeable and helpful through the whole process.

"Todd was amazing from beginning to end. He truly knows what he's selling, the demographic, the topography of the land & the people he's selling for. From the Buyer's perspective, Todd was always professional, highly knowledgeable, yet kind and personable. Traits not many sales professionals possess these days, IMHO. I was blessed to have had Todd to involved in every aspect of this sale - and so were the Sellers. He knows his business & he also knows the fine art of not saying too much. I appreciate him greatly."

"Very satisfied with the experience and knowledge of our agent, Todd Edwards. Todd kept us up to date during the entire purchase process."

Todd Edwards is the best! He says what he means and means what he says, I like that!

Absolutely fantastic. Great working with Todd.

Todd is a major asset to Whitetail Properties! He has been extremely professional, as well as helpful, throughout the entire process of purchasing this property. He has gone above and beyond all expectations of what I had imagined in a real estate agent. This is the first piece of recreational property that I have purchased and he has helped me plant food plots and place stands, as well as offer very much appreciated advice. All of which was provided in his free time. I cannot speak highly enough of him, and I will most certainly use him for any land purchases in the future. As well as, recommend him to any family members and friends in the market to buy or sell property.

MR. EDWARDS WENT ABOVE AND BEYOND MY EXPECTATIONS HANDLING THE SALE OF MY LAND. I CONSIDER HIM TO BE AN EXCEPTIONAL PERSON AND NOW A FRIEND. TELL HIM I GAVE HIM A GOOD REPORT, SO HE OWES ME 20 DOLLARS. (JUST KIDDING) EVERYTHING WAS DONE PROFESSIONALLY AND I ENJOYED THE EXPERIENCE. THANK YOU FOR YOUR EFFORTS.

Transaction went smoothly and had good followup on answering questions that arose.

Mr. Todd Edwards was "OUTSTANDING" in every way from first contact until the closing date. I highly recommend Todd to any future land buyers!

Todd Edwards was great.....informative, knowledgeable and keep us in the loop at all times. Service was beyond our expectations!

Jim & Madeleine Marryat S

I have bought and sold many properties down through the years and want you to know that Todd was the best agent I have ever dealt with.

We felt Todd had our best interest at heart. He went beyond the call of duty to answer our questions and assisted us with any papers, computer e-mails, and we felt very comfortable calling him on any details. He has the highest integrity & character and we knew from the beginning he was very trustworthy. He was a pleasure to get to know personally as well as professionally.

Very professional, knowledgeable, courteous, highly recommend.

He is Awesome. He was a GOD send. Thank you so much. Best experience

Todd is doing a great job. He sold our 60 acre property and we are confident he will find the right buyer for our 369 acre farm/hunting property.

Todd has been extremely helpful. I have already recommended him to several land owners.

Todd is very nice to work with and handled everything.

Mr. Todd made my first land buying experience great!! He was always able to answer any questions I had in a very timely manner and consistently checked on me to make sure I received any email or text he might have sent regarding the land! I would most definitely use Mr.Todd again if I bought more land!

Looking forward to doing additional business with Whitetail Properties. :-)

Todd was fantastic. Great communications; went the extra mile researching property. Best experience I have ever had (and I've had about 10 moves)!

Todd is the best!! He made us so comfortable, very easy to work with and truly seemed to have our best interest in mind. Any questions we had he made sure to get the answer. Helped us locate the utility departments and even helped locate an insurance agent. We could not have asked for better service!

I used to mistrust realtors and dreaded having to deal with them. Not since meeting Todd, he is such a gentleman. Very understanding. Answered all my questions and then some. Never too busy to take a call or respond to a text. Very impressed with his work ethic! I will recommend to anybody looking for property in Todd's territory to look him up.

Todd Edwards handled everything for us. He is a very friendly people person and stays on top of the sale from beginning to closing.

Todd did a First Class Job, from day one until the last day. You are lucky to have him on your Team.

Todd Edwards was honestly the best agent we have ever dealt with on any property purchase. He was incredibly knowledgeable, professional, and a genuinely nice young man. We are so thankful to have met Todd and sincerely appreciate all his help.

Todd Edwards isn't just a broker he's a family friend now - I'd refer him to a family member in a heart beat. Honest to the core and loyal to the goal of finalizing the sale. I should have used Todd and Whitetail Properties two years ago when I was ready to sell.

Todd was great to work with. Property sold in 2 1/2 weeks!

Very knowledgeable. Worked hard to find us exactly what we were looking for in the price we wanted.

He was very helpful and patient with me getting financed, very informative to his clients.

Could not have been better!

Todd was fantastic. Polite, great communications, well versed in land assessment and value, and connected with customers. Repeat customer and satisfaction with the job Todd does.

Todd made everything easy, exceeded every expectation! Most thorough person I have ever met and by far the best communicator. Todd was extremely knowledgeable of the property and took his time in showing me everything that I wanted to see. Cant say thank you enough to Todd for this great experience!!!


Excellent, Todd Edwards is a true professional and it was a pleasure to work with him.

Todd was the utmost professional he communicated with us regularly and went above and beyond to sell our property.

Yesterday my wife and I purchased 71 acres in Baldwin County Alabama from Mr. Todd Edwards. Todd found us the perfect piece of property and was extremely professional and easy to deal with. I have tried many agents over the last 2-3 years and the ones I used in the same area would not go outside of what was already listed online. Todd was different and understood early on what we wanted. He is a class act and we will do business with him again in the future. Thanks Todd for helping us meet this dream!!!!!

Todd was an absolute dream to work with. He went above and beyond to make sure everything was a smooth transition. I would definitely use/refer Todd to all of my friends and family members.

Todd is a pro at what he does. This is our second time working with him and he was just as good as the first. Your agent Todd Edwards is the number one thing for me. I knew he was the only way to go!




Professional, informative, easy to understand & talk to….Agent Todd Edwards.

He did a great job, Todd was really good with people.
Contact Agent
Contact Agent
Contact Agent
Contact Agent