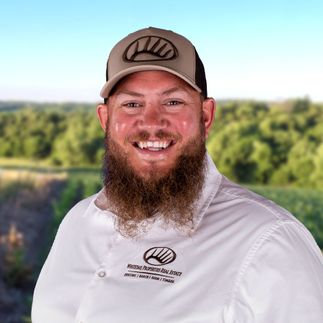 Todd Henry
Broker, Land Specialist / Licensed in IL
Testimonial Quotes
Todd Henry:

What My Clients Are Saying
"Todd was great. He was professional and extremely knowledgeable to market and sell my home. Actually we had two buyers, he was so helpful getting me the best deal. He was present from the beginning to the end. He also had a list of people that were helpful with staging, estate sale and others. (That was very helpful). I would recommend Todd."

"Very professional. Knew exactly what needed to be done and did it fast."

"He was super responsive to questions, and negotiated all through a holiday weekend to get the deal done, despite the fact it was a small sale! As in under 50k."

"My wife and I started looking for properties in Northern Illinois back in February. We found a home that Todd Henry was selling and contacted him about the listing. He was very professional and prompt about getting us information about the property. He asked us what we were looking for and then sent us a focused group of listings that we might find interesting. We reviewed his list and selected two properties to examine. We looked at both properties and ultimately purchased one of the homes.

I do want to make a note about Todd's genuine comfortability with our 4 year old, he showed our son turkeys on one of the properties! And knew the characters from his favorite show (Zuma!) This allowed us to see the listings fully without worrying if he was underfoot.

Todd worked seamlessly with the attorney, the seller's agent, inspection people, and the sellers! In fact, several times the attorney messaged me that Todd had sent over information directly to her- saving me time!

As with most of my real estate transactions, we ran into a snag before closing. The property kept failing radon tests, Todd kept in contact with the radon mediation installer, the radon tester, the attorney, the sellers, and ourselves. Time was getting short, but Todd kept things moving smoothly through closing!"

"I had a challenge on my hand and no idea how it was going to pan out. I contacted Todd. He helped and was honest with me. Helped me along the way on what to expect and never beat around the bush about anything. He was always available to answer any questions even on holidays. I wouldn't recommend anyone other than Todd."

Todd Henry did an excellent job of keeping all parties informed and also in working out minor snags that are inevitable.

Todd Henry was a super great agent. He was always available, including after hours which made the whole process much easier. He was very knowledgeable and helped us throughout the entire process, including finding a farmer to rent the land too. Would strongly recommend Todd.

Todd did an amazing job. He made the process extremely simple and had great recommendations every step of the way. He even found a renter for the farmland. He will be the first person I call next time I'm in the market.

Listing and sale went very smoothly. Realtor was very knowledgeable with the area and other properties that were similar. Sale was very fast and realtor was right on top of things. I have no complaints with this sale and now have listed another property with him.

We worked with Todd Henry on the sale of 40 acres in Winnebago County, Illinois. We sold the property for the full listing price with no financing contingency. And, sooner than we expected during the winter. Todd was prompt and knowledgeable. We appreciate all the services.

Todd took the time to understand my interest in property and understood what I was looking for and why. We met at the property of interest and walked most of it. Any question i asked, he had the answer and a few he researched deeper and my questions were answered. He had a GPS trail map that we used to walk the property which was a great tool to understand the lay of the land while we were on it. I loved what I saw and we both talked at his truck.




We spent some time discussing the process moving forward with an offer. Within 24 hours we communicated and Todd presented the paperwork to us so our offer could be presented. The seller initially declined my offer and took another. In the interim, I was still working with Todd to search out more properties of interest.. A few weeks later Todd called me and the initial property was back available. He stepped us through the paperwork again and the seller accepted. I felt very comfortable with Todd and his professionalism to get us what we wanted. We will make new memories with friends and family enjoying our purchase. Thank You !

Todd was awesome to work with and very knowledgeable. Todd was always prompt at returning phone call, text, and emails. I would recommend Todd to others looking to buy or sell.

We are very pleased with Mr. Todd Henry's services. We had been looking to purchased recreational land after we sold the same type of property. We tried several times contacting different land specialists. There were a few emails that were not answered from different listing realtors. When we contacted Mr. Henry he answered our emails and questions immediately, he was always available to answer all our questions. Thank you Todd! We will most definitely consider him for our future land purchase or sale needs.

I needed an agent to close a land deal and gave Todd a call. He was on top of all the contacts and kept everything going smoothly throughout the process.

Todd Henry was so very professional, reliable, knowledgeable, and personable.

Todd was professional and very nice to work with. He was always prompt in answering calls and helping to solve an issue. We felt his connection to and love of land and we felt he would be best to help us through the difficult process of selling our family farm.

Todd was fantastic through our journey in buying & selling. Would not have wanted to do it with anyone else.




Picking a Real Estate agent is difficult. Todd Henry was a great pick from the beginning. He was always interested in our well being. Always bringing up new thoughts and ideas that made good sense for our family to follow. He was easy to contact when needed. We live out of state and were not able to meet him in person until after the sale was completed. I would use Todd in any future real estate transactions without question.

Todd was great to work with. Every time a needed to get information Todd responded ASAP. Todd was very attentive to whatever I needed to question. Todd always went the extra mile to get the information needed to help with the purchase of the property. There were some delays before closing and Todd was there to keep the entire process move forward. The entire relationship with Todd and Whitetail Properties was very professional and I would recommend them to everyone.

Todd said he would not stay with the low end sale price that would include more people since I wanted a better price.




Due to the special nature of the property and after interviewing Todd and other realtors, we picked him. Todd did a great job of explaining the Whitetail Properties process and real estate specialty. Todd Henry did an incredible job throughout the entire sales process. He was very responsive and transparent.
Contact Agent
Contact Agent
Contact Agent
Contact Agent