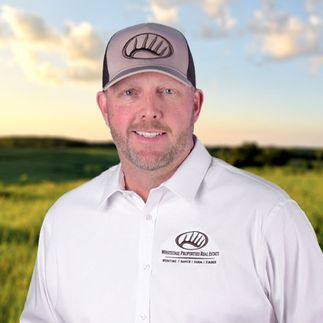 Tom McFarlane
Salesperson, Land Specialist / KS, CO Team Leader / Licensed in KS, CO, NM Team Leader
Testimonial Quotes
Tom McFarlane:

What My Clients Are Saying
"Tom was great! Very easy transaction."

I could not have asked for two nicer guys to help me with buying and selling of property.

The property was on the market with a local agent for a year with only one showing, Tom sold it in two months. Thanks again.

This survey doesn't give justice to the service I received. Both the buyer and me the seller are very satisfied with the price and the condition of the property. My agent was very patient sifting through a buyer that just wasn't right for the property and arrived with a buyer suited for the farm. Today I got a text picture of the new owner, having shot two big toms with one shot at first light on Opening Day of Spring turkey! I am very satisfied.

Tom was a very professional gentleman. He was very knowledgable & straight forward with us. Response time to our questions/concerns were prompt. Living in a different state, he conducted much work & knew alot about the local area. Our family was very pleased with the sales work. We were very satisfied with our experience. Thank you very much guys!

Shoua Nao Xiong & Jason X

Todd and Tom are great communicators and know how to close a deal!

Tom handled this transaction very well, he kept us informed and updated during the entire process. Tom & Whitetail Properties helped us sell our land quick and at a price we had hoped for. Thank you guys,

I had three properties listed with Tom. I heard from him about a potential buyer on another piece of property two days after this one closed.

Looking forward to furture transactions!

Thank you for your efforts in selling my ranch outside of LaVeta, Colorado. From start to finish the professionalism and eye for detail from you and your team was unmatched. I will certainly refer you and your team to anyone that I know that is in the market to buy or sell their property. I am truly glad that we met. Thanks again for everything!

Tom did an outstanding job!

I chose Whitetail Properties based on a referral from a previous customer. Tom was very knowledgeable and professional. He was very helpful with selling my farm and advising me on the next farm purchase. He is very trustworthy and displays strong ethics.

Both of these agents are excellent in their knowledge and professionalism, a real pleasure to work with.




Excellent experience dealing with Tom!
Contact Agent
Contact Agent
Contact Agent
Contact Agent