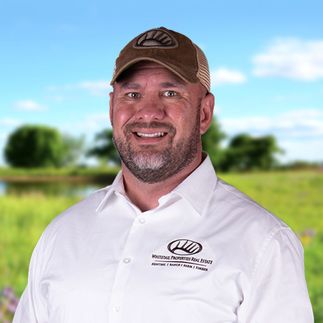 Tony Chrisco
Principal Broker, Land Specialist, AR Team Leader / Licensed in AR, Salesperson, Land Specialist / Licensed in MO
Testimonial Quotes
Tony Chrisco:

What My Clients Are Saying
"Tony was great -- friendly, very flexible and accommodating, and extremely helpful at each stage. What an asset he is to you and Whitetail Properties!"

Tony was awesome. Polite, caring, patient, knowledgeable. He made this hard sale go as smooth as possible.

Tony was wonderful and professional!"

He was thorough and a pleasure to work with.

Tony proved to be the best agent: professional, hard working, and ethical. He went far and above an everyday realtor and we couldn't be happier. We will recommend Tony to anyone in any state to find their best property. Thank you for an awesome experience!

Tony was great! He was very patient with us and truly wanted us to get the property that fit us the best. I can't say enough good things about him and would recommend him to anyone looking to buy land.

I am very satisfied with Tony's professional work! I would and have recommended him and Whitetail Properties to anyone.

Tony is a true professional. High energy, very well informed, very polite and responsive. The best agent I have worked with and I have worked with at least 14 over the years.

Tony always gave us his full attention on site and we never felt rushed or pushed into any decision. He was easy to reach and responsive any time we reached out to him. We are very satisfied with our home buying experience and would highly recommend him to any of our friends or family.

We made a friend during all this process! Would recommend Tony to anyone. Appreciate all his hard work and his knowledge!

Very impressed by seeking out and negotiating one time listings with potential sellers of additional, adjacent properties. Thanks.

After spending almost 30 years in the real estate industry I can truly say this purchase transaction was by far the most complicated deal I have ever been involved in. None of the problems we had were in any way Tony's doing. Tony was, in all aspects, the best realtor we could have asked for. He was knowledgeable, understanding, problem solving and willing to do whatever it took to get the file closed. He was also quick to respond whenever we needed him. We feel that we not only found a realtor, we also found a friend. Please know that, in our opinion, Tony is an honest and trustworthy professional that is a true asset to your company We would be more than happy to refer Tony and Whitetail Properties in the future. Sincerely, Debbie Knoll

Joseph Halverson & Debbie K

We appreciate all the hard work and patience. Tony was always a phone call away and quick to respond to any questions in a process we were new too. We will be forever grateful.

Great guy to work with would strongly refer him.

I would like to thank Chris Starnes and Tony Chrisco, my two Whitetail Properties real estate agents for all their hard work and excellent services. They found the right buyer for my land and further displayed a true appreciation and understanding of one of our great treasures, the whitetail deer. Professional and courteous in all ways. They have my full recommendation. Thanks Guys!!

He was very friendly and answered any and all questions and treated us with the up most respect.

Tony was professional and compassionate as we were selling our dad's property after his death in 2017.

Tony was great to work with. Quick and easy process.

I would call him again if I wanted to purchase a new place.

Tony was the best realtor we've ever used!

I want to say Thank You for the service that I got from my agent. When I asked for info about things he responded on a timely manner unlike when trying to get info from my lender.

Just completed a transaction with Tony Chrisco as our agent. I would like to say that he was a pure joy to deal with. He was knowledgeable, well prepared and courteous. He is a real class act that represents himself and your organization very well.
Thanks

I could not be more pleased with my agent, Tony Chrisco. He took the time to understand the property, its boundaries and features. I was impressed that he hauled his mule so customers could have an enjoyable experience touring the property. He always kept in communication with me throughout the process. I felt he had my best interest in the forefront. He is a top quality professional real estate agent and human being.

Tony did a excellent Job. He was very knowledgeable about the area and properties he showed us. He followed through on every question we asked him in a very timely manner. I would say before the process had ended that Tony had became a friend of ours instead of just a business acquaintance. I would and will recommend Tony to everyone that I come in contact with that is looking to buy property.

Tony was great to work with. He cut his weekend plans short just to show us the property. He allowed us all the time we wanted to see the property, and we didn't feel rushed. He communicated quickly and clearly, answering any questions we had. He made the buying process simple and fast.

Wouldn't change a thing...these guys were top notch...Excellent and would Highly recommend them!

From start to finish the complete process was great. Tony did a fantastic job through everything and I would, and actually did recommended him to another friend of mine who is interested in purchasing land. I told him he would not be disappointed with Tony.

Tony and Chris are both men of high integrity and I trusted them. I felt like they always acted in my interest. Our transaction was full of bumps in the road, often frustrating but I trusted it would work out. I enjoyed working with both of them. They have my respect.

Awesome! Tony is the best we have ever worked with. Loved Him. He is so friendly and professional yet a real worker to get it done. Can't say enough about him.

Tony Chrisco was the consummate professional and was terrific with whom to work. If I had more property in his territory, I would never think of working with anyone else.

I wanted to tell you how pleased I am with Tony Chrisco. Tony recently sold my farm in McDonald County Missouri. Tony was so professional and friendly, he kept me informed throughout the entire process. I could not ask for a better person to work with.

Very good experience. Much better than I had expected. Tony kept me informed of all developments as they occurred. Experience couldn't have been better.

Thank you for all you hard work and exceptional knowledge of what your clients have available and how to market the land. If I could give any advice to your clients, it would be listen to what you have to say and make it happen. They will not be disappointed and they will be very happy with the results! Blessings to you both and thanks again!

Tony and Chris, thanks for doing a great job of selling my property. You sold it for more than I had hoped. I will definitely recommend your services to all lookng to buy or sell real estate in Arkansas.

No complaints. Very responsive.

It was a great experience. Tony was always available for any questions and very transparent throughout the process. He was knowledgeable and kind.

Tony Chrisco was very professional and made the process easy and transparent. I felt comfortable with Mr. Chrisco

Excellent service and responsiveness. No issues throughout the process. Tony kept me up to date with any and all changes & information. Requested advice was given freely and from the perspective of a hunting landowner as well. Tony has already handled 2 land purchases over the years and I will go to him if I'm looking for a third.

My husband & I wanted to sing the praises of Tony Chrisco & Team. We were really hesitant about picking a realtor to sell our property. Tony put us at ease right away.




The listing he put together blew us away. It was a first class presentation! Immediately we had multiple offers. In 4 days we accepted an offer. No hassle. No anxiety. It was the smoothest sale ever!!!! The territory reach of his listing provided was just what we had looked for. The presentation of pictures was awesome & over the top.




Everyone on the team we interacted with was professional & courteous. This is a team to be proud of! We will recommend Tony & his team to everyone.




Thank you for you excellent execution in selling our property.




You really impressed us! There's no way we could have accomplished what you did trying to sell by owner. You knocked it out of the park.

Tony and Whitetail Properties offered a first class experience from the first meeting until closing. Tony represented the property extremely well through photos, property descriptions/attributes, and marketing. Tony helped create a lot of interest in our property and ultimately got us top dollar for our listing. We appreciated his "boots on the ground" approach when reviewing the property and I know potential buyers appreciated it as well. His expertise helped us seamlessly navigate multiple offers and provided for a smooth closing. Overall, we had an excellent experience with this property sale. Additionally, Tony helped us get in touch with another Whitetail Properties agent in another state which led us to finding our next dream property. We would definitely recommend Tony and Whitetail Properties.




For recreational hunting land, we felt that Whitetail Properties had no match to their reach for potential buyers. This is the second property that we've sold through Whitetail Properties and the amount of interest and large number of showings that are generated in a short period of time are something that no one else can generate in my opinion. Additionally, Tony is great to work with. We appreciate his work ethic and expertise.

Tony was professional, exceptional communication throughout the process, and worked to resolve several roadblocks we encountered during the process. I would definitely work with Tony in the future and/or refer others to him in the future.

It was a professional, well detailed, and good communication interaction.

My experience with Whitetail Properties and with Agent Tony Chrisco was great and exceeded my expectations!




During our initial introduction, he took the time to make me comfortable with how Whitetail Properties offered to fit my needs and how choosing them to represent my property would best serve me. He also discussed his similar sale experiences and successes which allowed me to learn his communication strengths and energy to which he would place upon this opportunity.




Tony was very familiar with the general area my property was located and quickly visited the land to walk it thoroughly in order to best represent it.




During the listing time period, he kept me up to speed on conversations with adjacent landowners and was respectful of their interest and concerns.




His depth of contacts provided an interested client within a short couple of weeks. The communication of progress and requests from the potential buyer was timely and allowed the sale to meet both our time frames.




Tony ensured the correct documentation for the closing was collected and would not delay the process.




A successful interaction with an excellent outcome! I would use Whitetail Properties and Tony again if I were to buy or sell real estate.

Tony Chrisco was the best real estate person I have ever worked with. He is so professional, courteous, attentive to our needs, timely and worked hard to sell our property as quick as possible. I could not have been more pleased.

It was a wonderful experience working with whitetail. Tony and Tina were very responsive, answered questions in a timely manner.



Contact Agent
Contact Agent
Contact Agent
Contact Agent