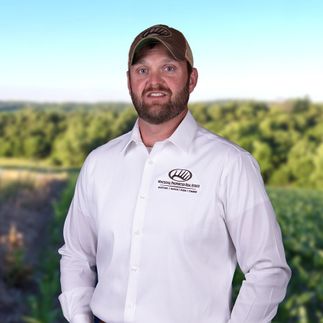 Travis Heman
Salesperson, Land Specialist / Licensed in MO
Testimonial Quotes
Travis Heman:

What My Clients Are Saying
Excellent experience. Travis was always polite & courteous, never pushy, and listened to my needs and concerns regarding the sale of a family farm. Travis was knowledgeable and professional, answered my questions and provided updates timely. I liked his marketing approach and the way he was able to obtain several offers within a short amount of time.

Travis was extremely helpful in every step of the process. I Was hesitant at first during walk thru but he was not a "salesman". Very easy going and not pushy, he was enjoyable to be around while we walked the property. Another thing he was very responsive when ever I emailed or texted. Great person

Travis was always more than prompt and proactive. His work was exceptional. Exceeded our expectations. A blessing to have had his service and how well he represented us and our property. You're lucky to have Travis, we were as well.


Travis was very easy to work with. Very informative and was able to answer all of our questions. Took the extra steps needed to sell our land including posting signs, producing a video etc. He even reached out to utility companies to make the buyers more comfortable. He suggested a 'reverse 1031 exchange' and put me in contact with an attorney to help reduce our tax bill on the sale of this land.


Travis was great! He went wading through the mud to see the property, took photos when it was the right time, and knew all the folks I needed to contact for surveys and other issues.Travis! Hard work, very knowledgeable.

Without Travis this deal wouldn't of went through. I consider him a friend and he has helped make a multi generational dream come through. Can't thank him enough.

Travis did a great job. He went above and beyond what was expected.

Travis was excellent. Timely response to questions. Smooth transaction.

Travis is an exceptional agent, and a down to earth gentleman who represents your company exceptionally well!

Travis was professional, helpful and responsive through the entire process which made the purchase of this property possible.

Always available for questions and phone calls which is hard to find! Travis Heman is top notch would recommend to anyone.

Travis was real easy to work with and made our experience enjoyable.

Travis was very respectful and honorable. He listened a lot more than he spoke. He worked very hard and never gave up.

I have known Travis for several years and enjoyed working with him. He answered or found out answers to all my questions and it was a smooth buying process.

Travis Heman was professional, courteous and a pleasure to work with. We were very pleased with the pictures he took of our property. The land sold in a short time and he was helpful through the whole process. Thank you,

Goo. Your history in sales, my agent having answer's to all my questions ,very knowledgable.
Contact Agent
Thank you
We'll have an agent contact you shortly.
Contact Agent
Thank you
We'll have an agent contact you shortly.