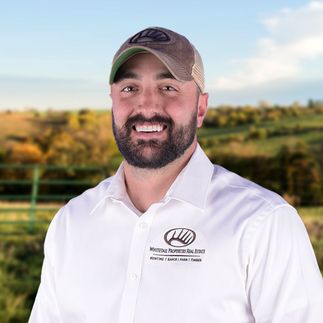 Tre Kerns
Salesperson, Land Specialist / Licensed in WV
Testimonial Quotes
Tre Kerns:

What My Clients Are Saying
Tre was a great realtor to work with, he definitely has a passion for what he does and genuinely loves helping his clients. I am completely blown away by his kindness, dedication, and knowledge!

My husband and I were on the search of property for hunting. Being from out of the area, Tre had our wishlist and understood our needs. He would go out and walk properties, giving us his honest impressions, even offering ideas on ways to utilize certain areas. I had complete faith and confidence in Tre's assessment. When our schedule allowed, he would make sure he was available to show us as many properties as on our list. It was a long journey but Tre was there every step of the way and helped us to secure the right property for us!

We are very thankful that Tre was our real estate agent but even more thankful that we found such a great friend in Tre. We are so excited to start building memories!




My wife and I just closed on a property in WV with Whitetail Properties. Tre Kerns was the real estate agent for the property.




I wanted to take a quick moment and highlight Tre's performance during the transaction. Tre is the best agent I have worked with since I started investing in real estate 10 years ago. He was very responsive and professional while communicating. His knowledge of the area and the specific property was a significant factor for my decision to purchase the property. He quickly and thoroughly address all of my questions and concerns. If I were to start a real estate firm, I'd want Tre on my team.




Thank you for your business and for employing someone like Tre to help the transaction go smoothly.

From the very beginning, Tre has been a great help. He has been a wealth of information on so many facets of the process from walking the property with me to recommending loan officers that specialize in land transactions. I had a great deal of questions for Tre and with confidence, he was able to answer them all. We talked hunting and land management strategies that would best work for the property 's topography and he was patient when I wondered off to look at game signs. I felt well informed and more than ready to move forward, which we did. Next steps, get some cameras up and start collecting data for next season. Many thanks Tre!

I recently bought a property in Wetzel County that Tre Kerns listed on his website. He was very professional, answered all my questions, and went out of his way to help me through the closing process. I would recommend Tre Kerns to anyone wanting to list or buy rural property.

We had the opportunity to work with Tre Kerns on our recent purchase of a farm in Barbour County, WV. We would like to commend Tre on his professionalism and the ability to answer any questions that we had during the process of purchasing this farm. He has a very vast knowledge of the area and was able to provide us with information about assistance with other items that we wanted to look into such as timbering the property, water resources and the like. He was available to answer questions if we called and if not got back to us within 1/2 hour or sooner. We would highly recommend Tre to any of our friends or associates that may be interested in buying or selling property in Barbour County. Overall, Trey is a good person and a man of his word.
Contact Agent
Thank you
We'll have an agent contact you shortly.
Contact Agent
Thank you
We'll have an agent contact you shortly.