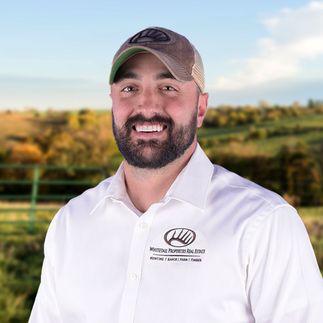 Tre Kerns
Salesperson, Land Specialist / Licensed in WV
Testimonial Quotes
Tre Kerns:

What My Clients Are Saying
"Great! Everything was very smooth and went to plan for a wonderful experience and great deal!"

"We had the pleasure of working with Tre Kerns in the sale of our home. He was always available when we had a question for a call or text and very responsive. He has great customer service and people skills. He is knowledgeable about what he does. We had no doubts in trusting him with selling our home. I would recommend him 10/10."

"Tre Kerns recently assisted me, my sister and brother in selling a property in West Virginia. We have been attempting to sell this property for multiple years and used several realtors without success. Fortunately, Tre Kerns, with Whitetail Properties Real Estate helped us accomplish what we were beginning to believe would never happen. The sale is complete! Tre actively pursued solutions to problems, maintained contact with the three of us throughout the process and was considerate of our questions and concerns! Need a realtor who knows how to sale large properties, I would be happy to recommend Tre Kerns!"

" Our heart felt thanks to Tre Kerns of Whitetail Properties Real Estate. Our property sale was very complicated, 3 owners, almost 1,000 acres, and many deed problems. We had the property listed with two other realtors for over 8 years, but with in 4 1/2 months Tre Kern had the property sold. Tre rose to this challenge with his real estate knowledge, which made this a pleasant experience. We can't thank Tre enough for all his guidance, taking our calls at off hours, and talking me off a ledge of worry. His research, patience, kindness and professionalism are outstanding. We are so very grateful he went above and beyond. We feel blessed to have had such an outstanding realtor and the wonderful team at Whitetail Properties Real Estate. We strongly recommend Tre Kerns and the team at Whitetail Properties Real Estate."

"I recently worked with Tre to sell land my wife inherited. We never dreamed the process would be as quick and efficient as Tre made this process, but he did the job. He sold the property quickly, all the paperwork was digital, (how easy is that!) and it was finished within a timely manner. We would highly recommend Tre to all of our family and friends. And will be using him again for all of our selling needs in the future."

Tre has been responsive and extremely helpful in coordinating between the seller and me and finding a way to finalize the deal.

We recently purchased a cabin on Allegheny Mountain with Tre as the listing agent. Our experience with him was very positive, and we were quite pleased with all the information and useful advice/help he gave us. He truly was very professional and personable with us. Just letting you know how we felt dealing with Tre. We want to thank him for everything!




I just wanted to take a moment and fill you in on one of Whitetail Properties' finest agents. Tre displayed excellent communication skills and brought a professionalism to the process that I've not seen in many agents. I've worked with several real estate agents over the last few years and not many put the time and resources into the job necessary to make it a career. Tre went above and beyond and clearly will be working in the industry as long as it's what he wants to do. We look forward to working with Tre again soon. Thanks again, Mr. Kerns, for the exemplary work; it was very much appreciated!

Tre was a great realtor to work with, he definitely has a passion for what he does and genuinely loves helping his clients. I am completely blown away by his kindness, dedication, and knowledge!

My husband and I were on the search of property for hunting. Being from out of the area, Tre had our wishlist and understood our needs. He would go out and walk properties, giving us his honest impressions, even offering ideas on ways to utilize certain areas. I had complete faith and confidence in Tre's assessment. When our schedule allowed, he would make sure he was available to show us as many properties as on our list. It was a long journey but Tre was there every step of the way and helped us to secure the right property for us!

We are very thankful that Tre was our real estate agent but even more thankful that we found such a great friend in Tre. We are so excited to start building memories!




My wife and I just closed on a property in WV with Whitetail Properties. Tre Kerns was the real estate agent for the property.




I wanted to take a quick moment and highlight Tre's performance during the transaction. Tre is the best agent I have worked with since I started investing in real estate 10 years ago. He was very responsive and professional while communicating. His knowledge of the area and the specific property was a significant factor for my decision to purchase the property. He quickly and thoroughly address all of my questions and concerns. If I were to start a real estate firm, I'd want Tre on my team.




Thank you for your business and for employing someone like Tre to help the transaction go smoothly.

From the very beginning, Tre has been a great help. He has been a wealth of information on so many facets of the process from walking the property with me to recommending loan officers that specialize in land transactions. I had a great deal of questions for Tre and with confidence, he was able to answer them all. We talked hunting and land management strategies that would best work for the property 's topography and he was patient when I wondered off to look at game signs. I felt well informed and more than ready to move forward, which we did. Next steps, get some cameras up and start collecting data for next season. Many thanks Tre!

I recently bought a property in Wetzel County that Tre Kerns listed on his website. He was very professional, answered all my questions, and went out of his way to help me through the closing process. I would recommend Tre Kerns to anyone wanting to list or buy rural property.

We had the opportunity to work with Tre Kerns on our recent purchase of a farm in Barbour County, WV. We would like to commend Tre on his professionalism and the ability to answer any questions that we had during the process of purchasing this farm. He has a very vast knowledge of the area and was able to provide us with information about assistance with other items that we wanted to look into such as timbering the property, water resources and the like. He was available to answer questions if we called and if not got back to us within 1/2 hour or sooner. We would highly recommend Tre to any of our friends or associates that may be interested in buying or selling property in Barbour County. Overall, Trey is a good person and a man of his word.

Thanks so much for taking care of me for my recent purchase in Burlington. I was referred to you by Whitetail Properties in southern VA and it worked well. You were able to meet with me when I needed to when I live so far away. Thanks again for your help.

"Tre was very knowledgeable, very responsive, and professional."
Contact Agent
Contact Agent
Contact Agent
Contact Agent