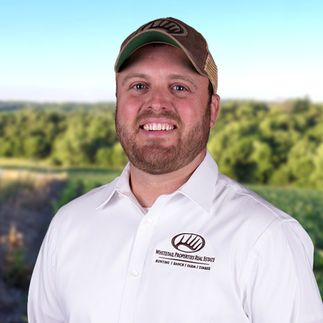 Tyler Sellens
Broker, Land Specialist, IL Team Leader / Licensed in IL
Testimonial Quotes
Tyler Sellens:

What My Clients Are Saying
"It was great! Went smoothly, biggest transaction I have made in my life."

Tyler was easy to work with and very knowledgeable about the farm and the entire process.

From start to finish Tyler was the consummate professional. We've been part of many real estate transactions over the years, and our dealings with Tyler and Whitetail Properties always go smoothly. I would highly recommend Tyler to anyone looking to buy or sell in Midwest Illinois. He is the best!

Tyler has been great. He has sold me another farm two year an ago. He has gone way above and beyond to help me and has become a friend.

Tyler was the best. He was always on top of things, prompt in answering phone calls or emails. It was a pleasure working with him.

Tyler was great to work with, highly responsive, knowledgeable and pleasant - nothing more I could ask for.

This was a wonderful experience and has made our dreams come true. Tyler was an outstanding agent to work with and made the process simple and straight forward. He was always available to answer questions and went out of his way to make sure we had all the details we needed or wanted. He was a pleasure to work with and I would HIGHLY recommend him to others looking for land opportunities!

We couldn't have asked for a more helpful and aggressive agent. Tyler went above and beyond what is expected of a realtor. The monthly updates on the contacts he received from prospective buyers and web interest let us know Tyler was actively working to sell our land. He went out of his way to help us as we live out of the area. I would highly recommend Whitetail Properties, and especially Tyler Sellens, to anyone selling or looking to purchase land.

Tyler did not pressure us at all when he initially came to our house and discussed the property details with us. We felt very comfortable with him and the many emails we had with him. We are very happy with his prompt responses and information provided.

Tyler was outstanding. He was very helpful and worked extremely hard to find the right piece of property for me. He was always available and made plenty of time to answer any questions or concerns that I had. Every property visit, he spent a large amount of time with me and I never ever felt rushed to view a piece of land. He was patient, helpful, and eventually found a piece for me. He did a lot of work for me!

It is a true testament to the value that your company and its agents provide so many people that are looking to buy or sell land. I was in the market for a very, very specific tract of land and Tyler was able to make it happen in not only a very short amount of time, but he also made it about as stress free as anyone could ever hope for. I fully appreciate the fact that that would more than likely not have been possible by any other means outside of Whitetail Properties. Tyler did a phenomenal job of explaining the current arrangement of the land and also provided insight into the potential that it offered as well. It was very apparent that his knowledge in both the recreational side and the investment side of buying and owning land was second to none. Even though I wasn't a client purchasing a large farm in acres or asking price, I felt like I was treated no different than someone that was. It was also a very good feeling knowing that at no time did Tyler try selling me something he knew wasn't a perfect fit for my needs and expectations. I look forward to this being just the beginning of what I hope to be a long relationship with not only Tyler, but with Whitetail Properties as well.

Tyler did a great job. He was very responsive to all of our requests.

Tyler was great. He really helped us to locate our ideal property and he took care of everything for us at the closing.

He did a great job and put a lot of time and effort to present our property in the best ways possible.

Tyler Sellens was great to work with. Our transaction was complicated by a mineral rights reservation issue and Tyler went above and beyond to help the process and track down many requests for additional information. Tyler was very knowledgeable regarding the land, market, and issues we as first time recreational property owners needed to know about.

Tyler was a delight to work with! He took a unique transaction and made it work!

Tyler, Thanks again for assisting us in this sale. So please with how everything went. I appreciate you handling all the details and making this such a smooth transaction!

Tyler is a true pro and I will use him again.

I couldn't be happier with Tyler. He has gone above and beyond in all aspects of the buying process. He not only sells the property, but is a valuable local resource and knowledge base for all things Whitetail Property, improvement, hunting strategy and land investment.

Tyler brought his tractor/bush hog and helped me work for several hours on this property. Tyler and one of his good friends helped me broadcast seeds to make new food plots. Tyler has offered to meet the fertilize/lime trucks. Tyler has offered to help install stands. I've talked to several of my buddy's and told them I've never had a real estate representative offer to help like this. We have bought several tracts of land in several states with different companies. This is the first one with Whitetail Properties and Tyler made it a great experience. I feel I have also made a good friend in the process!!!! I want to do more business with Tyler and have asked for him to find more great tracks of land for us to buy. Even with all his hard work and me trying to pay Tyler for his extra efforts he wouldn't take any money. Tyler said he liked to offer his help to his clients and also on behalf of his company Whitetail Properties!!!! Please understand its not normal for me to fill out a survey. Tyler is heads above anyone we have had dealings with in the past.

Tyler consistently gave me a timely answer for my questions concerning the sale of our property. He also sent us updates about any interest in the property. I think he did a professional job and we were pleased with all aspects of the process.

Loved both Andrew and Tyler, they are the best, don't lose them. They make you look good!!! They felt like family. Andrew spent time showing us how to go frogging and stayed to visit with the grandchildren and us. It was a memorable time we will never forget! We met Tyler first and we liked him right off. After interviewing three realtors we went with Whitetail Properties because of Andrew and Tyler's Personality, Character, Friendliness and Likability! They passed our expectations in many areas! Hope they will not forget us and come to visit in OK. They are top notch and should be rewarded by Whitetail Properties with perks if that is appropriate. Enjoyed working together.

Tyler first showed property to me two years ago, although not the right fit, Tyler kept me up to speed on other properties that fit my criteria. Tyler would be my go to guy if I had to do it again!

Well pleased and got more than I thought.

He handled everything very well made it easy and understandable. He was very friendly and knowledgeable.

This was my 2nd piece of ground I bought through Tyler. Both pieces were a part of a larger farm that was being divided. Pre-offer, I worked with Tyler on how I would hunt, improve and later sell this additional section, if I were to buy it. He worked closely with me on all aspects of the sale and now I own 2 newly surveyed pieces of ground adjacent to each other. Post sale, we continue to discuss improvements and how we can best layout the property for hunting and resale in the coming year(s). Tyler does so many things above an beyond just selling a property. He is truly a consultant for the investment and goes above an beyond in all aspects of the process. At this point, he is more of a friend than just a land specialist.

Tyler was very easy to deal with and every thing went smoothly.

Great agent. Worked with me all the way.

I originally contacted Tyler about a year ago to explain some of my interests in the next property I would like to purchase. He has worked closely with me over the past year to finally land on the ideal property. He has been great to work with and I look forward to continuing to work with him going forward.

From the point of purchase to close, Tyler executed with excellence. Everything was completed in a timely fashion without error. I sold these properties to buy a larger one through Tyler which will close 3/6/18. I highly recommend his expertise and he has earned my business as long as I'm in the land game.

Tyler was very responsive during this land negotiation. Very pleased.

I thought it went really smoothly. I trust Tyler and bought this 40 site unseen from another state. He was very transparent with the place, gave me his honest opinion and I feel I got a good deal. The purchase was smooth and I'm looking forward to finally hunting on my own ground this fall.

Great communication and very accurate appraisal of the land we sold.

Tyler and Andrew are energetic, enthusiastic and knowledgeable. They have effective communication skills and their responses to our questions were rapid and on target. They were always patient, courteous and helpful. We are thankful for their skills!

Mr. Sellens was very helpful and very efficient. It was a pleasure working with him.

David Schlac, Executor Anton Mueller E

Tyler was superb in communicating with me throughout the listing period. I believe he is a great asset to your company.

Super happy with Garret and Tyler!

Tyler was very professional and knowledgeable about the real estate business. He kept us updated through the whole process while selling our two properties. The family was very satisfied.

Tyler is very professional & as good as they come. He definitely goes the extra mile for his clients. I look forward to buying more through him in the near future.

Professional, detailed and accessible. I needed someone who was invested in the stewardship of the land that I had for sale. A typical realtor showing the property without first-hand knowledge of hunting and land stewardship was not going to be my first choice. I wanted someone who could speak for the property in an honest way to prospective buyers. Tyler exceeded my expectations at every level of the process.

Tyler was great to work with. He knew exactly what piece of land I was looking for and was very quick and responsive in helping me attain it.

This was the second time I worked with Tyler. He was the best agent I have ever worked with. He knows his land and is very professional. I will definitely look up Tyler when I need my next help with land. Thanks Whitetail Properties!

Very friendly, knowledgeable, and he is a hunter himself so he knew what we were looking for in a hunting property.

Tyler was excellent! He presented the property very well.

Great agent, always answered phone calls or called right back. Available as needed and informative.

The experience I have had with Tyler has been exceptional every single time. He goes above and beyond on being your real estate agent.

Tyler was excellent and bent over backwards to help make the deal go through. He provided sound advice and we got our price.

It was excellent. We did not have to sell so we were very firm on price and Tyler followed and executed the directive perfectly.

Tyler Sellens was spectacular every step of the way. He was attentive, he was interested and caring regarding why we were selling the family farm. My brother had some health issues that prompted our listing the family farm. Tyler always answered any text inquiries or phone calls from me. He kept in touch with updates every few weeks. He found a quality buyer in less than 3 months from date of listing. Our family had no specific attorney that we felt comfortable with. Tyler suggested an excellent attorney that he has worked with often in closings. The attorney's staff was thorough and had all the answers needed before the closing, which The closing went smoothly and without a 'hitch'. There were no surprise expenses. Everything was explained thoroughly by Tyler so we knew exactly what to expect.

Tyler was excellent to work with, very knowledgeable in all aspects of the process.

Tyler handled everything and was always quick to respond to any inquiries.

Best experience I have had dealing with a real estate agent. Tyler was very professional, quick to respond and highly knowledgeable of the property we purchased and the surrounding area. Presentation of the property on the web site was a spot on representation of the house and land we purchased. Great experience overall!

Very good. Tyler made it easy.

Very good! Tyler was very knowledgeable about the property. Responded very quickly to my calls about the property.

Great, and timely communication! The best in the business!


Great Experience. Tyler was knowledgeable, professional and extremely helpful throughout the whole process. He made the process of buying land easy and enjoyable. Would highly recommend Tyler and Whitetail Properties to anyone looking to buy rural real estate/hunting land.


Professional, thorough & did all the leg work. Trusted Tyler & the good recommendations!

Tyler was extremely knowledgeable about the property and was very helpful. The whole process was very smooth and quick. Really appreciate the professionalism and the personable touch of the company. Thank you

My experience was great your agents do a great job by providing lots of information on the property itself and all of the neighbors and property boundaries. If I had any questions he had the answers, if not, he got them for me.

Seemed like a good match for the land we had to sell. Fast!

Very pleased , smooth quick transaction.

Tyler did a great job from start to finish. Communicated with me every step of the way. 6 weeks from 1st meeting to closing. I'm still kind of shocked.



Contact Agent
Contact Agent
Contact Agent
Contact Agent