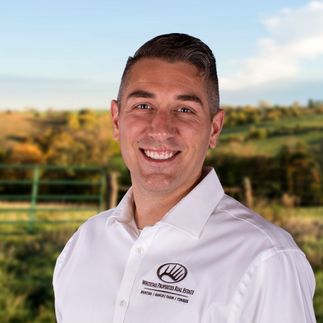 Wes Evans
Affiliate Broker, Land Specialist / Licensed in TN
Testimonial Quotes
Wes Evans:

What My Clients Are Saying
Wes Evans is absolutely the best agent I have ever worked with!!! He is the best and I will recommend him to all my friends in East Tennessee!

I have bought and sold real estate for almost 25 years and am licensed in TN. There has been no better experience than what I had with Tim and Wes. True leaders in the field.

He was great!! Got everything done on time and was awesome to work with. I will recommend him to everybody!!!

Outstanding! Wes went out of his way in tropical downpours to show us two different properties in two different counties one day. Very informative and follow up was superb.

Wes did an extremely good job of handling a very tough/unpleasant title company. In the midst of a very difficult closing process. Wes remained very professional and continued to represent our needs with excellence.

Wes was the listing agent and so represented the sellers and not my wife and I as the buyers, but he was gracious and professional throughout the process.

Wes was very helpful in facilitating the transaction. He was responsive and helped to ensure that the entire process moved along smoothly.

It went very well after Wes found a buyer. Had to get out of timber contract and it worked out. Wes was always available to take my phone calls.

Extremely smooth transaction and Wes was very knowledgeable, professional and a pleasure to work with.

Wes and Whitetail Properties were perfect for me in finding a parcel of land specifically for hunting. "Regular" real estate agents that I talked with during my search were basically clueless and not helpful.

Wes did a great job for us. We are very pleased.

Early in 2019 we decided that it was time for us to start a new adventure in our lives and get back to our roots in Tennessee. In August of 2019 we had the honor of being introduced to Mr. Wes Evans Whitetail land specialist for the Central/East region. We had the joy of riding many different tracts of land with Wes plus many nights on the phone discussing properties and planning the next venture in search of the right property that fit our needs. After several months of working with Wes in Central and East Tennessee we decided to expand our search to West Central Tennessee and South West Kentucky. Wes was there to help pave the road for that search by introducing us to two other Whitetail land specialists that knew the territory. When I asked Wes about compensation for his efforts he didn't hesitate by saying "We are a family at Whitetail and we are more concerned about making sure our clients are satisfied than making sure we are compensated". That told us a lot about the individual Wes is and the company that he worked for. In the South we call this type of person "A Good Guy". Our next experience was meeting Mr. Dusty Clark from Kentucky. Dusty showed us two properties over a two day period providing us with valuable information about the area we were looking at potentially investing in. We found a property we really liked and because of our schedule with leaving town, Dusty came out early on a Sunday morning to show us a parcel for the second time. Although our time with Dusty was short we really enjoyed our time with him and once again saw first hand the team work approach with the Whitetail team. Our last venture was with Whitetail Specialists Casey Ross of West Central Tennessee where we struck gold. I first spoke with Casey after Wes introduced us and explained what I was looking for and pointed out a few properties I was interested in looking at in his region. First off he stated that he had several notes and ideas of what might work for us from his conversations with Wes. (Again there's that teamwork thing). He suggested a property that he thought I would really like but I wasn't very excited about seeing it because it was in a region that I was not very familiar with. After looking at a couple of tracks that he had he convinced me to come to Cedar Grove, TN. to take a look at a track he really felt would work for us. I immediately fell in love with it from the moment we entered the gate. I explained to Casey that I would be returning with my wife in two weeks to view the property and make sure that the boss approved of the purchase. Casey cleared his day to show us the property again. It couldn't have been a worse day to look at property with the pouring down rain but Casey got us through it and kept us as dry as he could. To make a long story as short as possible we closed in December of 2019 and couldn't be happier. It was truly a great experience working with the team from Whitetail Properties with their knowledge of the properties along with the professionalism that they demonstrate on a daily basis. Thank you again for helping us start a new chapter in our lives. Sincerely, Andy and Teresa McGarrity

We listed our property with Whitetail Properties after interviewing others. Wes Evans and Tim Burnette were our agents. They came out with their ATV, toured the property, gave us details of their marketing plan and ideas for us to help market it. We selected them because Whitetail Properties advertise nationwide. They took beautiful photos and used a drone to video the mountain area. We found them to be professional, personable and trustworthy. Our property sold to an out-of-state buyer. We would use them again.

We had a great experience.

Fun, educational, and encouraging. Couldn't have been better. I consider Wes a good friend now and will keep in touch in the future.

Phenomenal. Wasn't always ultra smooth but in the end, extremely happy about the transaction and the efforts of Wes Evans.

Wes is a true professional. He's a top notch guy and I can't recommend him enough.

Entire Whitetail Team, We are sure you have read and heard many times what a pleasure it has been to work with all of you. You were always attentive and concerned to any issues we may have had, easy to communicate with and made the selling experience so easy in every aspect. Stay safe and take care,

Wes was very professional and very prompt. He took his time showing us the property and making sure we had all questions answered. He went out of his way on a holiday weekend to come show our family members the property while they were in town. Wes worked closely with us thru every step of the transaction, the closing was quite a process.

Awesome. I don't know what you pay Wes Evan's but it probably not enough. You guys need to double his salary!!!

Wes was very professional and so great to work with. He spent hours showing us the property and answering questions. His knowledge is impressive! Wes was wonderful to work with!

Wes is a knowledgeable land professional, a friend, and a man of high integrity.
Contact Agent
Contact Agent
Contact Agent
Contact Agent