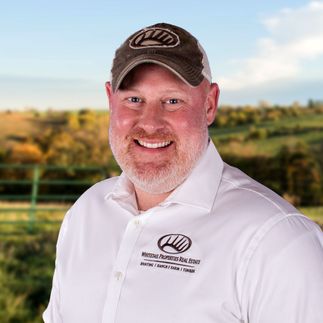 Zach Holt
Broker, Land Specialist / Licensed in IN
Testimonial Quotes
Zach Holt:

What My Clients Are Saying
"Very good experience, Zach was always available."

"Zach was by far the best realtor we have ever worked with. Being an out of state seller, it was important to find someone who kept us informed. He was always quick to respond to our text messages, emails or calls and was well informed to answer them. He never was too busy for us and always did what he said he would do in good time. His expertise in hunting property was able to point out important features of our property that we hadn't thought of, but that hunters are looking for. He is simply the best."

"Zach was always friendly and professional and he always returned my text or calls."

Good service, great results!! I knew Zach was serious when he showed up with a side by side and a chainsaw!!

Very responsive and professional.

Kris Christian son and Zach, you and your team are awesome!! Kris, you are a great hard working person and I thank you for it. If we were to stay in Indiana, I'm sure we'd become great friends. If you ever find yourself in Kansas or Oklahoma, I'd love to get together and do some hunting or fishing. Take care and thanks again.

I would encourage anyone looking to sell or purchase vacation and hunting property in the Southern Indiana area to consider contacting Zach Holt at Whitetail Properties. Zach handled the listing and sale of my 42 acre property with dedication and expertise. Zach will work tirelessly to sell your property or help you find a property of your dreams.

Zach is, by far, the best real estate agent we have worked with. He always followed through on what he said he would do and he did it quickly. His relaxed, friendly manner of dealing with people set us at ease to ask questions. And when we did, he was quick to respond and explain in a way we could understand. Zach took the best pictures and wrote a wonderful description of our property that drew multiple buyers from far outside of our local area. He gave us honest advice on which offer was more to our advantage, even at his own expense. If you're looking for the best agent to find your little piece of heaven or to list one for you, look no further. Zach is the best.

"Zach was a wonderful educator and communicator. He was always willing to answer our questions and stay in touch during the back and forth of negotiations. He helped us find the sweet spot between profit and sale ability and always was an amazing professional. If we ever need a land realtor again, Zach is definitely our first choice!" It definitely was a pleasure working with you! Thank you and best regards!

We want to thank Zach for making the sell of our Indiana property so easy for us. We had a buyer within three days of listing our property. Very much appreciated. Zach Holt was great to work with, very knowledgeable, helpful, hard working and made the sale an easy quick transaction. He is the best!

Zach gave us a 'heads up' when properties became available that he thought we may be interested in. He did a great job of explaining the pros and cons of each property that was available. He met us at the first of two sites that we wanted to see and arrived before our appointment time, which we greatly appreciated. We felt that he was honest with us and had a good understanding of what we were looking for. Zach was easy to talk to and communicate with. He was prompt to answer questions (which we had a lot of). With Zach's help we located and closed on a piece of property before the end of 2020 which was our goal. We would highly recommend Zach Holt and Whitetail Properties. Sincerely,

It was a positive experience.

"Zach was great to work with. Purchasing land was new to us and we wanted to work with someone to guide us through the "in's and out's" of the process. Zach did this and much more for us. He made it a smooth and fun process, just like it should be. Most of all, he was very responsive and addressed any questions we had right away. We'll definitely work with him again in the future."

It has taken me time to do this referral on Zach Holt with Whitetail Properties, not because I was upset with the sale of my property, I was thrilled with the whole process. It is not often in today's fast paced world that you get the opportunity and pleasure to get such a positive person as Zach to represent you in a transaction. His integrity, knowledge and dedication to his clients is outstanding, he makes you feel as if you are his only client and his number one priority. He takes the time necessary to post the best pictures and description of your property so interested buyers will have the information needed before they set up a viewing. I'm sure all of the Whitetail Properties agents have a strict training process however my personal opinion is Zach has the compassion, dedication to his clients and job, knowledge and general "Lets Get Her Done" attitude that comes from the heart, not training. Selling or buying is a very stressful process, Zach went above and beyond my expectations to help remove any stress of the sale. His communication via email, text or phone calls for showings were fantastic. All in all I cannot think of one thing I was ever upset about or would have changed. Not only did I sell my house and property in a very short time frame, I feel like I gained a friend. Zach is the person you want to handle the sale of your home and property. Thank you Zach.

Zach, Thank you so much for helping us get into this property in beautiful southern Indiana.You were always there to help us when we had questions and to help coordinate the sale, Looking forward to purchasing another property very soon,Thanks again!

It's funny. If you are purchasing a home you would get 10 realtors beating on your door to sell. After many attempts using another realty company with no success. I remember seeing a Whitetail Properties office in a small town in Southern Indiana. So I looked you up on the internet. As I scrolled through the web site (which is well organized) I easily determined what agents were assigned to the area in Indiana I was looking. Now let's go back to the other realty company, I called the agents given to me, left messages and NEVER heard back for them. When I called Zach he picked up the phone. Wow! Was all I could think. A real person. Zach immediately went work on the properties we were interested in. Within a couple hours we set up an appointment to meet him the next day. We signed an offer, but that was only the beginning of the effort Zach put in to satisfy our concerns and needs to secure the sale. He found contractors to do some investigation on the property without being charged. That is a feat in itself. Zach went above and beyond for us. Never said no and was willing to do anything. I will use Zach in the future. I would advise those individuals looking for property to call Whitetail Properties. It will be the best decision you can make. Thank you Zach for being so patient and professional. You made the sale happen. Without you I'm sure we would not have made the purchase.

Zach was awesome. Don't know what else can be said. He was quick to respond, was a wealth of information about the land, local ordinances, etc.
Our land was the kind of property that we knew most realtors wouldn't know how to sell. It was obvious Whitetail (and Zach) had loads of experience in this specialized market.


Zach was a pleasure to work with. As first time land buyers from out of state, we were very happy with how knowledgeable, competent, and accessible Zach is. He went above and beyond to answer all of our questions and smooth out any issues that arose from the initial showing to the closing of our property. Even though we closed a few weeks ago, Zach is still answering our questions and giving us great advice about running our property. We are very happy with our experience and look forward to working with Zach in the future.

It was a nice and easy purchase. Quick closing a plus.

By far the best agent I have ever worked with, and I have been involved in real estate most of my adult life.

Zach was incredibly responsive. He picked up our calls right away and answered our questions. He is very personable and a pleasure to work with. Zach did an analysis and made a proposal that looked very appealing to us.

Zach is an incredible agent to work with in every way. Extremely knowledgeable, helpful, and patient when working with his clients. He is far more concerned with making sure his clients find exactly what they want rather than pushing for a sale. I would highly recommend using Zach if you are looking for a property. Absolutely the best in the business.

Zach is very knowledgeable in the realty business. He has a great understanding of both farm and hunting land. He is compassionate when someone is selling their home and farm of many years. He understands that it is not always easy to make that decision. Zach will walk you through every step of the process and patiently answer all of your questions in a timely manner. He has integrity and he is a hard worker.

Zach was great to work with throughout our property sales process. He was attentive to texts, emails and many questions. He has a really good handle on the recreation property market which was super helpful in our case. Overall, very professional and a top-notch realtor. Highly recommended.

Thanks so much for all of your help with selling our property. You truly made it easy for us and your work was top notch. You did exactly what you told me you would do for us and everything worked out great in the end. I like the way you worked with us through the realty company and kept everything moving and keeping us updated. It was unbelievable how quickly you had prospects and offers. I was amazed.




Again, thanks for everything. May see you down the road someday. Take care.




It was amazing! My husband and I were going into this on our own and being our first land purchase we didn't know the exact process. After contacting Zach, he was very easy to talk to, explained the process and how the whole process worked! Truly took all the guesswork away and made it so simple to make our dream a reality! We greatly appreciate all his help and effort and are beyond excited to have some land of our own!




Some may say, selling your personal property is one of the most stressful events you will go through in life. Not with Zach Holt and Whitetail Properties. From start to finish Zach was always quick to respond with any questions or concerns. The listing came to life within days of the first conversation and there is no doubt in my mind that without his help we would not have gotten top dollar for our lake property. Zach and team came out to the property multiple times to get the layout of the land for market analysis along with adding his personal touch by taking multiple pictures including aerial views of the land and lake. Days before the listing went on the market, Zach was working magic on social media, which brought us a full price offer the first day on market! Our experience was so awesome that we asked Zach to help us find a small hunting track with very particular specifications. Once again Zach and his team delivered. Both properties one sold and another bought in less than 30 days. Zach worked very hard for us, and we are grateful that we had Zach Holt of Whitetail Properties as our advocate. He has gained my full trust in a business that can get a little tricky. I would highly recommend calling Zach if you ever consider listing your property. "Zach sells Land"

Everything went well from the start Zach and Kris know how to get things done. Very easy to work with. I had a good feeling about the the way they explained how the sale would go.They had a buyer within days.

From the very first phone call, Zach has been the consummate professional. Zach's knowledge of the Southern Indiana market is second to none. I was very impressed with his attentiveness to my questions and his willingness to go above and beyond, providing me information that is not expected from your land specialist. I can't recommend Zach enough when it comes to buying and selling property in Southern Indiana

I had a wonderful experience working with Kris and Zach. Kris was more than willing to spend an extensive amount of time walking and showing us the property and answering any questions we had. Zach and Kris were extremely responsive throughout the whole process from walking the property, putting in an offer and through closing. It was great working with them and I highly recommend using Kris and Zach!

Zach did a good job keeping everything moving along.

Very Positive. Zach was straight forward and very patient with this non-tech person! Kris was fun, but efficient and available.

I want to thank you for selling our properties. You had a buyer ready to move on the property in a hurry! You had multiple buyers for most properties. You made selling easy for Darla and I. Thanks for everything you did to make it happen!

Outstanding! Zach was excellent and real pleasure to work with, professional yet personable, quick to respond to calls/texts messages, email, great attention to detail, and very positive about selling our home. Although we have friends and relatives in the real estate business, we felt that Whitetail Properties was the realty company that had the best coverage and reach, and with our first meeting with Zach, we knew he was the realtor that could get the job done. And he did, in short order! We would highly recommend him; ethical, honest, down to earth with a family focus, Zach proved to be the right choice.

Zach is without a doubt an exceptional Realtor. Enjoyed working with him. His knowledge of land real estate, business acumen, and communication skills to get it all done was certainly expert. Admiration goes to him for his quick availability as well during the entire process. Greatly appreciated his most obvious tireless work ethic and recommendations. This resulted in multiple offers and a smooth sale

Thank you for the excellent job on the sale of our property. It was quick and professional.You are the best and I will highly recommend you for a realitar on anyone's property.

Couldn't have asked for a better experience. Zach was great with communication and was very helpful walking the land with us and sharing his expertise.

I am very happy with the outcome of my business with Zach Holt, Kris Christianson and your company.

Zach was quick to respond to my initial outreach and maintained that courtesy throughout. Everything he told me agreed with what I had expected except the value of my property. He correctly believed it was worth more than I thought.

The entire process went more smoothly and quickly than I had hoped.

Thanks Zach and Kris.

The entire process was seem less and painless! Zach took lots of pictures and the listing verbiage was so perfect! He was professional and knowledgeable!! Zach was so confident and easy to work with. He was quick to respond to every text and phone call! He never left us wondering what would happen next!




Stacy and I had been looking at rural, wooded Indiana properties for several months and had worked with a handful of Realtors servicing the areas we were most interested in. Zach and Kris were an absolute pleasure to work with and proved to be a wonderful resource in response to our needs in and beyond the typical Real Estate questions. They were timely in their follow ups and provided honest, succinct information that enabled us to make an informed decision on our investment. We look forward to working with them again in the future and are secure in knowing we can reach out anytime with specific questions or guidance. Thank you Zach and Kris for a friendly and knowledgeable experience!

My wife and I had a great experience working with both Zach and Kris during our recent property search. From the first phone call with Zach, to the days spent with Kris riding and walking multiple properties, each touchpoint was exactly what I was looking for in a broker. They are both incredibly responsive and were very helpful as we navigated the land-buying process for the first time. Throughout the offer process, Kris did an excellent job of keeping us informed as soon as he had information and continued the responsiveness during the contract period. I would highly recommend them to anyone else contemplating a land purchase!
Contact Agent
Contact Agent
Contact Agent
Contact Agent