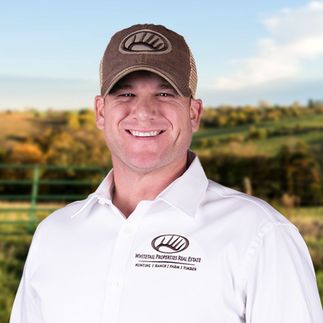 Zeke Barrett
Salesperson, Land Specialist / Licensed in AR
Testimonial Quotes
Zeke Barrett:

What My Clients Are Saying
"Zeke is THE land agent in Arkansas. When I decided to sell this property, I knew he was the only man for the job. From the listing quality, the communication, the advise, from start to finish, Zeke has been great to work with. He knew exactly what we needed to do to sell this property, and executed it QUICKLY. The property was listed and sold within maybe 40 days. Contract around a week after listing. I will never list land I sell with anyone else."

"First class. Mr. Barrett always had answers when I asked. He went above and beyond helping me sell my acres of property."

"Flawless. I buy and sell a lot of real estate, with many closings a year. Zeke makes things as easy as I could ever imagine. Zeke is the best option for selling land in our region by a LONG shot."

""I think he really wanted to make sure I got what I wanted and not what he had to sell, he was very up front about the properties he showed, I would recommend him to anyone."

"Zeke was an absolute stellar person to deal with. He knew his product, he went out of his way to answer any questions, and made the entire transaction easy with absolutely no games!"

"Zeke has been a Godsend throughout our home buying process especially being a remote client. We had connected some time ago when we were first looking to purchase property but as life would have it our timeline was delayed. When we saw a listing from Zeke we reached out and he was eager to help us write up an offer. Fast forward to not the most traditional home buying purchase, but in every step of the way he treated us with grace, honesty, and gave us trustworthy insight, which is irreplaceable. I sincerely believe he had our best interest at hand with every conversation, text message and email correspondence. Zeke is extremely easy to work with, as is his staff, and we cannot thank him enough for helping us purchase our forever property. "

"Zeke followed up with me and always kept me in the loop. He is always honest and kept me informed. I highly recommend his service on land. Whitetail Properties has a great way of marketing their properties. Another thing that I appreciate about Zeke is that he supports our community through sponsorship of many local events. "

"He did a very good job of selling our property. He is very knowledgeable in land and everything that goes along with it. It was a hassle free experience. He definitely receives 5 stars from us."

"Zeke listened to my needs and did the work to find the right buyer to meet those needs."

" Zeke is genuine. He is a true professional. He has a kind heart and sincerely tries to do the best job for you. I would highly recommend Zeke to anyone selling or buying a property. His ethics match his Christian background. "

"Zeke was personable, professional, and truly did everything to make our experience with Whitetail smooth and easy! He was prompt to respond every time we had questions and went to great lengths to make sure we were happy as his clients! We would highly recommend him to anyone selling or buying! "

" Zeke is a very charismatic and energetic salesman. We had our land listed for 6 months with someone else without any interest. We switched to Zeke and we had 2 offers within 2 weeks. He takes great photos and knows what people are looking for in land. Would use Zeke again for sure!"

"We had the best real estate finding/purchasing experience with Zeke. He got to know us and what we were looking for and was very attentive to our needs. He helped narrow down a list of properties we had, to a select few that were more in line with what we were in the market for. He acted as our agent in the purchase process and kept us informed throughout. Zeke ranks 10/10 as a person and a Land Specialist!"

"Zeke was outstanding to work with throughout the entire process. He was quick to respond to our initial inquiry. He set up a call to get to know us and understand what we were looking for and then was able to whittle down our list of properties to ones he felt really fit with what we were looking for. It was easy to set up a time to meet and view the properties we were interested in. He knew the properties well and was very thorough in answering all our questions. He was very responsive at all hours, whether by email, text, or phone. He represented both the seller and buyer and the transaction could not have been better or smoother. He also gave us plenty of local contacts names that we needed to get started on our forever home and continuing to manage our beautiful property. We highly recommend Zeke to anyone in the market for property in the area that he handles."

" Zeke is one of the most effective, professional realtors I have ever had the pleasure to work with. Great communication, excellent follow up, and very knowledgeable. Can't wait to work with him again! "

"Zeke is a very nice man with good character. He was very prompt on timing and and very knowledgable of the property that we bought. He never seemed to be in a hurry or a rush to get to his next client, he stayed as long as we needed to have our questions answered. The one thing that I respected with Zeke was his morals of family, life and above all else Jesus Christ. I feel like I met a new friend. Hope to have him hunt with us one day."

" I have only positive things to say about working with Zeke and Trey to buy our property. I had a list of questions for our first conversation, and they answered each one with patience, honesty, and kindness.They were timely with all of their communication. Zeke represented the seller and Trey represented my husband and I, the buyers. We had been lovingly warned against using the same brokerage as the seller to represent us as the buyer, but throughout the process using the same brokerage only felt like a positive to us. We felt like it improved communication with the seller, as well as the information we were able to gain about the property that we bought. I don't know how an outside land agent could have been as well-informed about the property as Trey was. It was, and continues to be, so helpful that Trey grew up in the area. We are from out of state, and Trey knows everybody. He has graciously told us more than once that he is a resource for us long after closing. He may never get rid of us! He was also great when showing us around the property. We had all three of our young kids with us, ages 7,5, and 2, and his kindness and patience made it a fun adventure for all. If I remember correctly, our kids were hugging him goodbye at the end. If you're in need of a land agent, your search is done. You have found him."

"Alvin and I would like to express our appreciation for the outstanding job that Zeke did with assisting us on purchasing our dream property! We searched for over 2 years! The appointment was made to look at the property, we made an offer and closed on the property in less than 2 months! Every time we called or text Zeke with questions he responded quickly! It was the most pleasant experience! It was almost like a dream, we couldn't believe how smooth this whole deal went! We are still in shock and excited about our new adventure in retirement life! THANK YOU WHITETAIL PROPERTIES FOR THE PROFESSIONAL SERVICE!!"

"We have been looking for the past 2 years for our new place to build and call home. When we found it, Zeke made the rest easy! Very pleased!"

"We have been working with Zeke for some time now. He has been great in all aspects of his job. Zeke is very knowledgeable about both the area and land. I am looking forward to doing more business with Zeke in the future!"

"Everything went well! I highly recommend Zeke! He responded quickly to any questions that we had. We were treated like family. We are so excited about our new adventure in the Ozark Mountains!"

The land that I wanted sold was remote, unimproved, land in Arkansas that was difficult to access. Zeke worked hard to find a buyer and spent a large amount of time convincing the buyer to submit a purchase offer. Zeke was not the first agent to try to market the property, but he worked the hardest to get it sold, with good results. I highly recommend Zeke and his firm, Whitetail Properties.

Agent kept me well informed!

Zeke, the Whitetail properties land specialist made the whole process very simple, pleasant, and comfortable. It was not stressful at all. Zeke is extremely knowledgeable of the area and market. I can not say enough positive things about Zeke and this experience!!

Extremely personable, kind, caring and answers questions. Truly feel like you are always heard and we believe Zeke goes above and beyond to find a buyer.

I was so grateful to have Zeke and Whitetail Properties Real Estate as my realtor. I really loved Zeke, he is so friendly and understanding. He did an amazing job of selling my property for more than I expected. I will be recommending Whitetail Properties Real Estate to everyone and keep you all in mind if i sell again.




Again, so much thanks!

I live in Idaho and knew that I could count on Zeke to not only handle the sale of an existing property, but also handle the purchase of a replacement property using a 1031 exchange. Both transactions went through with no complications.

Zeke paid attention to what I was looking for and gave me pros and cons. Took longer but didn't waste time on what I wasn't looking for.

Everything was excellent, as usual. I buy and sell a lot of real estate and this particular transaction was as easy as it could have gone. Thank You!

Zeke was excellent to work with. He helped us maximize the sell of our property and we sold it for more than we thought we would! A+++

Zeke is an incredible agent! I'd even trust him to do stuff for my grandmothers real estate needs.




He went above all others in helping me buy my land.

The highlights of working with Zeke was his knowledge of the area and properties that we requested to see. He was understanding and very informative.

Great experience, very professional. Whitetail is a class organization and Zeke Barrett did a great job.

Our experience with Zeke was excellent. I will start by saying, when we decided to move back to Arkansas and purchase a ranch, that we began looking for land online, and found a number of places we were interested in purchasing. Then we began looking for realtors, and we were not having a lot of luck. However, since Whitetail Properties had a couple of the places we were interested in listed, we searched their agents in the area and found Zeke. The reason that we chose Zeke, had nothing to do with the billboards in the area, the reason we chose Zeke was because he makes it very plain in his biography on the site that he is Christian. That said, once we visited with and met Zeke, it did not take long to realize that he is a very genuine person and being a Christian is more to him than just putting it on his mini bio. I think that is the reason for Zeke's success and why you see his face on billboards all over North Arkansas. The Lord has blessed, and continues to bless him because, he puts God first. Because of that, we were also blessed with two great places in North Arkansas, with Zeke's help. I will also say as a testament to Zeke's honesty, there was a mistake on the closing, to do with closing cost. Zeke did not blame it on anyone, he took responsibility for it and made it right. I think that says a lot about him and his ethics and values. If I were to buy another place or if I needed to sell one, Zeke would be my go to person and will recommend him to anyone looking to do the same. Zeke is a class act!

Zeke is awesome! Great communication and information on this deal! The Real Estate World needs a few more Zeke Barretts. I will 100% purchase through him in the future!

I enjoyed working with Zeke, he was professional,knowledgeable and very friendly.

Zeke met me at the property and showed me what I needed to see, and told me a lot about the property. Anything I asked for, he got in a timely matter. He wanted to know what I wanted the property for and told me about it while we were on the phone, so neither one of us would be wasting our time. I really appreciated that. Closing was a breeze, and would recommend working with this group.

Zeke was wonderful to work with. He was very patient and always kept me informed of what was going on throughout the process. He always makes you feel like you are his only customer, which is rare these days. His experience and expertise in recreational land is second to none. I would highly recommend anyone looking for their dream property or to pass on their property to the next buyer to get in touch with Zeke and the Whitetail Properties team. First class from top to bottom.

Zeke was very responsive to my initial inquiry, we drove from Texas and set up a time to view the property. Zeke met us there and we toured the land in his truck, with Zeke pointing out all the features; i.e., artesian well, spring fed pond and great view for a home. As a lifelong resident, he was knowledgeable about builders and contractors to help us make this our new home. Zeke is very knowledgeable about the area and seems to know everyone! Excellent service all around.

Zeke is excellent. Knowledgeable, answered all our questions, and helpful directing us toward financing. Great personality and definitely an asset to Whitetail Properties in my opinion.

Hand down, Zeke has been the most engaged and responsive agent we have ever worked with! In addition to being an awesome person, Zeke was attentive to our needs and exceeded our expectations in finding the perfect property for our family! We are forever grateful for Zeke and will highly recommend him to family and friends looking to move to Arkansas!

Zeke is very enthusiastic and accommodating. Zeroed in quickly on what I was looking for. Viewed a property on Friday, made offer on Saturday, offer accepted on Monday, closed on Thursday. Just like Jimmy John's--freaky fast. Knows what to look for in hunting property, being an avid hunter himself. Great help in bringing the offer to the seller. Got the job done and fast. Thank you, Zeke and Whitetail Properties!

We had constant communication on everything. He listened and implemented what we wanted.

Zeke kept us informed every step of the way. He was very helpful when issues came up.

Zeke is a man of his word!! If he says he will do it, there is never a doubt that he will. His reliability, honesty, and overall friendliness speak volumes of him. He walked us through each step with such patience and he never made me feel my question was not valid. He and his wife are wonderful to work with and I highly recommend "them." Not only did he sell our property, but we bought through him as well. He didn't just "sign a contract to collect his commission" He was at both closings and made time for us as people. Zeke - You and Ashley made this process one to remember in a positive way. Even with issues outside our control, you led the way with professionalism and kindness!!! Thank you!!

Zeke has a very common sense approach to your questions and very motivated to work for you. Easy to get ahold of and one of those guys that's easy for the relationship to transition from a business type to a friend. If you're looking for a realtor I wouldn't look any further.

Very professional, well prepared, and extremely knowledgeable about the property we looked at. And, of course, an extreme pleasure to work with.

Zeke was great! Good communication, timely responses, good guidance, patient and honest discussions! We are very happy with Zeke and his skills! Helped us get the property we wanted.

Zeke and the entire staff at Whitetail were very professional and friendly. Zeke took the time to understand what I was looking for and more importantly why so he could help to the best of his ability. Zeke and Marlee Jo did a great job guiding me through the entire purchasing process, from showing the property to me and discussing the value, making the offer, negotiations and then finally the closing. Highly recommend Zeke as he knows land!

Zeke is a very hard working and likable agent. He is always available when you have questions and has very good advice. I honestly cannot think of a better person for his job it's like he was made to do this!

Zeke was absolutely outstanding. He showed us the property and went into great detail not only about the property itself but the town as well. We felt so comfortable after meeting with him we were ready to buy. He answered all our concerns and more. I would hands down use him again. Incredibly valuable asset.

He was very nice and helpful with the process.

Highlights of working with Zeke was his responsiveness and overall communication. We had been looking for properties in NWA and had reached out to other listing agents for information, callbacks were lackluster at best. Zeke was also flexible with his schedule as well as punctual, which we really appreciated as we traveled from out to the state to see the property. He was knowledgeable about the area as well as sharing contacts to address our questions related to the existing well onsite.

My dad received a postcard in the mail several months ago from Zeke and Whitetail Properties offering assistance should he ever be interested in selling his property. I emailed Zeke late one evening with our desire to sell and the legal description of the property. I wasn't expecting a quick response, but I received an email in the morning. Over the next week or so Zeke would request information and I would provide it. In a few weeks, the property was listed and within a few days, there were multiple offers. I was unsure which offer was better so I called Zeke and spoke with him, even though it was Easter weekend. He explained each offer in detail, which he thought would be easier to work with, how we could counteroffer, and the steps we could take if the counteroffer was not accepted. Our counteroffer was accepted and we closed about two weeks later. The time from my first email to when we closed was only about six weeks. I never met Zeke in person as the land was in Arkansas and my dad and I live in Wyoming. However, I was made to feel like I was an important client and every email and phone call was immediately returned. I am extremely happy I chose Zeke and Whitetail Properties and if the need arose I would not hesitate using him again!!

Was a great experience. Zeke was very knowledgeable and personable.

First of all Zeke is prompt! I've been looking for land for years and Zeke is the first realtor to call me and get the ball rolling! When we met him he was absolutely awesome! He is an outstanding person and can't recommend him high enough! 5 stars are a few too little! The process was so pleasant and easy to navigate! Thanks Zeke!

Zeke is enthusiastic, and professional at all times. He is a good communicator, keeping us updated on the sale of our property. He is a great marketer showing our property through beautiful pictures, videos, with wonderful descriptive language that brought buyers in. He is very talented and good at what he does. We have had the pleasure of working with Zeke on the sale of two of our properties and would highly recommend him to anyone!

Zeke is great to work with he has excellent resources, very knowledgeable of the areas we are interested in and gets "the show on the road". It was a pleasure working with such a guy. Anyone should be proud to have him on their team. Only thing Zeke needs to work on is getting some R & R.

We had reached out to numerous realtors while searching for the right property. Many didn't return our calls, or simply didn't follow up. We also had realtors attempt to show us property they knew nothing about except what they had read in the listing. Zeke however followed up, stayed in touch, and was proactive in finding our property. Additionally, he knew the property, was intimate with the features and could answer all of our questions. We highly recommend Zeke for anyone searching for real estate and would gladly use him for any future transactions.

He helped us find the property we wanted; kept us up to date regarding its availability and helped us negotiate the price.

Great. Very attentive and professional. Enjoyed working with Zeke.




My honest review of Zeke is that he is excellent at what he does. He was knowledgeable, available, professional, and extremely likable. I will be selling more land in the future and Zeke will definitely be the one to represent it.

Excellent. This was not an easy sale, there were unforeseen hiccups along the way that were no fault of ours or Zeke's but he handled things as smoothly as possible. When I was getting discouraged he was very positive, reassuring and confident. He told us he would get it sold and he did.

Zeke was always available to answer my questions by text or call.

Zeke was very professional, had good advice and suggestions, very communicative and easy to get a hold of.




Zeke did an excellent job of listing our property and working to find us a buyer. He was always available to answer any questions about listing and showing the property. He kept us informed when he would show the property and the comments from any prospective buyers. We were very pleased and would use him again if we had land to sell.

Zeke was absolutely fabulous. Called right away & was familiar with my land. He was upfront on fees, constant contact, handled everything for me. The best realtor experience I've ever had.

Zeke was a pleasure to work with. He was courteous, professional and helped us throughout the process of buying land. I would highly recommend Zeke if you are wanting to buy or sell land.

Zeke is outstanding, reliable, trustworthy, and attentive to detail

Zeke was very easy to work with. Our survey had some delays on the part of the surveyor and Zeke was very good at communicating with us about this. We will definitely use him again!

My wife and I have only met Zeke in person twice, but we have been working with him over the past six months to finally close on a complicated sale. Zeke was patient, thoughtful, and respectful to both parties as he represented both the buyer and seller. I consider Zeke family because I trust what he says because if he doesn't know the answer he will tell you. Zeke made the buying process enjoyable and we can't thank him enough. I hope he and his wife enjoy the wine we were able to share with him. I would recommend Zeke to any family or friend.

His integrity and true passion for the land and nature which was a perfect match for ours as well! He was always ready to help find a solution to issues

I hired Zeke because he had shown me property in the past and I was impressed with his professionalism and eagerness. I have worked with many realtors and Zeke, along with Whitetail Properties, are in a totally different class. Very proficient in every way. And their presentation of my property, along with the written description, was so good. Honestly one of the best I have ever seen. I hired Zeke and Whitetail Properties with very high expectations, and they were met completely. If I were to sum it all up in a single word it would be - Impressive.

Zeke was amazing with getting back to us promptly, he was knowledgeable about the land, friendly, and very helpful with questions if we had any!

Messaged Zeke and he called and we met as fast as I could get to Arkansas.

I enjoyed working with Zeke on purchasing some property give him a try if you're looking to buy or sell property, you won't be disappointed.

Met me on short notice showed me the property and answered all my questions about the property always responded to any questions I had. Was great to work with. If you are looking for a property he can find what you're looking for.

Zeke is so personable, knowledgeable, and professional. He did a wonderful job of advertising our property and keeping us updated. He works very hard and is so motivated. We would highly recommend Zeke. He is a great guy! Thank you Marlee Jo as well for keeping us updated! Awesome team to work with.

Zeke is a great service provider. His knowledgeable in all aspects of the property and services to get the sale done. He's attentive, always available, very personable, and just a great person.

I think Zeke is very good as a real-estate agent. We spoke with him on the phone about selling some property we have. He drover out to the land. Advised us of what would be the best approach to selling it. We needed to clear a section to show the water view. He lined up someone for us. We had the view opened up and Zeke found a buyer within a few days. It was a win-win for everyone.

Very nice, hard worker. Asked questions. Returned calls and text. Pleasant person to work with.

P&M Premier Property Bill P

Very good experience. Felt comfortable with Zeke.

Very positive. Zeke was very efficient and showed initiative in suggesting properties. This is exactly what we were looking for in an agent.

Zeke was fantastic. He gave me advice on how to make the property more desirable. It worked! Had a contract in a week. The rest was smooth sailing. All my questions and concerns were answered quickly.

Zeke is great to work with. He is very personable and professional with so much energy. It was a great experience with Whitetail Properties.

Zeke was top notch, answered all questions and was very helpful through out the entire process and after the sale.Z

Excellent. Professional, knowledgeable, friendly. Could not ask for a better experience.

Zeke was awesome! I had contacted him about another property several months earlier. That one didnt work out, but he remembered my needs and called me when he ran across what I was looking for. I had specific needs and he found the perfect property. He showed me around and we had it under contract that day. It was above and beyond the level of service and care that I expect from an agent. Zeke and Whitetail Properties will be my go to land specialists from here on.

He had professionalism and a positive attitude.

Very easy to get along with. Very knowledgeable of the area and the market. Did an excellent job marketing the property with very quick results. He always did what he said he was going to do. Would highly recommend him.

He was absolutely fantastic along every step of the process. He was quick, patient and knew the market very well. He positioned our property to sell and it did, for more than we originally listed it for.

Just wanted to let you know that my husband and I were very satisfied with our agent, Zeke Barrett. He is very friendly, considerate, and courteous. Zeke exceeded our expectations, with the reasonably prompt sale, and the price he was able to get for us.

Zeke was very helpful and is very passionate about helping you sell your real estate. It was a pleasure for our family to be able to work with him.

Zeke was always very helpful. He is dedicated to the cause of customer service and is very knowledgeable. He made our buying experience enjoyable. Bottom line.... Zeke is the man!

He is energetic and motivated. He is quick to respond to questions and is eager to help. He is friendly and courteous. He has an understanding of what motivates people to acquire land, and he understands the legal requirements of acquisition. It was my pleasure to work with him.

He's the total package, personable, knowledgeable and a straight shooter. His love of the land shined thru when we were on our property, he was also great with my kids. Any faults he has did not show, and I'm glad to say we have a new friend in NW Arkansas.

Integrity, honesty, professionalism, I really don't know where to begin. Zeke worked with us from the beginning and exhibited all these traits. He is the absolute best realtor I have ever worked with. Just can't say enough good about him. I have dealt with a lot of realtors before and I can't recommend Zeke enough. He's the best.

He was enthusiastic, professional, and great at communication.

Zeke was the best from start to finish. Very very professional and knowledgeable. He made selling our property easy from the start. He walked us through each step and answered all questions. I would 1,000,000,000 percent use him for any real estate needs.

It seemed to be a lengthy experience but well worth the wait!!

Excellent! Had a realistic conversation and stayed in touch regularly.

Zeke did a great job marketing our property. He has become a good friend. We are also purchasing one of his properties in a few weeks.

Fantastic! Zeke guided me in timing and price. Under contract in 6 days.

Zeke was great. He did a wonderful job of advertising our property and kept us updated.

Zeke has sold 2 properties for us it has been a positive experience on both occasions. He is a professional with a can do attitude who provided great communication during each sale.

Great. He was very involved.

First rate professional, and all around good communications.

Zeke was very helpful answering all questions.

Very well knowledgeable, professional and overall genuinely great person.

Very good experience, honesty was best attribute.

Zeke was a great agent. Very helpful and knowledgeable about the whole process.

Buying property sight unseen is a very risky endeavor. Zeke Barrett has a honorable demeanor and a capability to provide a vivid description of the property. Even though I have not met Zeke in person, I can tell he is a good Christian and very trustworthy.

Zeke was exceptional to work with. He kept us in the loop during the selling process and was always available or returned calls, text in a timely manner. We most definitely will refer others to Zeke and only wish that he worked in our area so that we might have him represent us in the future!

Marlin Sims and Marlana N

Very smooth and easy. He helped all the way thru. Since we were in another state I was worried, but he took care of everything. Very pleased.

Zeke made sure our needs were met throughout our buying experience. During the process he kept us informed of any updates until closing and has even followed up after closing. He was great to work with, knowledgeable about the property, and would easily use him again if the need arises. Can't think you could ask for anything else in a realtor.

A wonderful experience. Zeke was a pleasure to work with. He was very familiar with the area and the value of this unique piece of property. He kept us informed along the way and provided helpful insights on preparation for the closing. He was always easy to reach and followed up quickly on every question. He helped make the selling a pleasant experience.

I enjoyed working with Zeke. He always stayed in touch with me and kept me up on how things were going. Had a lot of land knowledge and worked hard to find a buyer for my land. Great experience. Thanks Zeke.

It was a good experience.

Zeke was the listing agent of the property that I bought. I want you to know that I appreciate the speed that he got back to Mike when he was queried on my behalf of the condition of where he stood as far as showing the property to the other bidders. I had much more exposure to Mike so I had to report on his actions, however it did not get past me how well and how quickly Zeke got back to Mike, and the apparent good working relationship that he displayed. THANK YOU ZEKE...I didn't mean to leave you out. All of you guys are a great bunch of my kind of people. Sincerely,

Zeke was very helpful, explaining the process and preparation to get the most from the sale.

Agent is a good hustler trying to sale for his customers. Great help with what to do and 1st class person.

Always quick to respond to any questions I had. Kept me updated on property listing and showings.

Zeke was responsive and handled everything quite well.

Made the buying experience very easy. Nice to deal with.

He was very accommodating and polite. We would definitely work with him again.

Very good agent. Would definitely use again.

Zeke was incredible to work with. The listing of my property was professional done. The description of my property was eye catching and drew attention from the first day.

I was highly satisfied with Zeke. He took time to answer all of my questions and if he couldn't answer when I called he was great at returning my call promptly.

I don't think I could have sold this property without Zeke's help.

This is the 2nd property I have bought with Zeke in the last few months. He is knowledgeable, responsive, and fun to work with. Even through the thick of it all he handled all the issues we came across quickly. I have referred other people his way and know that if they chose to purchase that they will have the same great experience as we did.

Have dealt with other agents and WP agents, and Zeke is the cream of the crop. Honest, quick to respond, and listens!

Mr. Barrett impressed me at the first phone call with his knowledge about the property and the key factors affecting its value. He had done his homework and identified the access issue. His communications were always prompt and professional; he kept the process moving smoothly.

Zeke was great. Our property sold very quickly with a fair price. He kept us aware of details and decisions. We are in California so selling property in another state that had been my brothers was a challenge. No problem for Zeke.

I live in the Chicago area and dealt with my agent via phone and email. I always felt that Zeke had my interest at heart.

Wonderful experience. Land was sold very quickly after using realtor after realtor.

Did a very professional job in scouting property, quality pictures and knowledge of what a hunter would be looking for. Excellent write up on property. Recommend to anyone.

Zeke was very comfortable to work with and I would highly recommend him.

Zeke was always available for conversations. He always kept us up to date on our listing. I not only consider him as our listing agent, but also our friend.

Very satisfied with Zeke, he was very professional and always kept us informed. The add he placed with pictures of the property was exceptional!

Zeke was a great agent--went out of his way to answer my questions, and get the land ready to sell. He became a friend just over the phone. I will certainly recommend him to friends and my family!! Great job Zeke!!

Zeke Barrett will handle any future property business I have in Arkansas. You can't hired a better agent. Thanks

Working with Zeke Barrett was such a great experience that I wish we had more land so we could use him again.

Zeke is a very good agent. He worked both sides of the sale and did a great job for us. He is easy to talk to, listens extremely well and was respectful at all times. His knowledge of local marketing tactics was exceptional. Prior to listing with Zeke we had it listed with another company for a year and the property was never shown. Zeke had the first showing less than 3 months in and we closed within 5 months of the listing, which is a relatively quick sale for the size parcel and location of our former property. Our opinion is that Zeke was serving our interest at all time and was aggressive in selling it.

Zeke has done a great job for us and we will continue to list with him.

Zeke went above and beyond the call of duty, showing me multiple properties over a period of several months. I must have run him ragged, but he carried on like a trooper helping me find the property of my choice. Will definitely be doing business with him again in the near future.

I just wanted to thank you and your team in the sale of my property in Jasper county Arkansas. You showed patience and perseverance with a difficult neighbor and continually approached Jon and I with new interested buyers with full cash offers. If I am ever in the market for property you will be my first call.

Thanks again, Ron

Zeke did a great job for me, more than most would have done.

Zeke did a great job for us. He is very knowledgeable about the business and answered our questions or returned our calls right away.

Zeke & all his assistants were so nice, professional & fast. My uncle also used them & they were on it, knew the peppery, the area & accommodating to what I wanted.

Great, Zeke is knowledgeable, hard working and a great communicator. Zeke is moving the most property in our area!

Zeke was very helpful and responsive throughout the process. The minor issues that popped up he or his assistant handled promptly. I would use him again and would recommend him.

Great Service! Zeke came through on every request.

" Zeke was very experienced in the land in that area. Was very knowledgeable on the wood species and grass species also. Was very impressed with him. He is definitely top-notch! "
Contact Agent
Contact Agent
Contact Agent
Contact Agent